Teknos powder coatings part of a huge success story
Conquering the world with soundproof office solutions at a dizzying speed, the future for Framery looks amazing. The company, which doubled its net sales in 2017, is an excellent example of innovative thinking and courage to try. Its functional products boast beautiful design and metal surfaces that are protected and enhanced by Teknos matt Soft Touch powder coating.
One Friday morning, the phone of Teknos employee Tero Lahti rang. A then unknown customer said they were in a hurry to find a black Soft Touch coating and asked if there was any chance they could come and see sample plates on Friday after office hours. Tero had planned to call it a week at the end of normal office hours.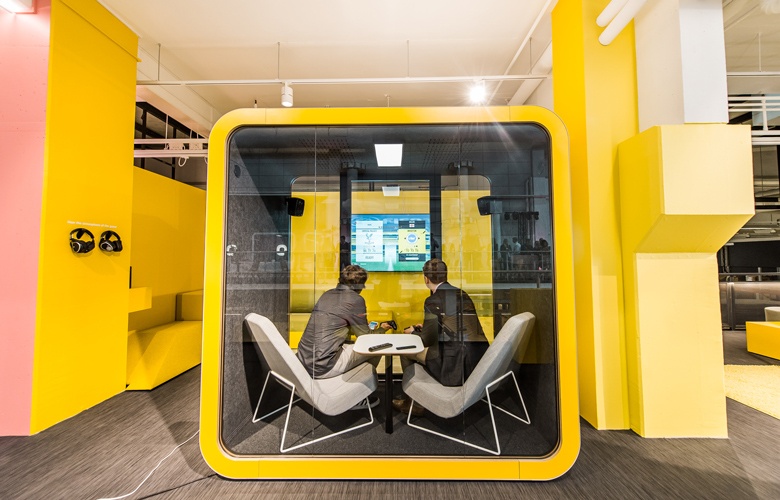 Soundproof phone booths and meeting facilities are mainly wanted in multi-field offices and modern offices.
"For a moment I regretted promising to stay. I thought it was not likely to lead into anything," Tero says, laughing. But he was wrong. Framery representatives were frantically looking through sample plates when Tero got it. Matt black, gloss 1, and the Framerians were excited: "This is just what we're looking for! Can we take this sample with us? The production is starting now, where and how can you deliver the stuff?"
Teknos is in the habit of exceeding its customers' expectations. This time was no different. "We have matt black powder coating in the warehouse, we can deliver it immediately. And by the way, there are 16 other shades with the same matt finish," was Tero's answer.
Teknos had a solution and so the leading powder coating manufacturer became part of one of today's most inspiring success stories.
Idea from own experience
According to a study by the University of Sydney, about 50% of people working in an open plan office named the soundscape-related loss of privacy as the biggest problem in their working environment. Everyone who ever worked in an open plan office knows that the background noise interferes with concentration, which drives down efficiency.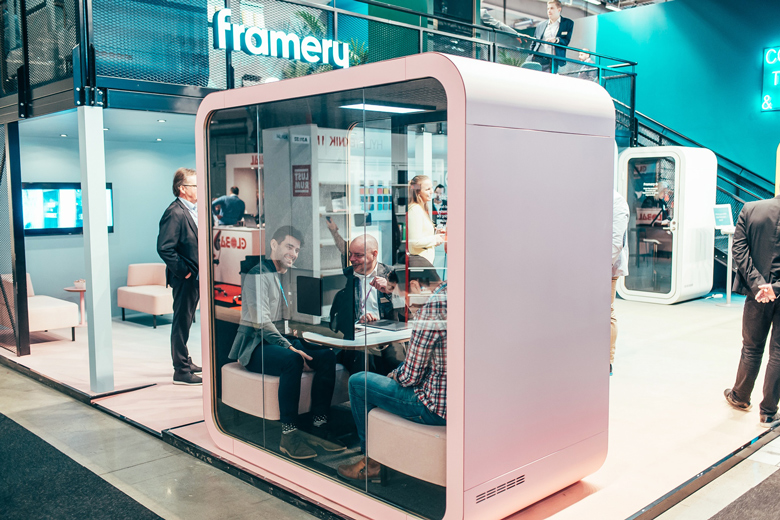 The idea of soundproof office solutions was born from Framery founders' own experiences. The inspiration to designing a soundproof phone booth came at the previous workplace where the boss spoke in the phone in a loud voice.
Even though the company has grown into a global operator and the biggest market are currently in the United States, all Framery products are still handcrafted in Finland using the best materials available.
Vaaka Partners to boost Framery's conquest of the world
In March 2018, private equity investor Vaaka Partners' Buyout III fund came in to boost Framery's international growth with the aim of multiplying the company's net sales. After the investment, Vaaka Partners and its co-investors hold approximately 60 per cent of Framery.
"The introduction of Vaaka as our partner was a significant leap to Framery in realizing our growth strategy. The new growth strategy, updated in close cooperation with Framery's management, Vaaka and Vaaka's industrial advisors, enables the quick boosting of our growth. As Framery grows bigger, we can also benefit from the many experiences that Vaaka and its industrial advisors have about similar situations in other growth companies," says Samu Hällfors, Framery CEO.
Means to a happy workplace
The folks at Framery believe that success is a result of happiness, not the other way round. Of course, soundproof solutions are just one of many possible happiness-promoting factors at a workplace. Read more about Framery's means to a happy workplace: www.frameryacoustics.com/en/why-happiness/
Framery Acoustics
Founded in Tampere, Finland in 2010
Forerunner in designing and manufacturing soundproof office solutions.
Over 180 employees
More than 160 retailers around the world
In 2014, the company's net sales were EUR 1.2 million. In 2016, net sales grew from EUR 5.1 million to EUR 17.6 million.
In 2017, the company more than doubled its net sales to EUR 40 million.
On November 2, 2017, the President of the Republic of Finland awarded Framery an Internationalisation Award.
On December 1, 2017, Deloitte's Technology Fast 50 listed Framery on its list of fastest growing companies.
For further infomation: www.frameryacoustics.com
INFRALIT PE 8317-10 polyester powder coating
Soft Touch finish
Suitable for product coating within the metal industry for objects that require a weather resistant coating that will not yellow on exposure to heat or ultraviolet light.
Forms a mechanically and chemically resistant paint film that has good anticorrosive properties. The surface has good gloss retention even in outdoor conditions.
Gloss grade: Full-matt
Spraying: TRIBO/CORONA
Curing time: 10 min/180°C (metal temperature)
Approvals: Marine Equipment Approval (Module D) (96/98/EC and 2013/52/EU) number VTT-C-11275-15-14.
INFRALIT PE 8431-00 polyester powder coating
Suitable for use on steel and aluminium constructions indoors and outdoors.
Forms a mechanically and chemically resistant, even paint film which will not yellow and protects from UV-light.
Gloss grade: Matt
Spraying: TRIBO/CORONA
Curing time: 12 min/200°C (metal temperature)