Salko Painting and Teknos - One of a kinds
Based in Forssa, Salko Painting Oy is the only subcontracting paintshop in Finland using the GSB quality system. Quality monitoring focuses on controlling the whole process and closely steers all operations. Cooperation with Teknos ensures quick deliveries and a unique service.
"Since the establishment of our company, it has been clear that we invest in quality, and therefore, we have acquired the GSB certificate. The GSB quality system is not useful to all subcontracting paintshops, but for us as a company specialised in the surface treatment of aluminium profiles, the GSB quality system enables operation in a wider sector," says Salko Painting Oy's CEO Jouni Pulkkinen.
Quality monitoring focuses on controlling the whole process and closely steers all operations down to the smallest detail. All test results are carefully documented and inspected by GSB quality inspectors at regular intervals.
Jouni Pulkkinen is showing a powder coating surface on which the adhesion has been tested using a cross cut test and deformability using cupping tests and mandrel bending tests.
For example, in order to achieve a successful end result it is important that profiles are correctly placed in the pre-treatment rack and hung on painting frames.
"During the pre-treatment process, profiles are stacked in a rack in such a way that liquid can flow freely and affect all surfaces. The painting frames have also been designed in such a way that the whole hanging height can be used, profiles are painted in the correct way and the point of hanging is not visible on the surface of a finished product," Jouni Pulkkinen describes.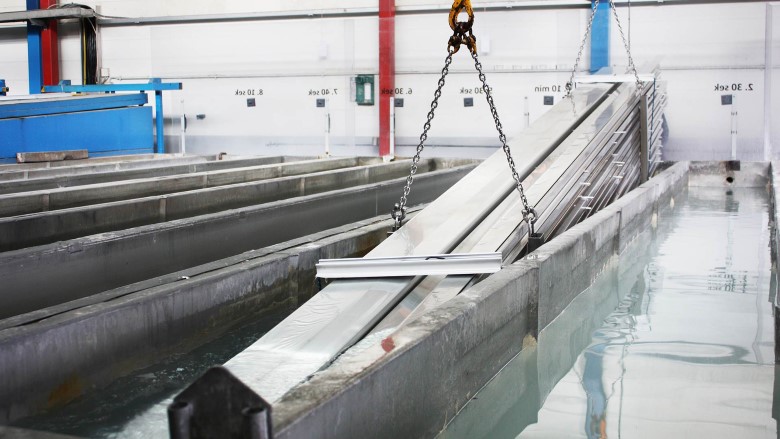 "The importance of pre-treatment is emphasised on sawn surfaces, as they are left bare and exposed to corrosion. The purpose of pre-treatment is to prevent the formation of filiform corrosion between metal and paint," Pulkkinen explains.
As a pre-treated surface tends to gather impurities from the air, dried and cooled items must be powder-coated within 24 hours using GSB-approved powder coating in order to ensure corrosion protection that meets the requirements of the quality system.
Teknos offers the best service and delivery times
Salko Painting Oy's employees have decades of experience in surface treatment and refinement in the construction product industry. The powder coating of aluminium profiles at Salko was started already in 2001. A change in the market situation enabled the establishment of Salko Painting Oy in 2014. In the new situation, an enormous amount of additional capacity was needed along with a new energy-efficient line. Powder coating was selected as the sum of several factors.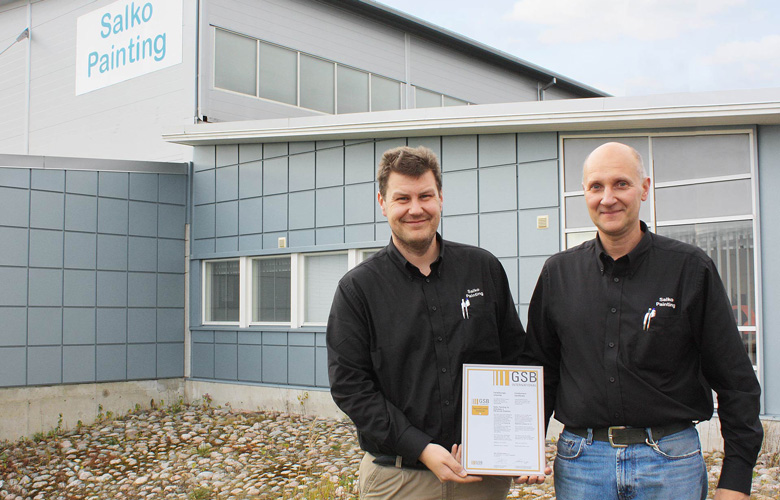 "Teknos offers the best service and delivery times. The availability of powder coatings is exceptional; no one in Finland is able to deliver paints as quickly as they can," says Salko Painting Oy's Production Manager Ville Pajula gratefully.
"Speed is also our selling point, as we can serve our customers within a couple of hours. Teknos' operation supports our operation," adds Pajula.
Teknos' INFRALIT PE 8350-15 is material approved by GSB and Qualicoat, semi-gloss and weatherproof polyester powder coating that is especially suitable for aluminium structures. A paint film that is mechanically and chemically durable against corrosion retains its colour and gloss also in outdoor conditions.
GSB quality system (Gütezeichen für die Stückbesichtichtung von Bauteilen) is a quality system valued by the industry that manufactures aluminium façade and building products.
GSB International is an organisation focused on developing and monitoring the quality of surface treatment. The quality system requires continuous and extensive monitoring and testing of pre-treatment and painting process and the documentation of the results. In addition, pre-treatment chemicals and paints have been approved by GSB. The production process is inspected twice a year by GSB International that has issued the certificate.