Energy-efficient paint shop benefits customers and the environment
Löfs Ab Oy's paint shop features the most modern technology, and its energy efficiency and high-quality products are a real source of competitive advantage. Collaboration with Teknos, a pioneer of new surface treatment technologies, naturally complements the company's values and objectives.
The municipality of Larsmo, located between Jakobstad and Kokkola in western Finland, is made up of 365 islands and skerries. People from Larsmo are known to say that they have a different island for every day of the year. The vibrant municipality of 5,000 residents includes a large number of small businesses, boat-builders, and craft-workers.
Löfs Ab Oy, located on the island of Vikarholmen, is a family company specializing in surface treatments for the metal and machinery industry. Its modern production technology and rapid growth are highly impressive. The company's founder, Mikael Löfs, went into business in 1989 with a facade paint shop. The industrial paint shop was established in 1991 and Löfs entered the powder coating business in the second half of 2008. Since then, the company has almost quadrupled its turnover. In 2013, Mikael's son, Tommy, took over the operational management of Löfs.
"The secret to growth is hard work and a desire to develop the company's services. We also keep our promises," says Tommy Löfs, CEO. "It is also important to us to use the latest technology. In fact, we cannot afford to use old equipment," he adds.
Latest powder coating technology
Completely solvent-free INFRALIT powder coatings are an environmentally friendly coating method. Environmental friendliness is one of Löfs' most important values.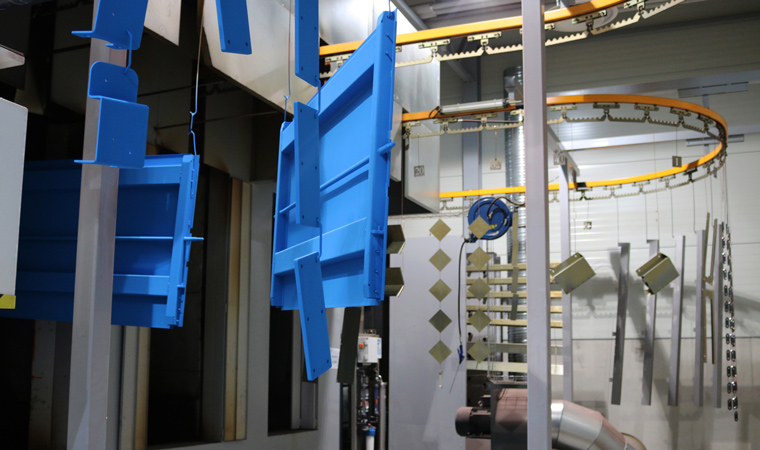 An environmentally friendly Oxilan pretreatment is used to ensure corrosion protection for powder-coated objects, as well as good paint adhesion. Two separate painting lines ensure flexible production and increased reliability. The Wagner powder coating equipment and surface treatment line were supplied by Ideal-Line.
Enough waste heat is recovered from the processes to warm the entire paint shop, which has a surface area of 5,000 square meters, as well as the offices. The powder paint shop features the most modern technology, and its energy efficiency and high-quality products are a real source of competitive advantage. This is a benefit to customers and the environment.
The company's collaboration with Teknos, a pioneer of new surface treatment technologies, runs like clockwork. "It is good that we have our own Teknos contact person who can investigate matters within the company on our behalf. If we run into a problem, we can quickly get help," says Tommy Löfs.
Wet painting
The Ostrobothnia region of Finland is well known for its metal industry. It is also home to several job shop coaters. Tough competition does not deter Löfs. "Fair competition is only a good thing – without it, nothing would develop," Tommy states.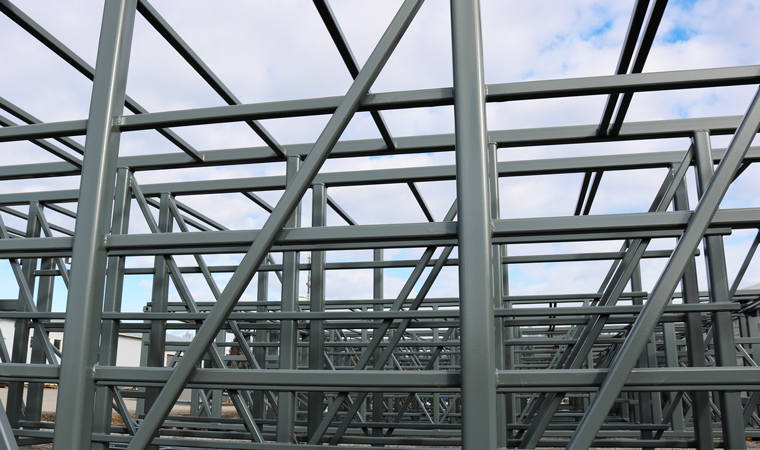 Löfs mainly uses TEKNODUR COMBI 3430 polyurethane paint to coat steel structures. The two-component, low-solvent TEKNODUR COMBI 3430 is suitable for several different surfaces as a one layer paint or a top coat in polyurethane paint systems. The paint film created by TEKNODUR COMBI 3430 is weather-resistant and also highly durable under mechanical stress.
Painting heavy machinery
Löfs paints approximately 100 truck chassis annually. For truck chassis, Löfs uses the two-component, full-gloss TEKNODUR 100 polyurethane top coat. TEKNODUR 100 creates a weather-resistant surface that has superb leveling qualities and appearance, as well as excellent color and gloss retention. The paint film is impact- and scratch-resistant, and several coats can be applied without limitation.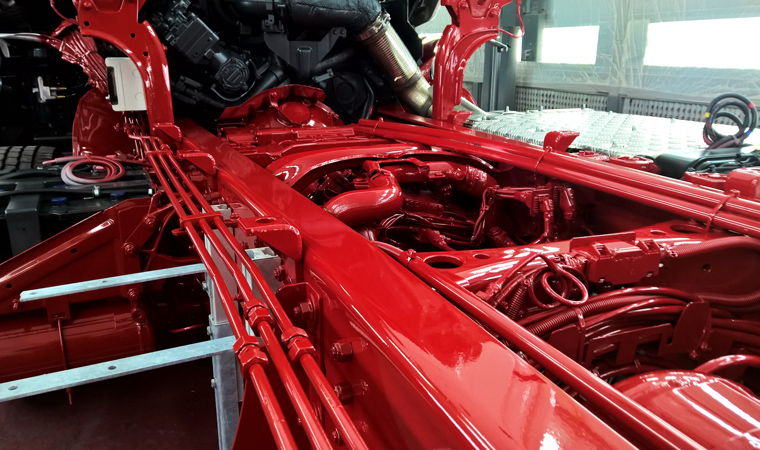 Teknos launched the full-gloss polyurethane top coat in November 2014. The paint was specially developed to meet the high-quality requirements in the vehicle industry. Löfs was also actively involved in developing the product. "We value customer feedback very highly. Great collaboration," says Jan Åkerlund, a technical expert from Teknos whose customers include Löfs.
Own FROSIO inspector
Openness and trust are the secret to Löfs long-term customer relationships, and the customer always takes precedence. "In the long run, a long-lasting customer relationship is more valuable than customer relationships that are established with high profit but only last a few years," Tommy Löfs says.

Jacob Löfs and production manager Helen Dahl.
Tommy's brother, Jacob Löfs, is attending FROSIO courses to become an inspector in the most demanding field of corrosion protection. "By having our own FROSIO inspector, we aim to ensure that large offshore manufacturers can make products of the highest quality," Tommy says.
Skilled personnel are a valuable resource
Löfs currently employs approximately 40 people. The personnel are the company's most valuable resource and the company aims to constantly develop competences. The young CEO is also not afraid to challenge long-standing practices. "Sometimes new employees see something that is overlooked by people who have been working here for years. I try to encourage new people to give their opinions," Tommy Löfs says.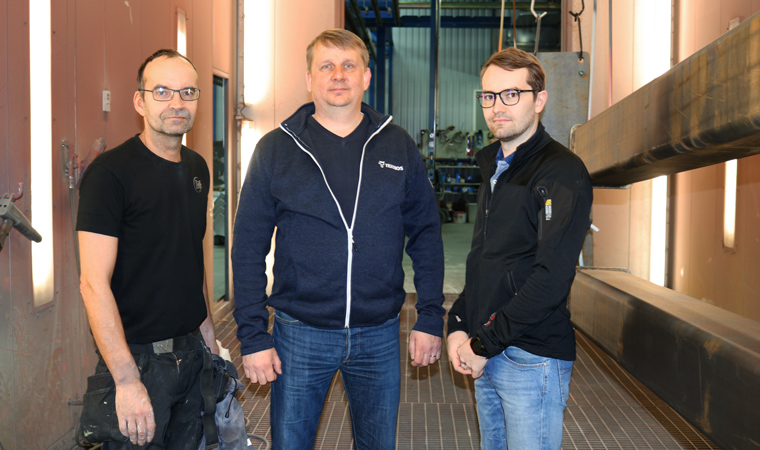 Peter Löfs, Jan Åkerlund and Tommy Löfs.
Larsmo, known as Luoto in Finnish, has the highest proportion of native Swedish speakers of any municipality in mainland Finland. More than 90% of the municipality's residents speak Swedish as their mother tongue. Although the majority of Löfs' customers nowadays speak Finnish, there is a desperate shortage of Swedish-speaking painters. Tommy encourages professionally-skilled industrial painters – whether they speak Swedish or Finnish – to get in touch, as there is plenty of work for painters.
Löfs is confidently looking forward to a bright future. "We intend to continue operating as a family company, but we will see what the children want to do," Tommy says.
Find out more: www.lofs.fi
Facebook: www.facebook.com/LofsAbOy/
Löfs Ab Oy
Founded 1989, located in Larsmo, Finland
Automated shot-blast cleaning, manual blast cleaning, pre-treatment line, two powder coating lines (including large series and large objects of 6,600 x 1,700 x 2,300 mm), wet painting (including large objects of 21,000 x 6,000 x 4,700 mm weighing up to 3,000 kg) and painting of heavy machinery.