Wehocoat field joint system showing excellent coating performance
Field joints are no longer the weakest links of the oil and gas pipelines. The Wehocoat field joint coating system, developed by Uponor and Borealis, clearly exceeds the requirements of all current standards.
Kuwait Oil Company (KOC), Kuwait – the sun is beating down from a cloudless sky and the temperature rises above +40 degrees C in the desert.
Gasum, Finland – in the wintertime, the sun peeps over the horizon for just a couple of hours a day and the temperature approaches 30 degrees below zero.
Designed to coat the field joints of oil and gas pipelines, a Wehocoat robotic device performs its tasks reliably, effectively and with uniform quality in both sets of extreme conditions.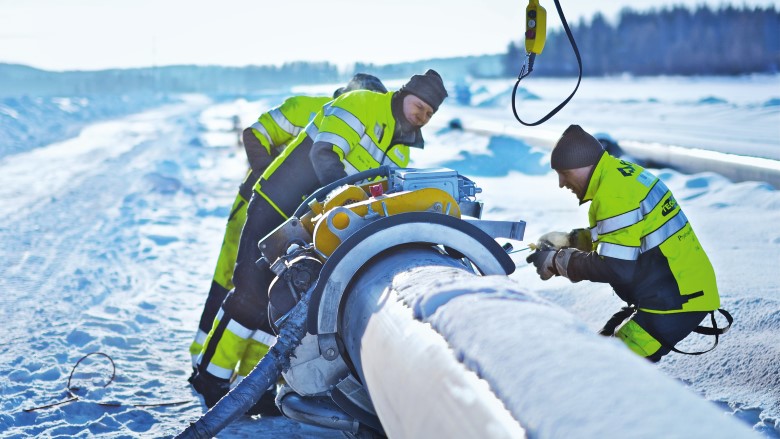 By far the best system on the market
The first Wehocoat machine prototype was manufactured eight years ago. Several years of continuous research and development resulted in the best field joint coating system on the market. Developed by Uponor and Borealis, the Wehocoat system clearly exceeds the requirements of the ISO 21809-3 standard for field joint coatings.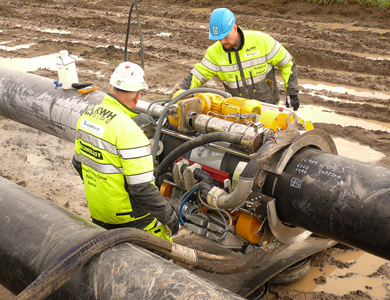 "The initiative to build a new machine and develop a new field joint coating system came from our raw material supplier, Borealis. For years, polyolefin based 3-layer coating systems have been applied onto pipes in coating mills providing excellent coating properties. Our common objective was to create a simple field joint coating system which comes as close as possible to the mill applied coatings," says Patrick Jansson, Project Manager at Uponor.
Traditional techniques, such as taped joints, heat-shrinkable plastics, or anticorrosion paints applied with a roller or paint brush, did not even come close to providing the desired level of corrosion protection or abrasion resistance. The goal of the development was to fulfil the coating requirements of the ISO 21809-1, the standard mill applied coating, also for the coating applied in the field. The results were even better than expected, and they speak for themselves.
"The properties of the Wehocoat field joint coating system reach a similar level of performance as the mill applied coating. Using the Wehocoat system, a continuous and high level protection layer can be created along the entire length of the pipeline. This prolongs the service life of the pipe system. As a matter of fact, the field joint is not anymore a weak spot in the pipeline," states Patrick Jansson.
Fusion-bonded epoxy powder tailored by Teknos
Teknos is a long-term partner of Borealis.
"Borealis asked us to develop a special epoxy coating that would function well with a reactive polyolefin top coat and that would have a suitable rate of reaction as part of the Wehocoat process. As a result of excellent planning and testing, we achieved our target, and Leif Leiden of Borealis' vision of a perfect field joint coating system became a reality," recalls Antti Kousa, Key Account R&D Manager at Teknos.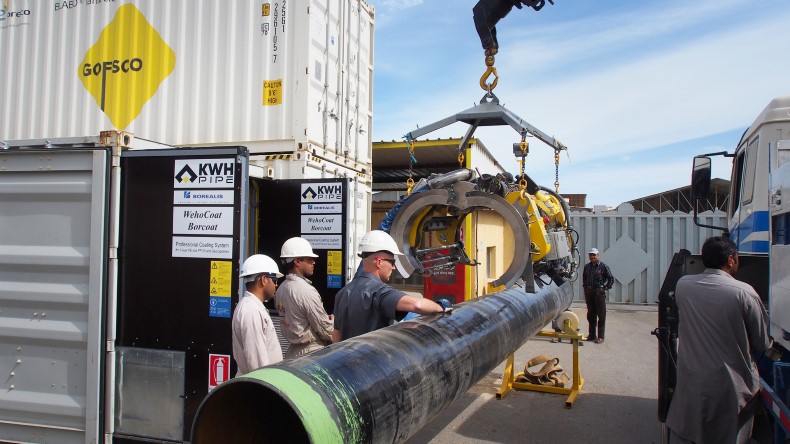 "INFRALIT EP 8064 fusion-bonded epoxy (FBE) powder forms a paint film with excellent corrosion protection properties, good abrasion and impact resistance and elasticity," explains Antti Kousa.
The robotic device heats only the skin of the blast-cleaned steel pipe – this makes the system unique. After the skin has been heated to +140 ºC, the device applies the powder coating. To cure the melted powder, the skin is heated to +190 ºC. At the second stage of the process, the device applies a Borcoat ME3000FC polyethylene top coat over the powder-coated area, without negatively affecting the parent coating. Coating one field joint takes only 20 minutes.
The state-of-the-art Wehocoat system has raised huge interest among contractors. For further information about the Wehocoat field joint system, please contact Project Manager Patrick Jansson; Patrick.Jansson(at)uponor.com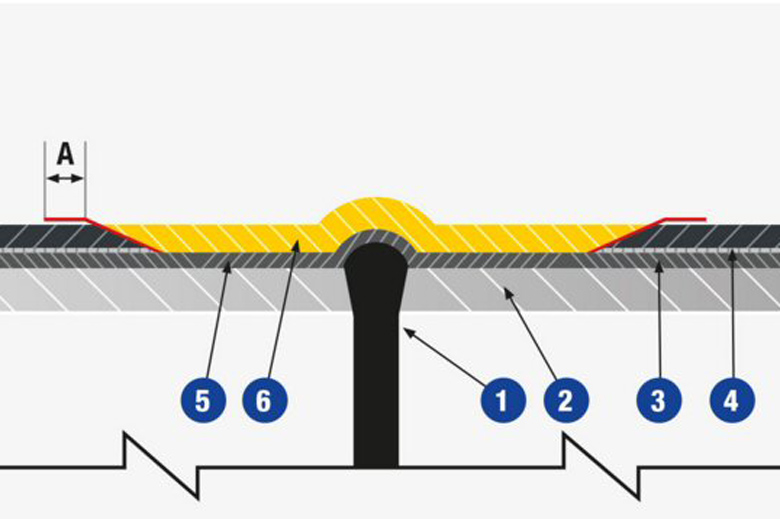 Wehocoat – BorcoatTM Joint Design
Mill coated 3-layer system
Top Coat + Adhesive Fusion-bonded epoxy Steel pipe
Field joint, 2-layer system
Welded pipe joint

Steel pipe

Factory Epoxy Coating, FBE

Factory Adhesive and Top Coat

Teknos INFRALIT EP 8064 FBE powder, min 100 µm

Borcoat ME 3000FC Top Coat (PE), min 3 mm
A = Overlap Distance min. 10 mm beyond bevelled area
ISO 21809 Standard Petroleum and natural gas industries – external coatings for buried or submerged pipelines used in pipeline transportation systems
Part 1: Polyolefin coatings (3-layer PE and 3-layer PP)
Part 2: Fusion-bonded epoxy coatings
Part 3: Field joint coatings
A coating applied on the area where two steel pipes have been welded together is known as a field joint coating.
UPONOR is a leading international provider of plumbing and indoor climate solutions for residential and commercial building markets across Europe and North America. www.uponor.fi
BOREALIS is a leading provider of innovative solutions in the fields of polyolefins and base chemicals. www.borealisgroup.com
The Kuwait Oil Company KOC is responsible for the exploration, drilling and production of oil and natural gas, and for more than 2,000km of steel pipelines within the State of Kuwait.
GASUM is a Finnish expert in natural energy gases. It imports natural gas to Finland, upgrades biogas, and transmits and delivers these for a broad range of uses in energy production, industry, homes, and land and maritime transport. The gas pipeline from Mäntsälä to Siuntio was a great breakthrough project, where over 1,500 field joints were coated successfully using the Wehocoat system.