"The properties of the Wehocoat field joint coating system reach a similar level of performance as the mill applied coating. Using the Wehocoat system, a continuous and high level protection layer can be created along the entire length of the pipeline. This prolongs the service life of the pipe system. As a matter of fact, the field joint is not anymore a weak spot in the pipeline," states Patrick Jansson.
Fusion-bonded epoxy powder tailored by Teknos
Teknos is a long-term partner of Borealis.
"Borealis asked us to develop a special epoxy coating that would function well with a reactive polyolefin top coat and that would have a suitable rate of reaction as part of the Wehocoat process. As a result of excellent planning and testing, we achieved our target, and Leif Leiden of Borealis' vision of a perfect field joint coating system became a reality," recalls Antti Kousa, Key Account R&D Manager at Teknos.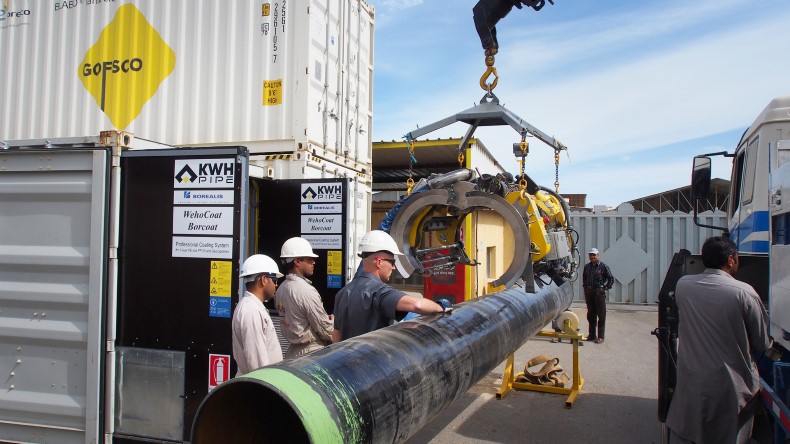 "INFRALIT EP 8064 fusion-bonded epoxy (FBE) powder forms a paint film with excellent corrosion protection properties, good abrasion and impact resistance and elasticity," explains Antti Kousa.
The robotic device heats only the skin of the blast-cleaned steel pipe – this makes the system unique. After the skin has been heated to +140 ºC, the device applies the powder coating. To cure the melted powder, the skin is heated to +190 ºC. At the second stage of the process, the device applies a Borcoat ME3000FC polyethylene top coat over the powder-coated area, without negatively affecting the parent coating. Coating one field joint takes only 20 minutes.
The state-of-the-art Wehocoat system has raised huge interest among contractors. For further information about the Wehocoat field joint system, please contact Project Manager Patrick Jansson; Patrick.Jansson(at)uponor.com