At the OmaSP Stadium collaborative groups score
The brand new OmaSP Stadium in Seinäjoki is a cause for pride among all of the parties involved in the construction project. The multipurpose stadium, which also meets international standards, was completed on time and within budget. The stadium's impressive steel structures, facade, and wall surfaces are protected by Teknos paints.
The OmaSp Stadium was constructed quickly and cost-efficiently as a private project. The public sector also has a clear involvement as the City of Seinäjoki was responsible for the pitch and lighting. The total cost of the project was EUR 13.7 million.
"This was a Seinäjoki project and, as Ostrobothnian companies were involved, the pace was fast. We are price-aware and able to make rapid decisions, so the project was quick and cost-effective to carry out. Doing things together suits the Ostrobothnian style," says Jarkko Mäkelä, CEO of W-Media & Management Oy, the company responsible for the stadium's operations.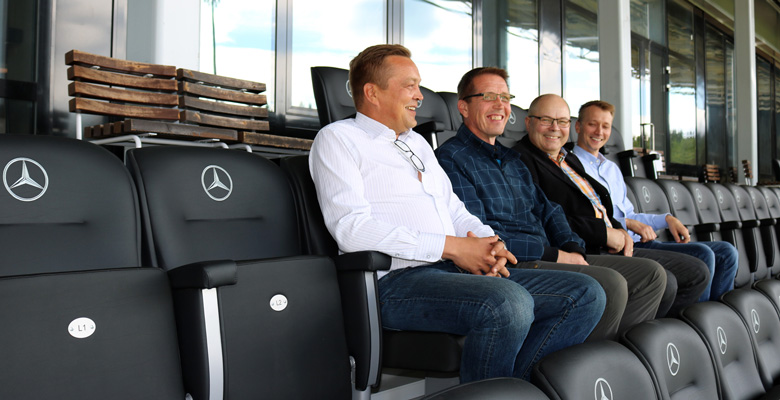 Jarkko Mäkelä, Eero Martinmäki, Markku Uusitalo ja Marko Ryssy are testing the VIP seats. The old wooden seats, visible on the background, are originally from Helsinki Olympic Stadium.
The stadium was designed to accommodate visitors comfortably, even several hours before a match begins. The advertizing sites are digital and it is easy for event producers to get to the stadium because they have access to the latest technology. There was also a desire to invest in audience safety.
"Top-quality security cameras film events and, if necessary, any trouble-makers are easy to identify," Mäkelä says.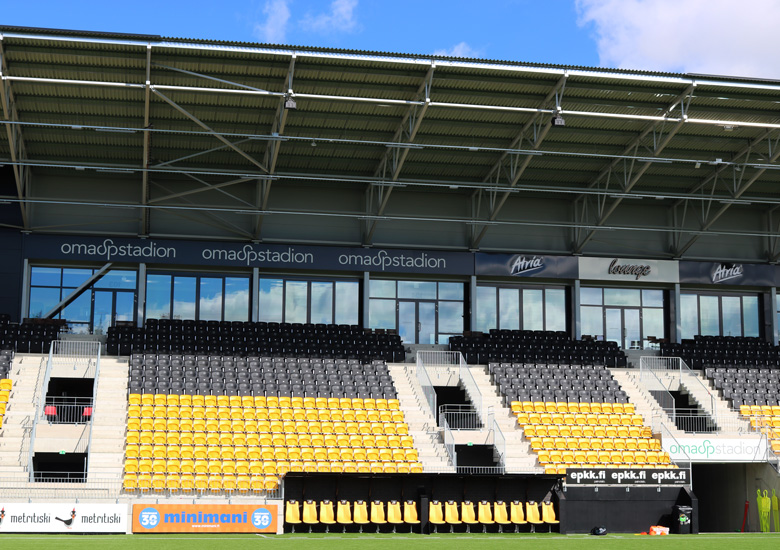 The OmaSP Stadium was opened to the public in June 2016 when the local soccer club, SJK, played against HJK of Helsinki. The stadium's official opening ceremony took place on September 3rd. The soccer pitch fulfils UEFA's requirements and it is also suitable for American football. Soccer fans have really taken to the new stadium.
"The number of fans coming to matches already looks promising – we have had around 3,800–3,900 fans at every match, which is an excellent achievement bearing in mind the population of the city," says Teemu Virtanen, CEO of the Seinäjoen Jalkapallokerho soccer club.
By the end of 2016, the stadium had already held 8 large events and welcomed a total of 40,000 visitors.
Perfect site for Teknos
Teknos metal wet paints, powder coatings, and indoor paints were used to protect the surfaces at the OmaSp Stadium.
The visiting team's end of the stadium bears a handsome Värimiehet logo and the slogan, "Maalit ratkaisevat" ("Goals/Paints are decisive") In Finnish language, the multiple-meaning word "maali" can mean both goal and paint.
Värimiehet Oy is a company that operates in Seinäjoki and Vaasa as a wholesaler and retailer of paints and interior products. It is well known for its high-quality products and excellent customer service. Värimiehet supplied the indoor paints, mats, and tiles for the OmaSp Stadium, as well as surfacings for the steel structures.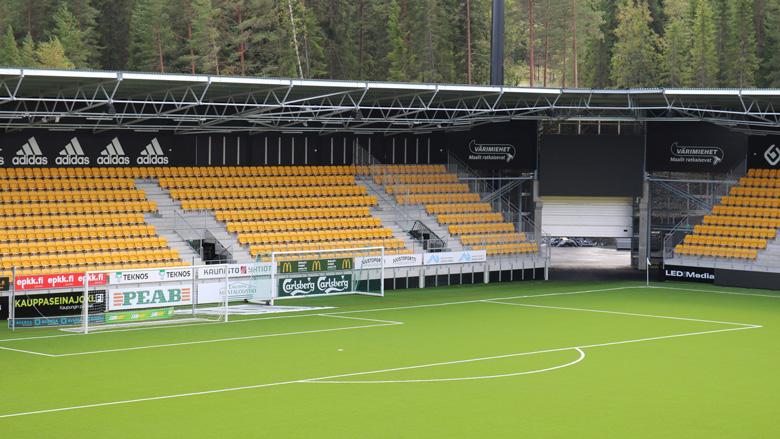 Seinäjoen Pintakäsittely Oy, the company responsible for the surface treatments of the steel structures, is particularly grateful to its long-term partners, Värimiehet and Trutec Oy, which was responsible for manufacturing the steel structures and carrying out quality control.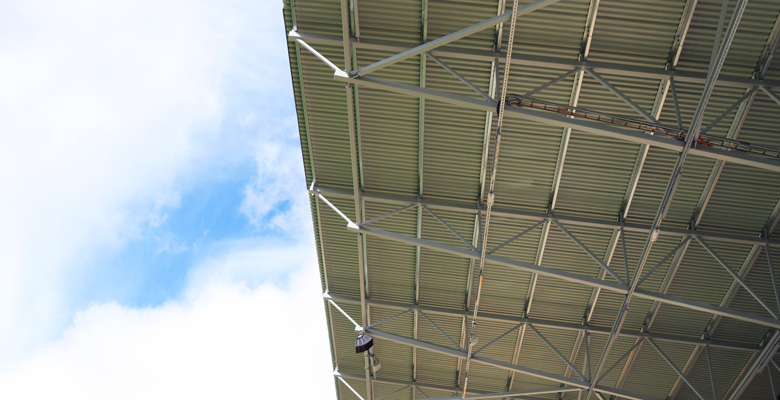 "It was great to be involved in this interesting project. All of the companies are located in a relatively small area, so logistics worked well. We used familiar Teknos products and the structures were relatively simple – as such the actual surfacing work was a fairly easy job. However, the longest sections of steel trusses were 26–28 meters – not everyone can deal with such long sections," says Pasi Koskela of Seinäjoen Pintakäsittely.
For an industrial paintshop, it is important that products can be obtained very quickly when they are needed.
"Collaboration with Värimiehet has worked well – we have never been left in a bind. If we need special shades of paint or suddenly require a few more cans, Värimiehet always has them in stock and we can get them tinted quickly. Värimiehet is also a great source of information if we need to know about new and special products," Koskela says.
Collaboration with Teknos
For Marko Ryssy, Värimiehet Oy's CEO, and Eero Martinmäki, who serves industrial customers, good customer service is a badge of honor. Värimiehet has collaborated with Teknos for decades in a partnership based on mutual trust. This forms a solid foundation for projects involving painting wood, metal, and concrete surfaces.
"The OmaSp Stadium is a fine example of the expertise and ability of local companies and their partners," Marko Ryssy says.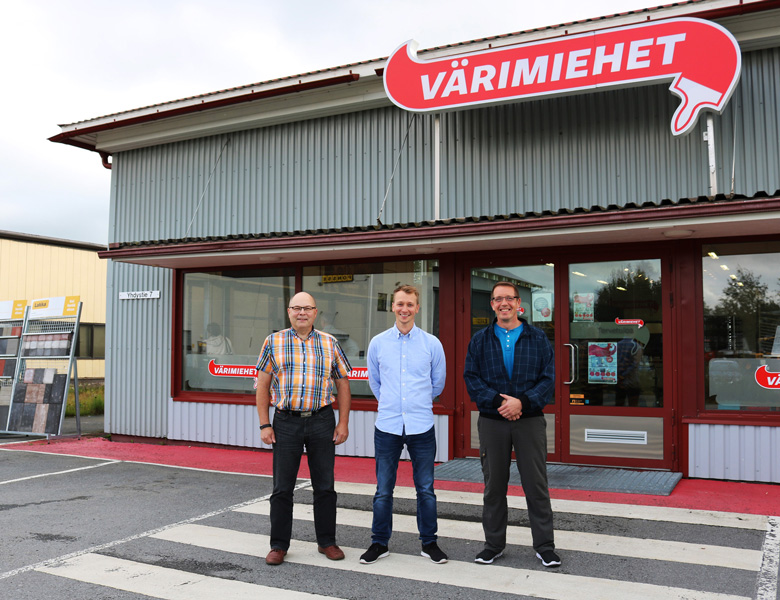 Markku Uusitalo from Teknos with Marko Ryssy and Eero Martinmäki from Värimiehet.