RENSA BRUSH
RENSA BRUSH
Brush cleaner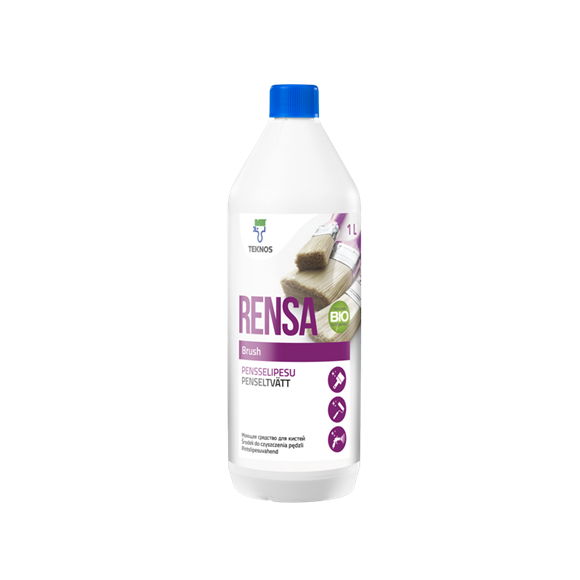 RENSA BRUSH is an efficient detergent for cleaning of painting equipment for water-borne paints. Mild odour. Effectively dissolves even dried paint and keeps brushes soft.
RENSA BRUSH is used for cleaning tools after painting work. Brushes, rollers, spraying equipment and other tools used for painting can be cleaned with RENSA BRUSH. RENSA BRUSH is a biodegradable product. It meets the requirements by OECD and by the Detergent regulation of European Parliament and the Council on detergents for biodegradability (OECD 301B, EC 648 / 2004).
Technical data sheet
Safety data sheet
Application
RENSA BRUSH is a ready-to-use solution, which is used undiluted. Wet the tool entirely with brush cleaner, scrape off dissolved paint and rinse with clean water. Repeat if needed. If the paint has already dried, brush first off all loose paint. Then soak the tool in brush cleaner, until all the paint is dissolved.
Special precautions
RENSA BRUSH is an efficient, but user- and environmentally friendly and biodegradable product. However, the detergent must be used with reasonable caution. Avoid skin contact and breathing the spray mist. Protect eyes from splashes. More information from product's Safety Data Sheet.
| | |
| --- | --- |
| pH | 11 |
| Dilution | No dilution. |
| Packages | 1 l, 5 l. |
| Safety markings | See safety data sheet. |
| Approvals & certificates | OECD 301B, EC 648 / 2004 |