NORDICA PRIMER
NORDICA PRIMER
Water-based alkyd primer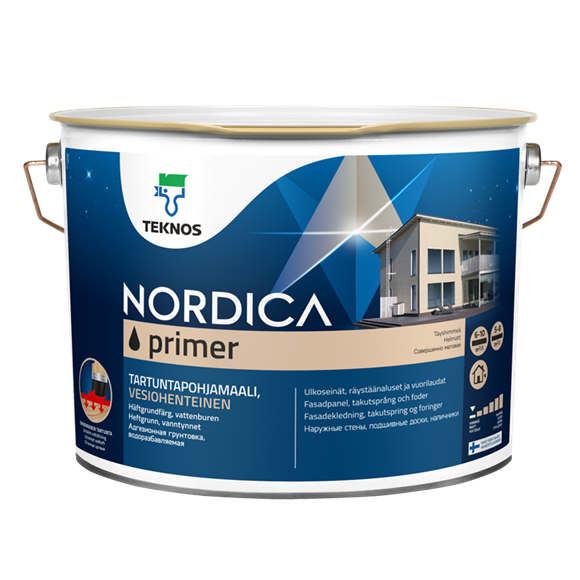 Special adhesion
Water-borne
Water-borne alkyd-based full-matt adhesion primer for wooden surfaces outdoors.
Use: Walls, doors etc. wooden surfaces outdoors, when they are going to be top coated with acrylate, alkyd or oil paints.
Surface preparation
Unpainted surfaces are cleaned from loose wood fibers, dirt and dust. Clean mildewed surfaces with RENSA FACADE facade cleaner. Apply a coat of clear wood preservative from the WOODEX series and allow to dry for one day. Previously painted wooden surfaces that have been cleaned from poorly adherent paint, loose wood fibers and other impurities are washed, if needed, with RENSA FACADE facade cleaner. Wooden parts that are in poor condition are replaced with new ones. Bare wooden surfaces are primed with clear wood preservative from the WOODEX series and are allowed to dry for one day. NORDICA PRIMER is to be painted only on bare wood prepared according to the surface preparation instructions above, not on top of old paint. Clean metal surfaces from loose rust, grease and dirt and wire-brush the surfaces before the bare metal surfaces are painted with FERREX AQUA.
Application
Stir thoroughly before use. If the paint is applied by spray, the surface is to be finished by a brush to ensure the adhesion.
Application conditions
The surface to be treated has to be dry. The moisture content of the wood is to be below 20%. During the application and drying period the temperature of the ambient air, the surface and the product shall be above +5°C and the relative air humidity below 80%.
| | |
| --- | --- |
| Solids | abt. 41 % by volume |
| Volatile organic compound (VOC) | EU VOC limit value (kat A/d): 130 g/l. The product's VOC: max. 130 g/l. |
| Gloss | Full-matt |
| Tinting system | Teknomix |
| Density | abt. 1.3 g/ml |
| Practical spreading rate | 6 - 10 m²/l depending on the surface. |
| Drying time – touch dry | 3 h |
| Drying time - overcoatable | 16 h |
| Thinner | Water. |
| Clean up | Water. |
| Colours | White and base paint 3. Can be tinted to obtain the shades in Exteriour Colour Card. The colour accuracy is not complete. |
| Packages | White and base paint 3: 0.9 l, 2.7 l, 9 l. |
| Safety markings | See safety data sheet. CHEMICAL PROPERTIES AND SAFETY The product is not classified as hazardous according to Regulation (EC) 1272/2008. Recommended safety precautions when using the product: Avoid unnecessary skin contact. Use work clothes to protect against paint splashes. Use eye protection to protect againts paint splashes. During spray application avoid breathing spray mist. Use respirator, filter type A P. More information and Safety data sheet: Product's product page www.teknos.com |
| Approvals & certificates | Finnish Key Flag |