SILOKSAN PRIMER
SILOKSAN PRIMER
Adhesion primer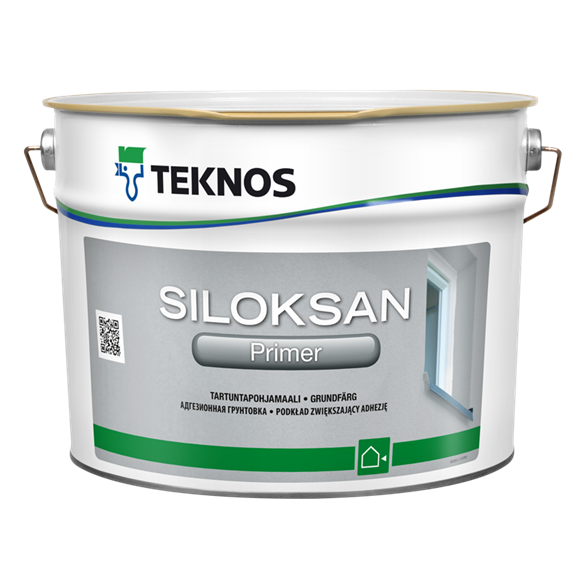 Special adhesion
Solvent-borne
Vinyl acrylate primer dilutable with solvent naphtha.
For use outdoors as primer on mineral surfaces. Especially suited for priming of old lime plaster and lime wash surfaces. Penetrates into the substrate and binds the porous surface layer. Can indoors be used for whitening of ceilings and wall tops of old industrial halls.
Technical data sheet
Other product specific documents
Product colour chart
Surface preparation
Clean the surfaces to be treated. Remove loose and poorly adherent old paint. Remove brittle, old surface layers. Clean with e.g. pressurised hot water or water-sand jet. Remove the laitance from new concrete surfaces. When preparing and painting substrates containing asbestos, regulations given by authorities must be followed. The needed repairs are done with suitable plaster. New surfaces must be allowed to dry for at least 3 months before they are painted.
Application
Before use stir the paint thoroughly. Apply by brush, roller or airless spray. Suitable nozzle for airless spray is 0.017 - 0.021". If required, dilute the paint 5 - 10 % by volume, e.g. for lime wash surfaces and when repainting the ceilings of industrial halls. SILOKSAN PRIMER can also be left as top coat, e.g. on industry hall ceilings. The top coating is done at the earliest after 2 hours in good conditions with SILOKSAN FACADE Silicone Emulsion Paint. Indoors the finishing can be done with other paints depending on the object. In cool and humid conditions the top coating is done at the earliest the next day.
Application conditions
During the application and drying period the temperature of the ambient air, the surface and the paint shall be above +5 °C and the relative air humidity below 80 %.
| | |
| --- | --- |
| Solids | abt. 50 % by volume |
| Volatile organic compound (VOC) | EU VOC limit value (kat A/c): 430 g/l. The product's VOC: max. 430 g/l. |
| Gloss | Full-matt |
| Tinting system | Teknomix |
| Density | abt. 1.4 g/ml |
| Drying time – dust free | 30 min |
| Drying time - overcoatable | 2 - 3 h |
| Thinner | TEKNOSOLV 1621 (solvent naphtha) |
| Clean up | TEKNOSOLV 1621 (solvent naphtha) |
| Colours | White |
| Weather resistance | Very good. |
| Packages | 10 L, 20 L |
| Safety markings | See Safety Data Sheet. |
| Approvals & certificates | CE marking,Finnish Key Flag |