Tailored epoxy resins for sewer pipe renovation
In aging residential buildings, the growing need for pipe renovation is a common ailment. A pipe renovation project takes several weeks and the residents have to find another place to live in the meanwhile. However, it is possible to do a trenchless rehabilitation of old sewer pipes in a quick, cost-effective and less disruptive way by using the cured-in-place pipe (CIPP) method. Solvent-free epoxy resins have a key role in the CIPP method.
The success of the wholesale trade company in pipelining systems boosted by Teknos epoxy resins
A resin-saturated felt tube (liner) made of polyester cloth is inserted into the pipe to be renovated. As the epoxy resin cures, it forms a hard and durable plastic coating inside the pipe. A coating of epoxy resin applied during CIPP will endure normal pipe use for at least 40 years, and the same pipe can later be renovated again.
The success of the leading wholesale trade company in pipe lining systems in Finland has been boosted by Teknos epoxy resins. "In the recent years, the CIPP method has increased in popularity especially in renovation projects within buildings. Epoxy resin has a number of clear benefits. It is solvent-free and odor-free, has high chemical resistance, cures quickly and does not shrink. CIPP is also very well suited for renovation of small pipes that have irregular shapes," says Kim Kippo, CEO of Boldan Oy.
Boldan is the leading expert and wholesale trade company in pipe lining systems in Finland. Teknos has been Boldan's epoxy provider since 2015, and yearly growth figures have been staggering. Boldan Oy provides its customers with a comprehensive service concept that includes all the equipment, materials, training and technical support needed for successful pipe renovation projects.
Teknos optimizes epoxy properties for each pipe type
The properties of the epoxy resin used in CIPP have been optimized at Teknos R&D department in accordance with Boldan's wishes. "For example, the viscosity and potlife have been optimized for different pipe types. The most common pot lifes are 15, 30, and 60 minutes. When the epoxy has cured, it forms a harmless plastic coating," says Tero Ojala, Product Development Chemist at Teknos.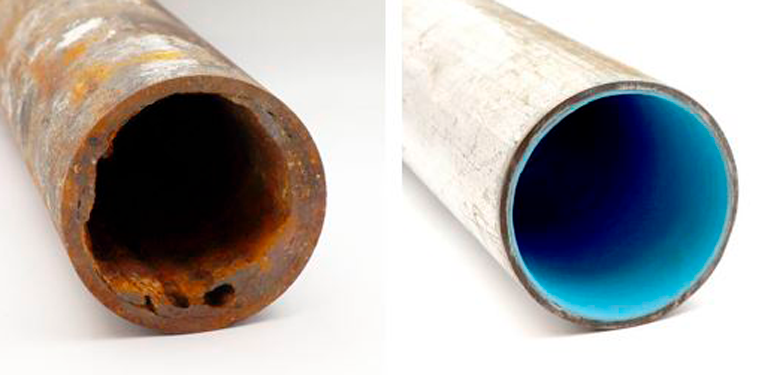 Pipe renovation is now booming in Finland especially in buildings constructed in the '60s and '70s. Boldan is very happy with the cooperation with Teknos. "Tero Ojala has done a wonderful work with epoxy resins. We always get quick and flexible service, and Teknos products are also easy to track," Kippo says.
Rehabilitation of old sewer pipes using the cured-in-place pipe (CIPP) method
The liner is initially inside out and will turn inside in only in the pipe when it is installed. Installation is done by inserting the liner into the pipe using a pressure vessel called an inversion drum. Hot water or steam can be used to accelerate the curing rate of the resin. The end result is an even, hard and smooth pipe.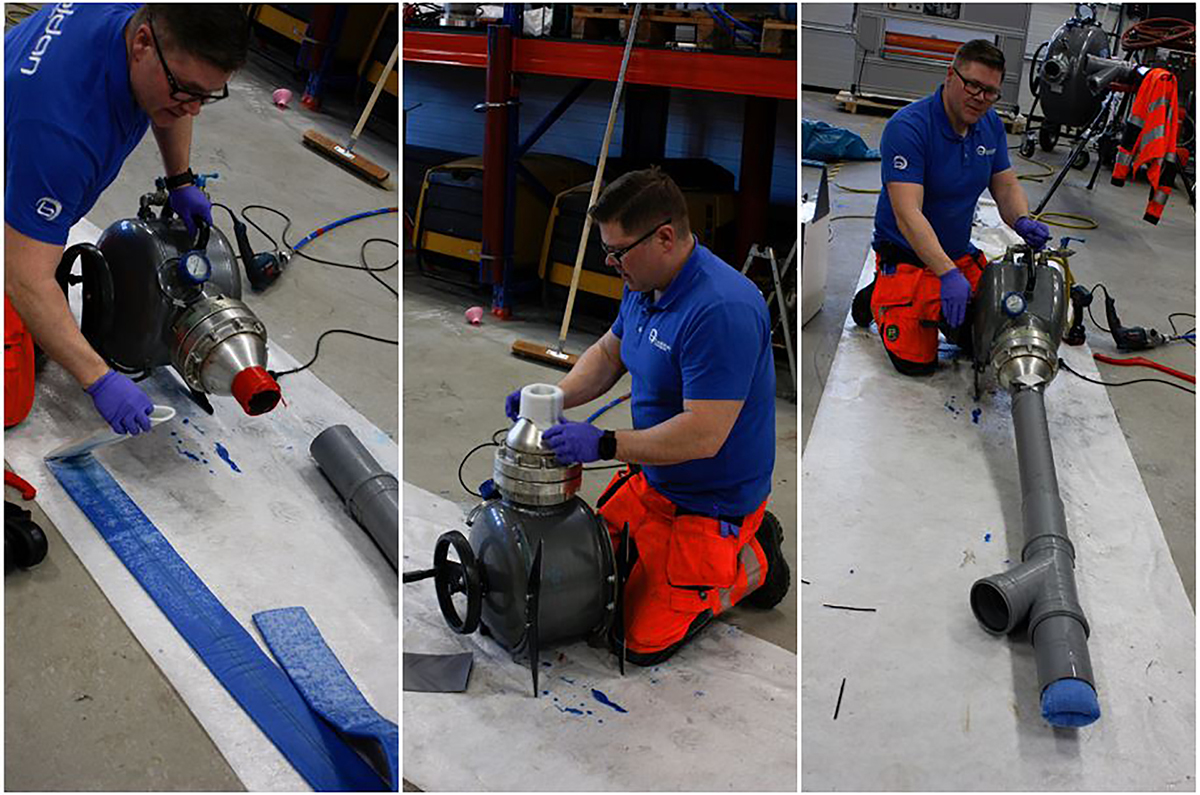 Trainer Petri Nurminen demonstrates the CIPP method. Pressure is used to insert an epoxy-impregnated polyester liner into a pipe.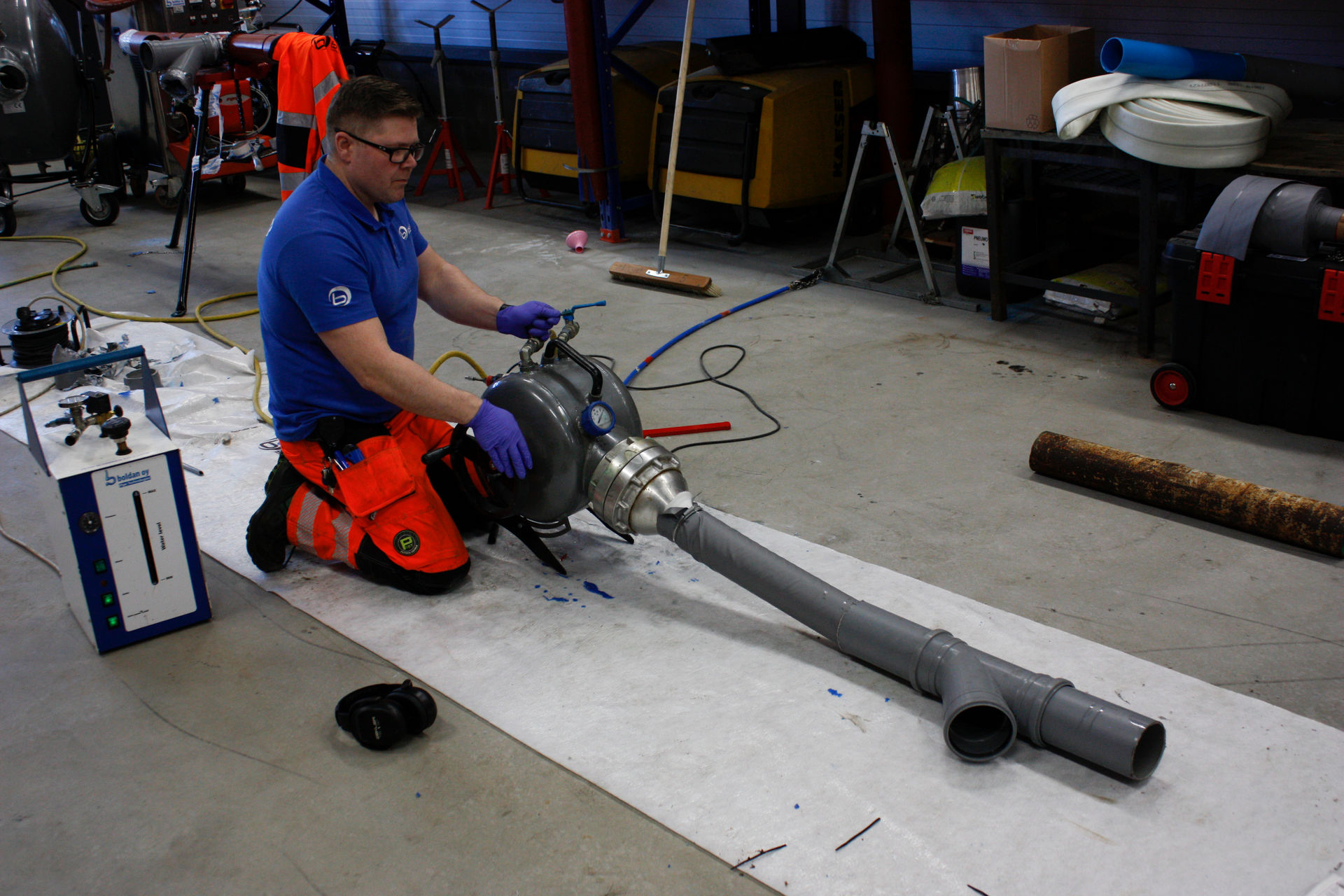 Boldan Oy
Founded 2010
Number of personnel 40
Pipe renovation is subject to many certificates and permits, which are often country-specific. Boldan Oy has been granted the Boldan In-House Lining System certificate, which is the most extensive certificate in the market covering all the materials and installation methods used in pipe renovations.
Boldan is currently expanding internationally. The best growth potential at the moment is in Europe, Israel, Australia, and South America. Additionally, there is a subsidiary Boldan Inc. serving customers in the United States.
Boldan is part of BP-Tech Group which also includes subsidiaries Spraypoxy Oy, PipeKeeper Oy and Boldan Inc. The BP-Tech Group is an international operator whose multi-professional staff works closely with HVAC, real estate and chemical companies to provide best products and services to its customers.