The Nordic region's most modern shipyard on an inland waterway is respecting traditions
The sounds of history reverberate through the only covered shipyard hall on Finland's inland waterways. The Päijänne Shipyard in Central Finland uses a traditional method to paint steel boats over 100 years old with epoxy-based tar. Newer steel boats are coated in low-solvent INERTA 165 epoxy coating, which can withstand heavy wear.
There is something special about old steam ships made of steel. Perhaps because each ship has had so many incredible adventures and seen so much history in its long life. Or maybe for the simple reason that steel steam ships were built to last from one century to the next. Well over 100 steel ships are thought to be active on the waters in Central Finland, with the oldest dating back 152 years.
Traditionally, steel boats were painted with epoxy tar, also known as epoxy tar pitch, in the areas subjected to immersion stresses. Epoxy tar paint provides effective corrosion protection and is easy to apply, even in thick layers. Steel boats painted with TEKNOTAR 100 epoxy tar paint can be left in the lake or sea over the winter without any worries because the coating is flexible and resilient, so it can withstand large fluctuations in the temperature of the metal.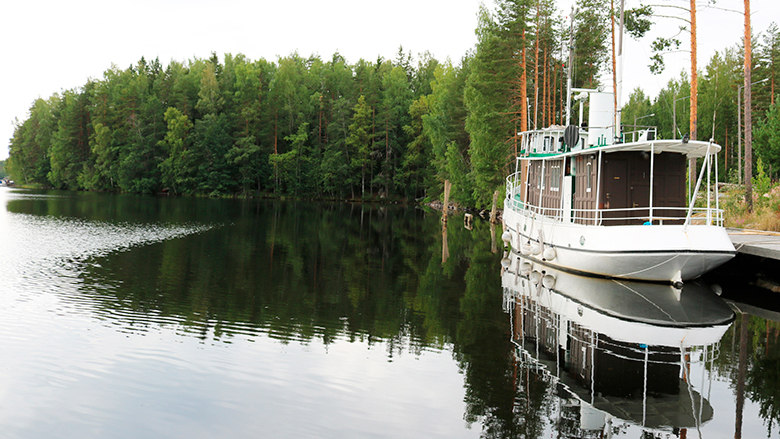 If there is damage to the hull of a steel boat painted with epoxy tar, it is not necessary to repaint the entire vessel. All that needs to be done is to repair the damaged site, remove impurities – such as grease and salt –, roughen the old paint surface, and make sure that the paint surface is dry and clean.
"Boats that are used in freshwater and painted with epoxy tar can usually be given an adequate pretreatment by sandblasting. If the boat has been in the sea, the salt must first be washed away using fresh water," says Jyrki Sandberg from Teknos. "Previously, the surfaces were cleaned using steam, but sandblasting makes the surface rougher while also making the cleaning process faster and more efficient. It is a big advantage that freshwater steel boats do not need to be rinsed," says Jouko Hytönen from Päijänne Shipyard.
It is not recommended to coat epoxy tar with any paint other than epoxy tar. But not to worry: epoxy tar paint is still readily and quickly available.
The 126-year-old M/S Mallasvesi has been lifted into the dock for a condition inspection. Jouko Hytönen is responsible for surface treatments for steel boats.
"Epoxy tar is more flexible than a conventional epoxy paint. Also, the pigment in the epoxy tar may permeate conventional epoxy paint, so it is safer to paint epoxy tar surfaces with more epoxy tar," Jyrki Sandberg says.
The only Finnish manufacturer of epoxy tar paint
Teknos TEKNOTAR 100 is a two-pack synthetic epoxy tar paint that does not contain harmful polycyclic aromatic hydrocarbons (PAHs).
The epoxy tar paint forms a thick, chemically resistant protective layer, and it is suitable for exterior and interior use, as well as for use in underground and underwater steel applications. TEKNOTAR 100 is also suitable for concrete surfaces. Teknos is currently the only Finnish manufacturer of epoxy tar paint.
The covered shipyard hall can accommodate large vessels
Päijänne Shipyard's hall is 15 meters (50 feet) high, enabling repair and painting work to be done on large vessels whatever the weather outside. "The shipyard hall was designed to accommodate one of the largest ships operating on Central Finland's waterways," Jouko Hytönen says, referring to M/S Vellamo, a 130-seat paddle steamer.
The door to the shipyard hall has a surface area of 100 square meters (1,080 square feet) and a height of 12 meters (40 feet). The height of the hall is 15 meters (50 feet).
The walls of the rest area are graced with a collage of old, heavily worn steel ships painted white. "We have often thought that it is Teknos paint that is keeping many of these ships afloat," say the boys from Päijänne Shipyard.
Juha Hätönen (left), Jyrki Sandberg, Tommi Kemppainen, and Jouko Hytönen, with special expert Elmi the dog on the shore of Lake Ruotsalainen.
The story of M/S Mallasvesi
M/S Mallasvesi has been lifted into the dock for a condition inspection. The 126-year-old steel boat is in very good shape for its age.
If Mallasvesi could talk, it would have many fascinating tales to tell. The vessel was built at John Stenberg's engineering company in Hakaniemi, Helsinki, in 1892, and it was originally called Neptun III. Under the ownership of the Ab Mallasvesi company, the name was changed to Mallasvesi II, and the vessel later became known as Wäinämöinen when it served forestry industry company Ab Walkiakoski as a steam tug boat.
M/S Mallasvesi is in very good shape for its age.
The steel boat was eventually bought by a private owner and renamed Mallasvesi. The steam engine has been replaced by a diesel motor, and the vessel is now about twice as tall as it used to be. Mallasvesi is by no means the oldest steel ship operating on the waterways of Central Finland. That honor goes to Wilkas, a vessel built in 1866.
Low-solvent INERTA 165 can withstand heavy wear
The newer steel boats are given two coats of INERTA 165 epoxy coating using a painting system for direct application onto a blast-cleaned steel surface. The high-quality epoxy coating has also been widely used to coat sluice gates and sea marks because it is more durable than conventional epoxy paints when subjected to stresses such as ice.
In the areas subjected to immersion stresses, the steel boat is coated in low-solvent INERTA 165 epoxy coating, which can withstand severe wear.
Low-solvent INERTA 165 epoxy coating has the characteristic properties of good adhesion to the blast-cleaned vessel, and resistance to severe mechanical stresses and heavy wear thanks to the smooth, hard surface that is left when the paint film hardens.