TEKNOZINC 90 SE A
TEKNOZINC 90 SE A
Zinc rich epoxy paint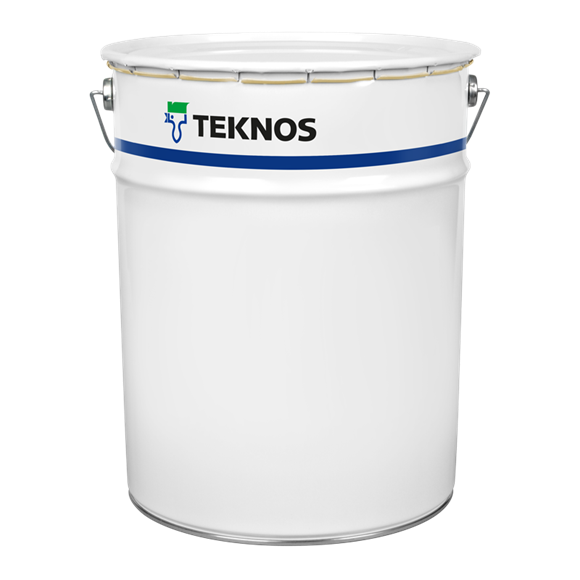 Corrosion protective
2-component
Primer
TEKNOZINC 90 SE A is a two-pack solvent-borne zinc rich epoxy paint.
Used as a priming coat in polyurethane, chlorinated rubber and epoxy coating systems.
Protects efficiently steel from underfilm corrosion and resists weathering even without any top coat. The paint comes up to the specifications of both standard EN-ISO 12944-5 and the reference book 'Boverkets handbok om stålkonstruktioner (BSK99)'. The paint has been approved for use in nuclear power plants in Scandinavia and comes up to the specifications of TBY (Technical regulations for surface treatment). The zinc content of the paint is at least 90% by weight in the dry paint film.
| | |
| --- | --- |
| Solids | abt. 53 % by volume |
| Total mass of solids | abt. 2100 g/l |
| Volatile organic compound (VOC) | abt. 450 g/l |
| Pot life | 16 h (+23 °C) |
| Mixing ratio | 5:1 by volume (comp. A : comp. B) |
| Hardener | Comp. B: TEKNOZINC 90 SE A HARDENER |
| Gloss | Matt |
| Drying time – dust free | after 5 min |
| Drying time – touch dry | after 30 min |
| Thinner | TEKNOSOLV 9506 |
| Clean up | TEKNOSOLV 9506 |
| Approvals & certificates | Boverkets handbok om stålkonstruktioner (BSK07),EN ISO 12944-5,TBY |