EPINOX BOSMAN 54
EPINOX BOSMAN 54
Epoxy primer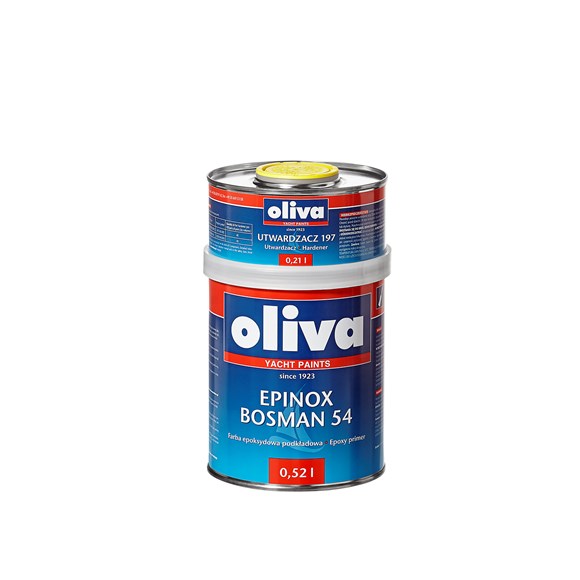 Corrosion protective
Water resistant
2-component
Solvent-borne
Primer
Two-component polyaminoamide cured epoxy enamel.
For the renovation of yachts from the laminate to prevent the phenomenon of osmosis. As an intermediate coating in the systems of epoxy or epoxy-polyurethane
The coating with high gloss, flexible and mechanically resistant, also with very good adhesion to the substrate. The coating is resistant to water, salt- and alkali- solutions, crude oil, vegetable oil, diesel oil and some aliphatic hydrocarbons. It is also resistant to spillages and splashes of diluted inorganic acids and aromatic hydrocarbons. Under the influence of the sun radiation, tint of the coating may change.
Technical data sheet
Safety data sheet
Surface preparation
The degree of surface preparation depends on the type and operating conditions. Fill cavities in the substrate using epoxy putty first BOSMAN Wash the surface with water containing OLIVA CLEANER - should be dry, devoid of fat salt and dust. Steel and aluminium substrate should be primed with the paint ALU-STEEL PRIMER 2002 and wood – thinned WOOD PRIMER 12 .The surface of the laminate should be roughened with sandpaper does not exceed 1/3 of the gel coat.
Application
Airless spray, brush. Airless spray parameter - nozzle size: 0,38 - 0,48 mm, nozzle pressure: 10 - 15 MPa.
Application conditions
Minimum surface temperature: +5°C and at least 3°C higher than dew point, relative air humidity below 85%, good ventilation.
| | |
| --- | --- |
| Solids | abt. 53 % by volume |
| Volatile organic compound (VOC) | abt. 450 g/l |
| Pot life | 10 h (+23 °C) |
| Mixing ratio | 100:40 by volume (comp. A : comp. B) |
| Hardener | Comp. B: UTWARDZACZ 197 |
| Drying time – dust free | after 1,5 h |
| Drying time – touch dry | after 7 h |
| Drying time - overcoatable | after 10 h |
| Thinner | Not recommended. When necessary (for example – thickening product) use TEKNOSOLV 9506. |
| Clean up | TEKNOSOLV 9506 |
| Packages | Base: 0,52 l Hardener: 0,21 l |
| Safety markings | See Safety Data Sheet |