A multi-talented surface treatment company for the process industry
"Now there is something genuinely new in the surface treatment sector. Although polyurea technology has been on the market for some time now, it was only when Teknos got involved that the situation really changed," says Kotek Factory Service Oy's CEO, Pasi Koskinen.
Experienced, reliable, and keen to develop new things – that is Kotek Factory Service in a nutshell, according to the company's figurehead, Pasi Koskinen. Kotek Factory Service is very well known in the industry, and collaboration with a well known partner in the sector is valued.
Kotek Factory Service Oy is based in a large industrial area in Kokkola, Finland. The company, which comprises 20 installation and coating professionals, is currently looking for more employees because, since polyurea was taken into use, there has been no shortage of contracts and business operations have really taken off.
Like a kid in a candy shop
CEO Pasi Koskinen has nearly 26 years' experience in industrial painting and coating.
"I had got to thinking that everything that could be done had been done, and that nothing new would arrive. But I was wrong. I must admit that I am rather excited about this polyurea – I am like a kid who has just been given candy. Now there is something genuinely new in the surface treatment sector," Koskinen says.
Jan Åkerlund, a technical expert from Teknos, with Pasi Koskinen, CEO, and Mikko Koskinen, foreman, both from Kotek Factory Service.
"Although polyurea technology has been on the market for some time now, it was only when Teknos, a strong Finnish company, got involved that the situation really changed," Koskinen says.
"The reliability of polyurea deliveries has improved dramatically. Thanks to rapid deliveries, we can make precise purchases and there is no need to build up an inventory of coatings just in case. Once, we only found out in the middle of a contract that a thickener needed to be coated quickly. Teknos delivered polyurea to the site immediately," Koskinen recalls.
Process industry of interest
TEKNOPUR 300, a coating based on pure polyurea technology, is durable and has a seamless paint film, making it ideally suited for a wide range of use cases, such as waterproofing, corrosion protection, and improving wear resistance. Floor drains, roofs made from sheet metal, felt, or fibre cement, and industrial secondary containments, pools, tanks, and thickeners are among the most common use cases.
Approximately 400–500 m2 of floor area and 100 m2 of secondary containments were coated with ultrafast polyurea in less than a week. Coating an area this size would normally have taken 4–5 days longer.
"Process facilities are challenging – that is why they are interesting. They involve much more than just coatings. We did everything ourselves, right from the ground work, sandblasting, filling, and installation. It is also good for clients if they only need to deal with one supplier," Pasi Koskinen says.
"Everything started with ground work: there can be no shortcuts here. This work also demands commitment – it is not a case of only working from 7 a.m. to 4 p.m.," Pasi Koskinen emphasizes.
"TEKNOPUR 300 is a very interesting product to sell and market because customers have begun to discover new use cases for it themselves," Koskinen says.
Moving onto social media
Kotek Factory Service has taken keenly to social media by marketing its services in general – and polyurea coatings in particular – on the company's Facebook page. The company also closely monitors Teknos' Facebook page, which focuses on industrial painting.
"Teknos Industrial Coating Sweden is a channel that always has interesting things going on," Koskinen says as a tip for those interesting in industrial painting.
Se vår video om teknopur 300
se video om hvordan polyurea Tåler å bli overkjørt av en brannbil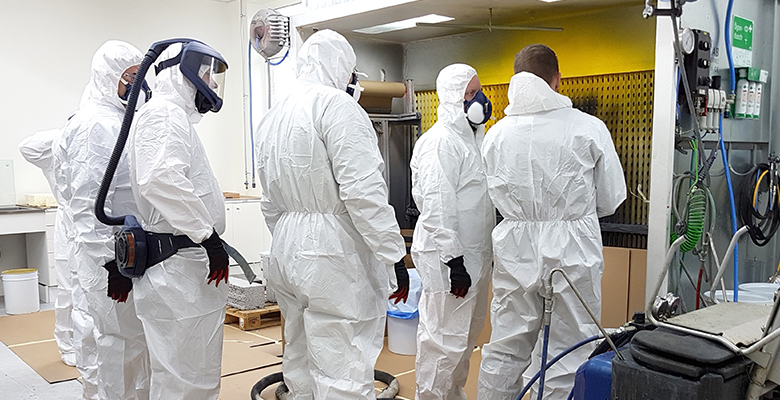 Polyurea-sertifisert applikator
Polyurea tilbyr flere gode spesialfunksjoner, men å bruke den er litt annerledes og mer komplisert sammenlignet med andre malinger og belegg. Teknos ønsker å støtte sine kunder og organiserer opplæring for polyurea-produkter, applikasjoner og teknologi.