TEKNOPUR 300 elastomeric coating
Teknos' pure polyurea coating known as TEKNOPUR 300 is intended for areas where high levels of mechanical protection and total waterproofing are needed. TEKNOPUR 300 contains no solvents and is not classed as flammable.
TEKNOPUR 300 elastomeric coating can be applied in layers up to 5 mm thick which combine excellent sealing properties with high levels of mechanical durability. Special two-component equipment is needed to apply the coating, which heats it to around 80°C. The fastest curing versions have a gel time of 4 seconds and a walk-on time of around 40 seconds.
Polyurea is typically used as a floor or roof covering and also in other areas where protection against water, chemicals and heavy wear is needed.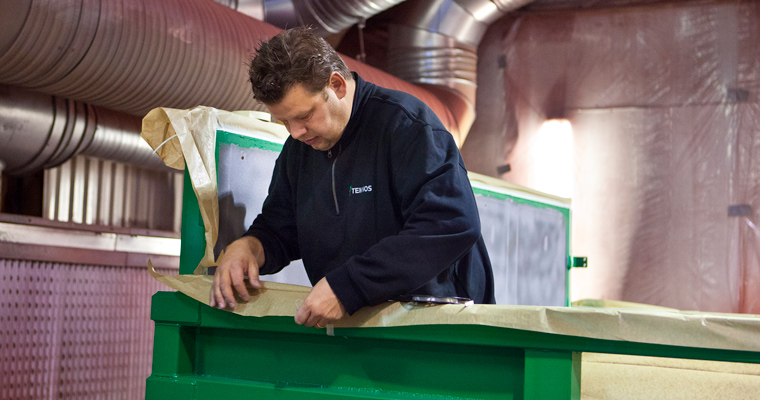 There are a number of interesting applications for TEKNOPUR 300 in the transport and recycling industries, including loading areas that require wear protection and sound insulation. One example is materials which produce a lot of noise during loading and unloading, such as crushed rock and recycled glass.
Teknos has tested around 20 installations covering a range of applications, which include:
Pools
Car wash floors
Containers for crushed rock
Containers for blasting sand
Walls in blasting chambers
The inside of glass recycling containers
Crush protection systems for mining machinery
Elastomerics are highly functional materials
TEKNOPUR 300 elastomeric coating's high level of mechanical strength makes it the ideal solution for protecting blasting machines from wear and it can replace the rubber matting that is widely used for this purpose.
Where it is applied to the inside of glass recycling containers, it also provides noise insulation. This is a very welcome development for people living near the recycling site, because the noise of the glass can be irritating.
The coating applied to containers for crushed rock and to the inside of glass recycling containers at MPS in Jönköping.
The coating is also highly resistant to chemicals, which opens up a wide range of applications, including storage and pre-treatment tanks, chemical containers etc. The product comes in a number of different variants, some of which have fire-retardant properties and additional reinforcement.
Teknos has extensive experience of industrial coatings and corrosion protection. Our resulting expertise allows us to provide complete coating systems and we offer a wide range of supplementary coating products, such as primers and functional top coats.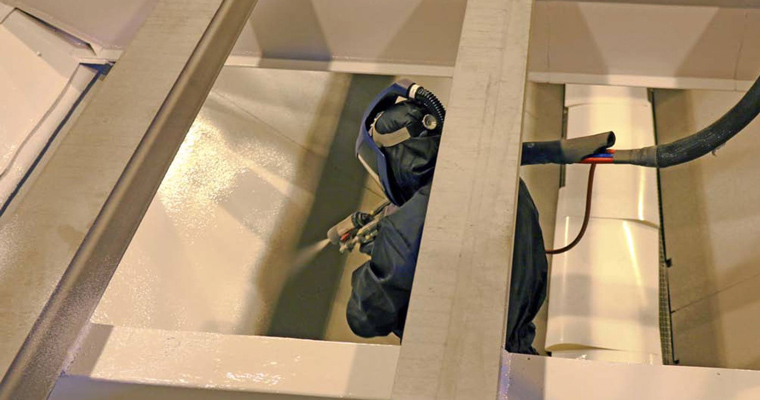 Teknos will continue developing products in areas where we believe that the new applications and opportunities available are almost unlimited.
The article was written by Teknos' technical support Claes Nord from Sweden.
Se vår video om teknopur 300
se video om hvordan polyurea Tåler å bli overkjørt av en brannbil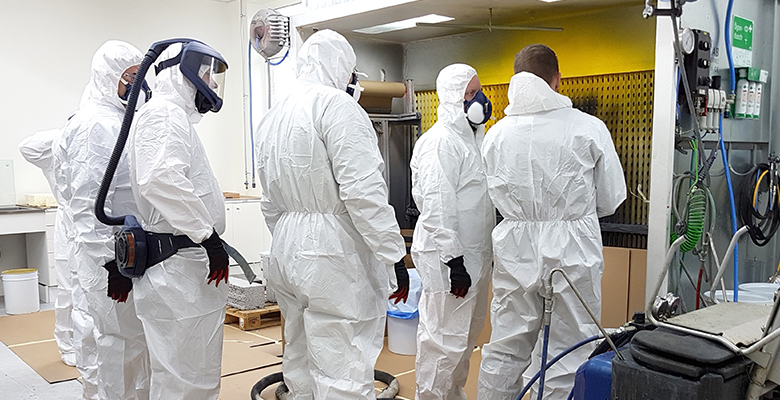 Polyurea-sertifisert applikator
Polyurea tilbyr flere gode spesialfunksjoner, men å bruke den er litt annerledes og mer komplisert sammenlignet med andre malinger og belegg. Teknos ønsker å støtte sine kunder og organiserer opplæring for polyurea-produkter, applikasjoner og teknologi.