Restaurants on Rails
The new double-decker DuettoPlus is the only one of its kind in the world: the lower deck houses a modern restaurant, while the upper deck boasts a multifunctional area that can be adapted for passenger seating or meetings, for example. Behind all of the coatings used in VR's carriages, there are decades of long-term R&D cooperation between Teknos, VR and Transtech, the manufacturer of the carriages.
VR has ordered a total of 26 new restaurant cars from the Kajaani-based firm Transtech Oy. The new cars will be hitched to long-distance InterCity trains, and the first car was already taken into service on the Helsinki-Oulu route at the end of January. In March, more of the new restaurant cars were added to the Helsinki-Oulu and Helsinki-Joensuu routes. All 26 cars will be in service by early 2015. All of the major stations will then be covered.
Restaurant services since the 1900s
Distances are great in Finland, and restaurant services have been a fundamental aspect of Finnish rail travel for over a century. Thanks to its new double-decker DuettoPlus restaurant car, VR is able to offer an even better service environment that considers not only comfort and functionality, but also ecology.
A modern, multifunctional compartment
"The new DuettoPlus restaurant car is the result of five years of design and testing", says VR's Development Manager Pia-Mari Sotavalta.
"We've kept our target groups in mind at every stage of design. The new restaurant car concept and its services have been designed to meet the needs of both large corporate groups and smaller parties of friends or colleagues, whether you're having a meeting or a celebration, or you just want to relax during your journey", continues Sotavalta.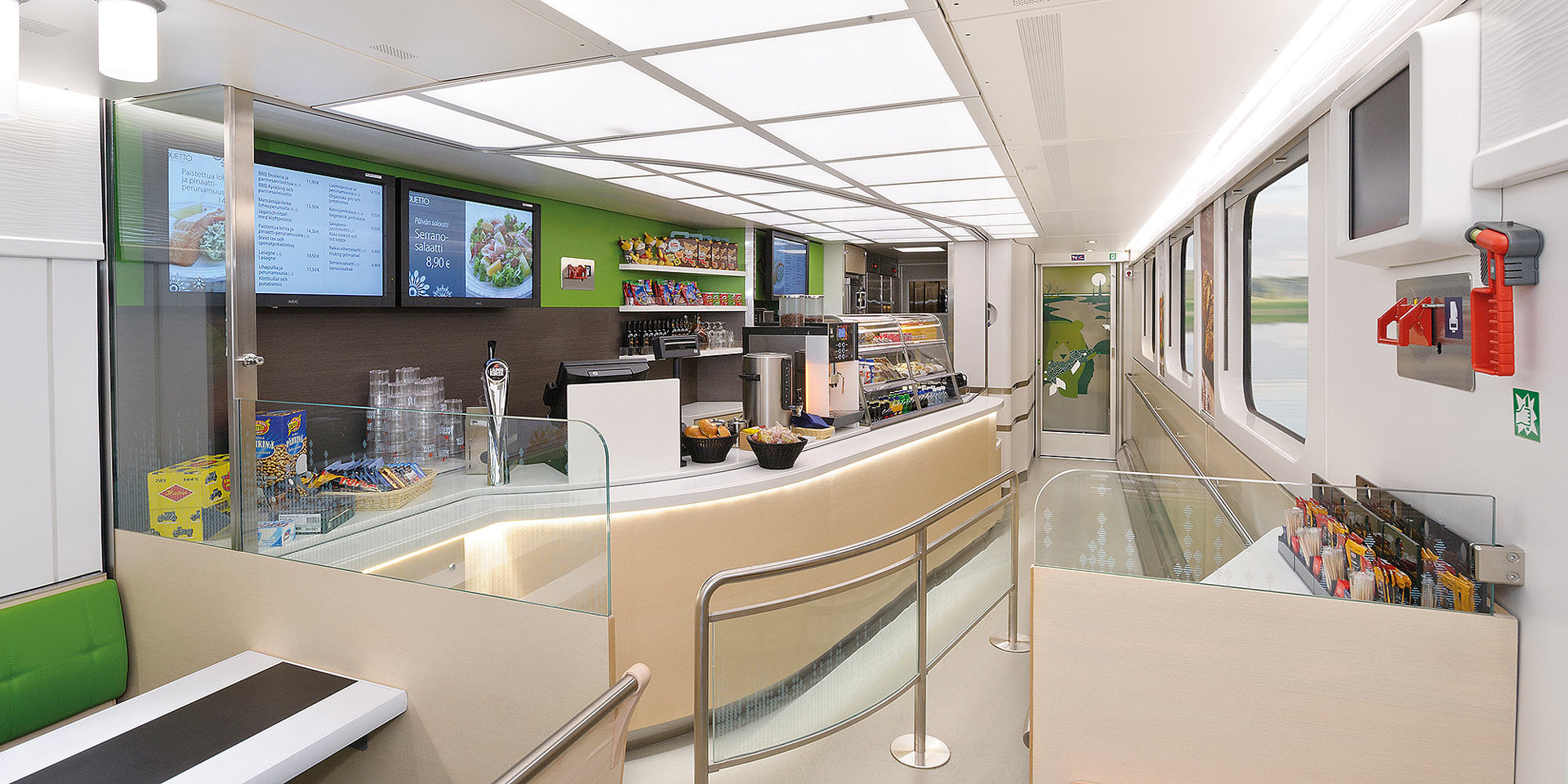 The car's comfortable, modern compartments can be adapted to many uses. The Duetto restaurant in the lower deck has a café-bar, and during peak times, there is also a kiosk in the mid-section where you can purchase take-away snacks and drinks to enjoy in another carriage.
"The lower deck restaurant also has a small stage area where you can lay on a little musical entertainment for the journey, for example", says Sotavalta.
The upper deck has a passenger compartment with 41 single seats that can be turned to face in any direction. The upper deck's 12-seat meeting room, or indeed the entire passenger compartment, can be booked for meetings or recreational activities. Those who have reserved seats on the upper deck may also be served alcoholic beverages.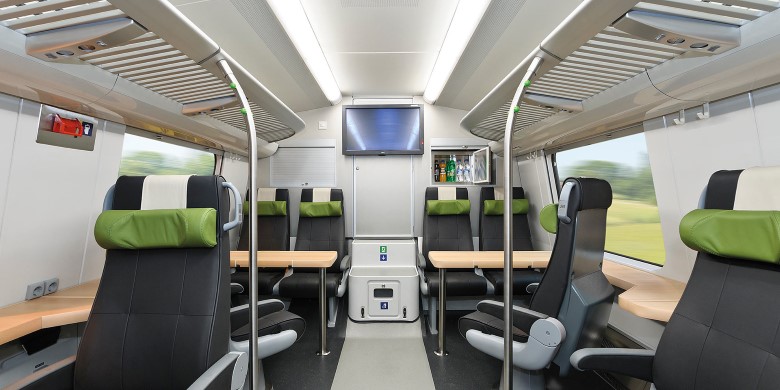 "The restaurant car's design takes into account not only functionality but also environmental perspectives, says Pia-Mari Sotavalta. "Waste is recycled in both the kitchen and the passenger compartments, and packaging and serving containers are made from biodegradable materials".
Teknos paints a part of VR's brand image
Teknos and VR go way back. All of the painted surfaces in the new DuettoPlus restaurant car are treated with Teknos' industrial coatings.
Thanks to successful R&D, we have been able to use high solid polyurethane coatings to keep VOC emissions as low as possible.
"The most distinctive painted surface is naturally the car's bodywork", says Sales Director Kari Sandberg, who is head of Teknos' metal industry coatings in Finland. "There are decades of long-term R&D cooperation with VR and Transtech behind all of the coatings used in its carriages", says Sandberg.
Joel Lindström, who manages VR's rolling stock, has followed product development and the changing requirements for rolling stock coatings since the late 1970s.
"Over the decades, the coatings used for carriages have changed from alkyd paints to epoxies, and from low-solvent paints to polyurethanes. Thanks to successful R&D, we have been able to use high solid polyurethane coatings to keep VOC emissions as low as possible", says Lindström.
In addition to environmental standards, coatings must also be able to stand up to continual outdoor use and the wear and tear caused by rainwater, dust, and ice and snow, among other things. Coatings are also exposed to mechanical and chemical strain. There is coal dust and grease on the sides and roof of carriages, and the carriages must be washed with brushes at least every four days.
VR's own paintshops are located in Hyvinkää and Pieksämäki. Teknos' products are used in both paintshops for painting new freight carriages and for maintenance painting passenger carriages and freight carriages.
"There are lengthy intervals between repainting, so the surface needs to remain intact and in good condition for a long time", says Lindström.
The Teknos products used in the carriages include:
TEKNOPLAST PRIMER 7 epoxy primer
TEKNOPOX FILLER 2112 epoxy stopper
TEKNODUR COMBI 3560 high solids polyurethane paint
TEKNODUR 0290 polyurethane varnish
The Teknos products used on the bogie include:
TEKNOZINC 90 SE zinc-rich epoxy paint
TEKNODUR COMBI 3560 polyurethane paint
VR expects all of its DuettoPlus restaurant cars to be in service by the beginning of 2015
The investments will cost a total of EUR 68.5 million
The double-decker restaurant car has a total of 94 seats
Fennia Price design award