Dinolift Oy - Increased production capacity and even better corrosion resistance
When Dinolift Oy, a company based in Loimaa, Finland, switched from a three-coat painting system to a new two-coat system, it was able to significantly improve its production capacity. At the same time, its products became even more resistant to corrosion.
In the middle of a windy expanse of fields, an imposing flock of DINO aerial work platforms stands ready to make its way out into the world. Preparations for the spring season began in good time.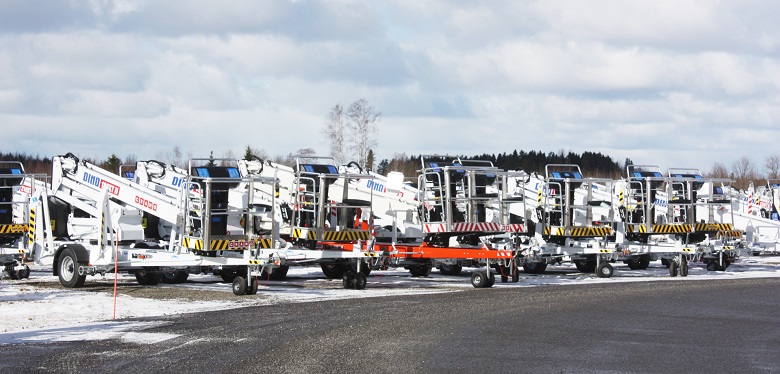 Dinolift is one of the world's leading manufacturers of trailer-mounted aerial work platforms. Quality, safety and reliability have characterised the company's operations for more than 40 years.
Year after year, demand has been increasing for DINO aerial work platforms, which are well known for their first-class design and safety. Growth forecasts remain strong and the company intends to expand into new countries where its products are not yet sold. For this reason, it was essential to increase production capacity.
Humidity assisted curing polyurethane paint
"Initially, we were cautious about switching to a new paint but Riku was able to convince us", says Santtu Miinalainen, head of operations at Dinolift's paint shop, in reference to his collaboration with Riku Aaltonen, Teknos' surface treatment engineer.
"In summer 2014, we switched to the TEKNODUR COMBI 3560 polyurethane painting system. The epoxy primer was no longer needed. Now we get more units done and the paint dries more quickly. The new painting system even enables us to deliver a better exposure", Miinalainen says.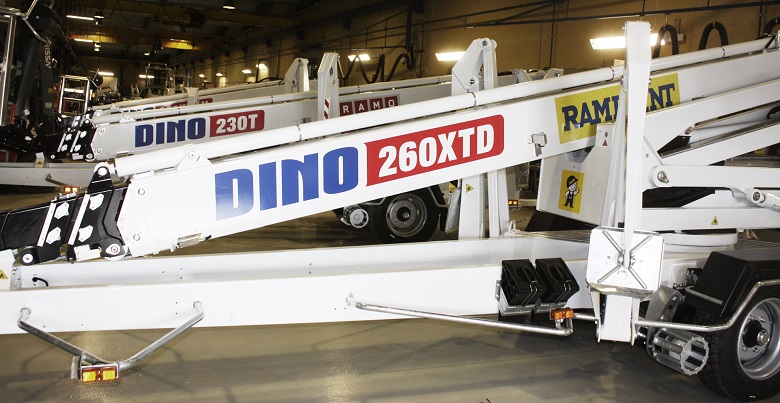 Previously, it was necessary to dry painted items in an oven for up to eight hours and to spend roughly as long cooling them. Oven heating is no longer needed. As TEKNODUR COMBI 3560 is a humidity assisted curing paint, an evaporator in the drying chamber is still needed to ensure consistent humidity.
"If we had retained the old painting system, we would have needed to expand the drying facilities. The lead-time in the paint shop is now considerably shorter - by 13 or 14 hours - now that we have eliminated one coat of paint and we no longer need to use ovens", Miinalainen says.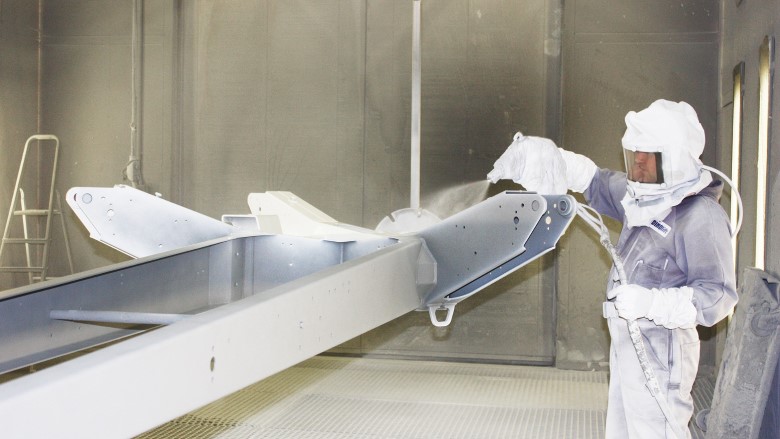 The new painting system is also more environmentally friendly because the TEKNODUR COMBI 3560 polyurethane paint has a high solid content and contains low volatile organic compounds (VOC). The cleaning solvent is also collected, distilled and recycled.
"For the primer coat, we selected TEKNOZINC 3233, a moisture curing, single-component polyurethane zinc dust primer. In terms of its chemistry, this is the most suitable primer for our process", Miinalainen states.
Internal logistics were simplified
When the painting system was changed, the company's internal logistics were also simplified and made more efficient. Previously, some of the parts were machined after being coated with primer. Now, all of the parts are machined before they are painted so the unnecessary back-and-forth between the paint shop, the machine shop and the installation sites can be avoided. The parts are assembled after they have received surface painting and undergone a two-hour drying process.
Price of paint
The price of paint is always under discussion. Dinolift is well aware that several different factors contribute to the ultimate price of paint.
"Even if we could get paint very cheaply, it may eventually end up being expensive if it does not work or does not stick to the surfaces", says Production ManagerTuomas Heilala.
The men are satisfied with the collaboration with Teknos. Special colours are manufactured well and we receive the paints we have ordered quickly. Probably the greatest advantage to working with Teknos is that whenever any problems arise, Teknos is always actively involved in rectifying them", Heilala says.
"You have good really good paints", says Kari Mattila, a retired production manager who had a long career at Dinolift.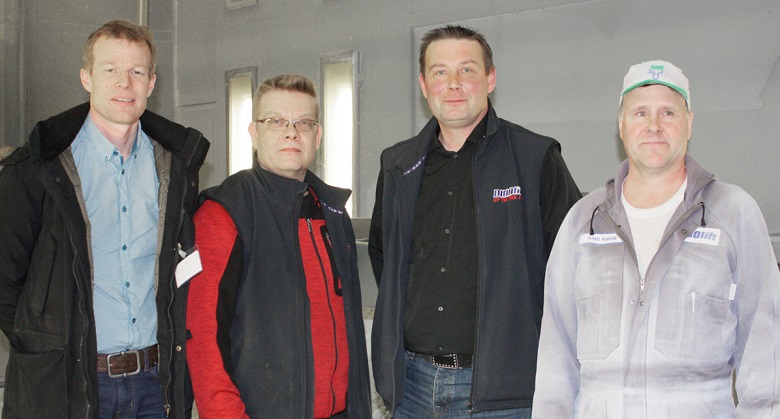 From left to right: Riku Aaltonen from Teknos and Santtu Miinalainen, Tuomas Heilala and Antti Ketola from Dinolift.
Dinolift Oy
Established in 1974 under the name Kurpan Konepaja Oy
Manufactures and sells high-quality DINO aerial work platforms and spare parts, and offers technical support, training and after-sales service.
Exports to more than 40 countries around the world, with exports accounting for 75% of production.
DINO aerial work platforms are sold through DINO distributor network. Contact your local distributor for further information; sales@dinolift.com
All DINO lifts are CE-certified.

www.dinolift.com