UNIWIN OPTIMAL
UNIWIN OPTIMAL
Vinyl paint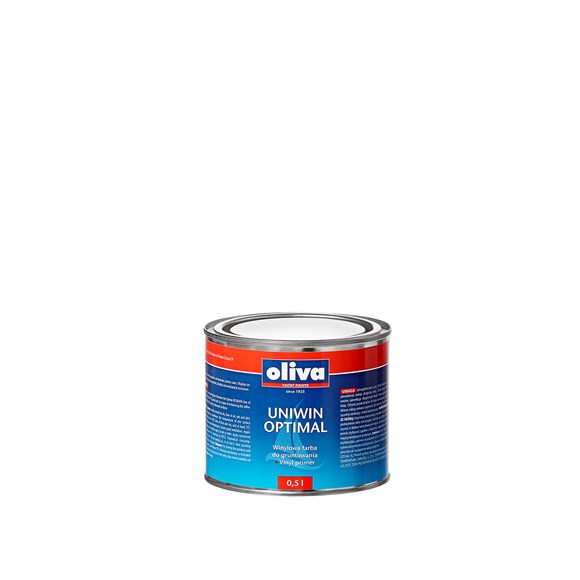 Water resistant
1-component
Solvent-borne
Tie coat
Vinyl – based quick drying primer.
As a coating for improvement the adhesion ANTIFOULING VSE to coatings from BOSMAN paints line or laminate substrate.
Flexible and mechanically resistant coating, designed to improve intercoat adhesion.
Surface preparation
Before cleaning of surface, it is recommended to wash it with water with addition of OLIVA CLEANER and then rinse with fresh water. The surface to be coated should be clean and dry.
Application
Airless spray, brush. Airless spray parameter - nozzle size: 0,33 - 0,48 mm, nozzle pressure: 10 - 15 MPa.
Application conditions
Minimum surface temperature: -10°C (surface frost- and ice-free) and at least 3°C higher than dew point temperature, good ventilation.
| | |
| --- | --- |
| Solids | abt. 40 % by volume |
| Volatile organic compound (VOC) | abt. 490 g/l |
| Drying time – dust free | after 1 h |
| Drying time – touch dry | after 2 h |
| Drying time - overcoatable | after 3 h |
| Thinner | Not recommended. When necessary (for example – thickening of product) use TEKNOSOLV 779 in amount up to 10%. |
| Clean up | TEKNOSOLV 779 |
| Packages | 0,5 l |
| Safety markings | See Safety Data Sheet |