TEKNOSPRO BINDER PLUS
TEKNOSPRO BINDER PLUS
Dust binder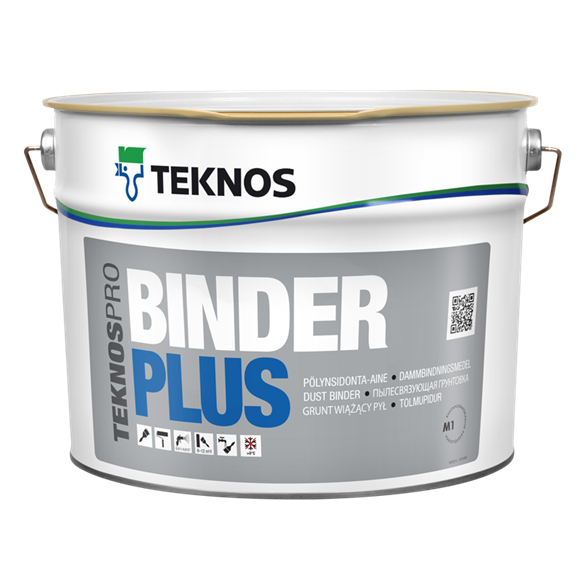 TEKNOSPRO BINDER PLUS is a water-borne, colourless, micro acrylic-based dust binder for floors, walls and ceilings in heated and cold spaces, as well as for concrete surfaces outdoors but protected from weather, such as car parks. The product has been classified in Emission Classification of building materials to Group M1.
TEKNOSPRO BINDER PLUS is suited for dust binding of untreated concrete, brick, building blocks, building boards, plaster and filler surfaces etc. Colourless TEKNOSPRO BINDER PLUS doesn't colour or darken treated mineral surfaces. The treated surface can be overcoated with Teknos water-borne indoor paints, if needed.
Surface preparation
The surface to be treated must be clean and dry, e.g. the concrete floor must be vacuum-cleaned after sanding. TEKNOSPRO BINDER PLUS is ready to use as such.
Application
Apply by brush, roller or airless spray once or twice depending on the porosity of the substrate. Suitable nozzle for airless spray is 0.011 - 0.015".
Application conditions
The surface to be treated must be dry. During the application and drying period the temperature of the ambient air and the surface shall be above +10°C and the relative air humidity below 80%. Drying is faster in low air humidity and/or above + 21°C. Ventilation after the treatment will quicken the drying.
Storage
Must be stored tightly closed and kept cool. MUST NOT FREEZE.
| | |
| --- | --- |
| Weight solids | abt. 10 % by weight |
| Volatile organic compound (VOC) | EU VOC limit value (kat A/h): 30 g/l. The product's VOC: max. 30 g/l. |
| Density | abt. 1 g/ml |
| Practical spreading rate | Applied once onto a smooth surface: abt. 8 - 12 m²/l |
| Drying time – dust free | ½ h |
| Thinner | Water. |
| Clean up | Wash the equipment immediately after use with detergent and warm water. |
| Colours | Clear |
| Packages | 5 l, 9 l, 18 l. |
| Safety markings | See safety data sheet. |
| Approvals & certificates | M1 classification,Finnish Key Flag |