SATU SAUNAVAHA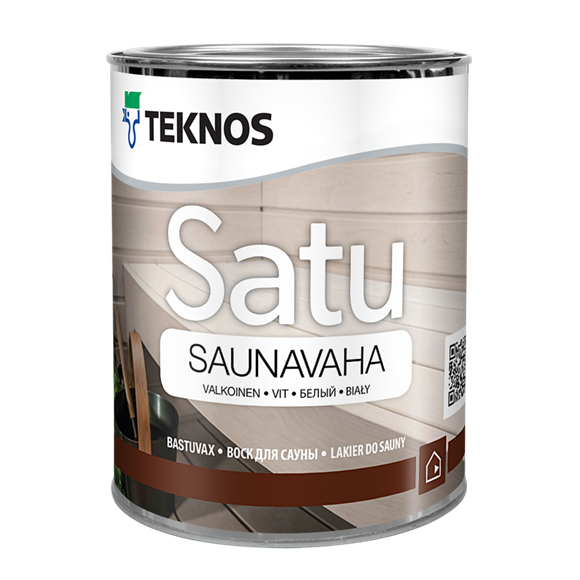 Water-borne
Sauna protection
SATU SAUNAVAHA Sauna wax is a water-borne protection containing natural wax for wooden surfaces in saunas. It forms a dirt and water repellent but breathable waxy coat. Clear SATU SAUNAVAHA emphasizes the natural colour of wood. The product is also available in transparent standard colours.
Use: Treatment of ceiling and wall panels as well as benches in the steam-room of saunas. Suitable for untreated and previously with wood wax treated wooden surfaces. Can also be used for treating ceiling and wall panels in wash rooms, after sauna lounges and habitable rooms.
Surface preparation
Clean new surfaces from dust and dirt. Wash surfaces previously treated with wood wax with RENSA SAUNA sauna cleaner and rinse thoroughly with water. If the wooden surface has previously been varnished, oiled or treated with protection for sauna, the suitability of the product must be ensured by a test application.
Application
Stir thoroughly before use. Tinted product must also be stirred during the application, if needed. Apply once or twice. One application is sufficient for panel surfaces and benches in the steam-room of sauna. Treat ceiling panels in wash rooms and other rooms twice. The intensity of the shade and the absorption of the product to the wooden surface must be ensured with a test application when using tinted product. Absorption properties of the surface and possible previous treatments affect the shade.
Application conditions
The surface to be treated has to be dry. During the application and drying period the temperature of the ambient air, the surface and the product shall be above +10°C and the relative air humidity below 80%. Good ventilation during the application and drying period quickens the drying process.
Maintenance
The final forming of the film takes approx. 3 weeks under normal circumstances and after that the ultimate durability and hardness is reached. Before this the surface must be treated with care. The surface can be cleaned by wiping with a neutral (pH 6 - 8) detergent. Detergent and dirt are removed by wiping and/or rinsing the surface with clean water. Use a cleaning cloth, soft sponge or similar for cleaning. Avoid coarse brushing or heavy abrasion. Follow the dilution and other instructions of the detergent producer when using detergents.
Storage
Must be stored tightly closed and kept cool. Must not freeze.
| | |
| --- | --- |
| Solids | abt. 25 % by volume |
| Volatile organic compound (VOC) | EU VOC limit value (kat A/f): 130 g/l. The product's VOC: max. 130 g/l. |
| Tinting system | Teknomix |
| Density | abt. 1 g/ml |
| Practical spreading rate | Applied once onto a smooth surface: approx. 10 m²/l. |
| Drying time – dust free | ½ h |
| Drying time – dry to use | the following day |
| Thinner | Water. |
| Clean up | Warm water and RENSA BRUSH brush cleaner. Wash the equipment immediately after use. |
| Colours | Clear, white, grey and black. Can be tinted to translucent shades. |
| Packages | 0.45 l, 0.9 l, 2.7 l. |
| Safety markings | See safety data sheet. |
| Approvals & certificates | M1 classification,Finnish Key Flag |