New powder coating system protects against heat and corrosion
Teknos' newly developed heat-resistant corrosion protection powder coating system, which meets the stringent requirements of corrosivity category C4/H, is a new and significant invention on a global scale.
Sites exposed to major temperature fluctuations, such as parts of vehicle exhausts, catalyzers, afterburners, and particle filters, are particularly challenging to coat because the combination of paints must be able to protect the site from both heat and corrosion.
"The product does not rust if it is constantly hot. For heat-resistant outdoor applications, the problem is the onset of corrosion when the coated surfaces cool. Such applications include components of vehicles, machinery, and equipment, as well as structures in the process industry", says Harry Kouri, Sales Manager from Teknos.
For several years now, Teknos has been testing INFRALIT powder coatings, which it developed to enable corrosion protection, using methods compliant with the ISO 12944-5 standard, even though powder coatings are not actually covered by the standard.
Powder coating shops can apply both the primer and the topcoat
The need to a develop a heat-resistant corrosion protection coating system was highlighted by one of Teknos' customers. Janne Posti, the Product Development Chemist responsible for the project, had already tested a powder coating system using a wet zinc silicate paint as a primer.
Product Development Chemist Janne Posti was responsible for the R&D project.
"The idea was born while we were conducting these tests, and I set out to develop a zinc-rich, silicone powder coating to serve as a primer. We were initially aiming to meet the requirements of the C4/M corrosivity category but we were able to attain an even better classification: C4/H. I am very satisfied", Janne Posti says.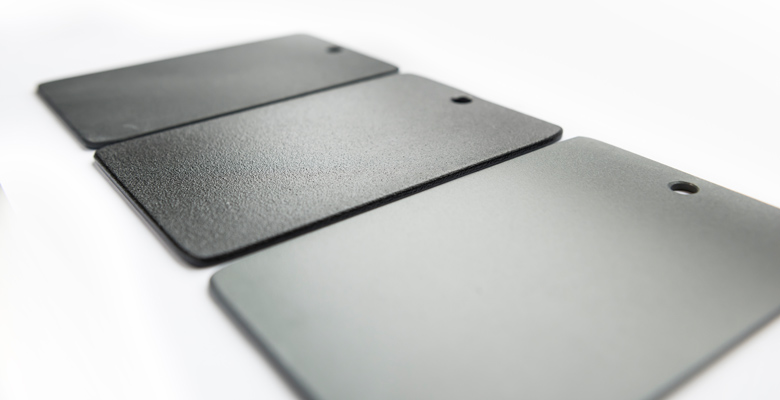 Test plates
"Thanks to the new innovation, we now have two heat-resistant powder coating systems for outdoor applications. The system that meets the requirements of the C4/M corrosivity category has a primer of wet zinc silicate paint with a heat-resistant powder coating on top. The new system, which meets the requirements of the C4/H corrosivity category, has a zinc-rich silicone powder coating acting as a primer and a topcoat of heat-resistant silicone powder coating", Harry Kouri says.
"In terms of appearance, there is no difference between wet-powder and powder-powder combinations, but the key difference is that powder coating shops are now able to paint both the primer and the topcoat in the same location. Powder-coated surfaces can also effectively withstand transportation. In addition, powder coating is a cost-efficient and environmentally-friendly choice", Harry Kouri says.
"Our young product development chemists have done a fantastic job", says Harry Kouri, with genuine pride in his voice.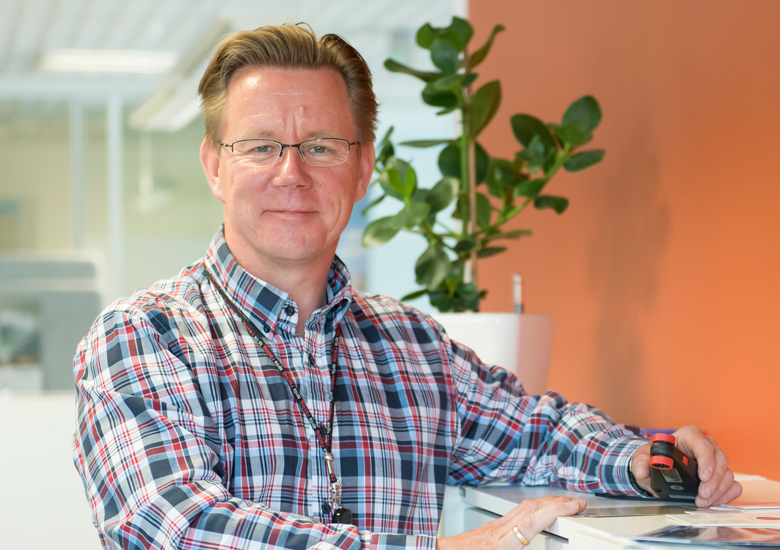 "Our young product development chemists have done a fantastic job", says Sales Manager Harry Kouri.
The new heat-resistant powder coating system is a welcome addition for applications in forestry, agriculture, and the process industry, which are subject to corrosion stresses and service life expectations.
Heat-resistant corrosion protection powder coating system, corrosivity category C4/H
Pretreatment:
Sand blasting/preparation grade Sa2½, or environmentally friendly chemical conversion treatment

INFRALIT SI 8009-05 zinc-rich silicone powder
INFRALIT SI 8009-02 silicone powder
TDFT

70 µm
70 µm
140 µm

Application with high-pressure sprayer (corona)
Curing time 30 min/200°C (metal temperature)
Photograph: Ponsse