Collaborating with the universal language of design
The home stadium of the football club KuPS (Kuopion Palloseura) based in the city of Kuopio, Finland received a complete makeover for its fan zone. The design was a collaboration between top experts from various fields and a happy group of kids and young adults. The patterns created by the young participants were further refined with the help of graphic design experts and transferred on the asphalt using Teknos water-borne road marking paint.
The project, named Catch the Ball, took place in spring 2017 with participants from Kuopio Academy of Design, young immigrants in the preparative class at Kalevala School, pupils from Haapaniemi elementary school and experts from various fields. The project's basis was on science and it started with careful planning.
"The project aims to strengthen community life and help the integration of immigrants into the Finnish society. Besides the normal football activities, the team sport is approached through immigration, design, crafts, culture and social and behavioral sciences," says Jarkko Tirronen, project manager at Kuopio Academy of Design.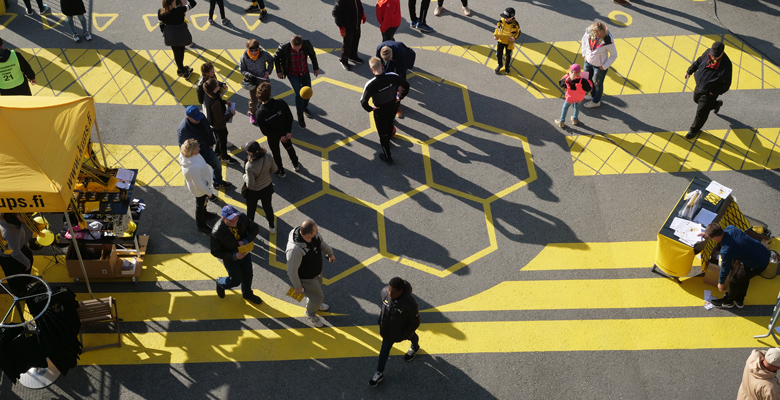 One of the most notable elements of the fan zone is the street art painted with TEKNOROAD 3020 road-marking paint. The yellow and black motif does not only represent the home team's colors but also the province colors of Savo where Kuopio is located. The beautiful contrast was achieved through yellow road-marking paint and asphalt.
"We wanted to create functional street art. A slalom dribble course, a bouncing area and a maze were made in the fan zone. A street painting must be sufficiently durable, and it was also important to us that we were using Finnish paint," notes Tirronen.
"It is great that Teknos joined in supporting this project with such enthusiasm," says Tirronen and gives his thanks.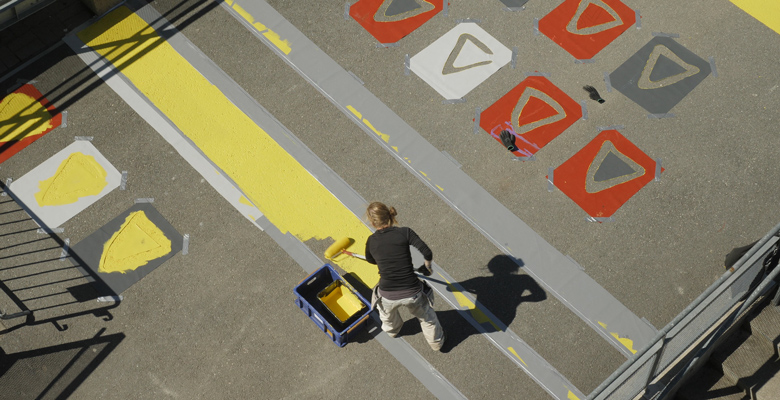 TEKNOROAD 3020 is a fast-drying, matt and water-borne road-marking paint that is resistant to weather and light. It is used on asphalt and oil gravel surfaces on, for instance, roads, parking lots, air fields and courtyards. After application the paint is water-soluble for about 30 minutes, so painting when rain is expected is to be avoided. TEKNOROAD 3020 fulfils the quality requirements for road marking paints prescribed by the Finnish National Road Administration.
Although the premise for the Catch the Ball project was scientific, some happy tears were cried once the project was finished.
"In this tough world you sometimes forget the soft values. Children are a good reminder of them. We act with transparency, and this project definitely softened us as a people," says Jarkko Tirronen.