Colour-coded parking spaces help drivers to park
The world's northernmost metro line is located in Finland. The terminal station in Espoo, the Matinkylä metro centre includes a park-and-ride facility with colourful parking spaces painted using TEKNOPARK 3085 car park paint.
The Helsinki metro has served commuters in the Greater Helsinki area since 1982. A new stretch was opened in 2017, extending the line from Ruoholahti in Helsinki to Matinkylä in Espoo. The extension is 14 km in length and includes eight new stations. At the beginning of the 2020s, the metro line will be extended further west to Kivenlahti in Espoo.
The line markings for the park-and-ride facilities at the Matinkylä metro centre are the responsibility of Hot Mix Oy. The directional arrows, pedestrian crossings and other traffic guidance markings at the metro centre were made using TEKNOROAD 2200 road marking compound, which has very good resistance against traffic abrasion.
An interesting new detail within the car park is the colour coding for the parking spaces. Spaces reserved for electric cars are coloured moss green. The ECO mark placed on a lime green background shows that the space is intended for low-emission cars (CO2 emissions under 100 g/km). The plum red family spaces and blue disabled spaces are slightly larger than ordinary parking spaces.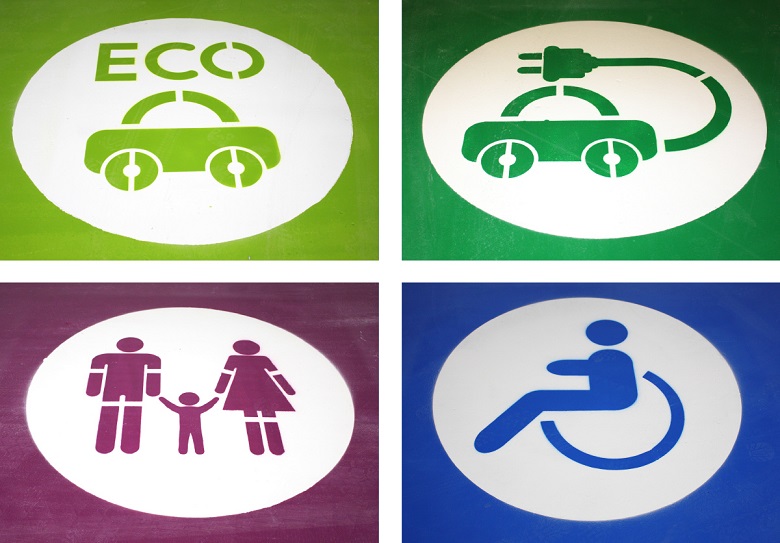 The colour-coded parking spaces provide guidance for drivers and they also brighten up the car parks, which can often be quite dull and grey in appearance.
Water-based TEKNOPARK car park paint instrumental in the design
The new metro centre is located within an extension to the Iso Omena shopping centre. Iso Omena is the first shopping centre in Finland to receive the highest (platinum-level) LEED environmental certification. Environmental matters were instrumental in the design of the painting work for the car parks.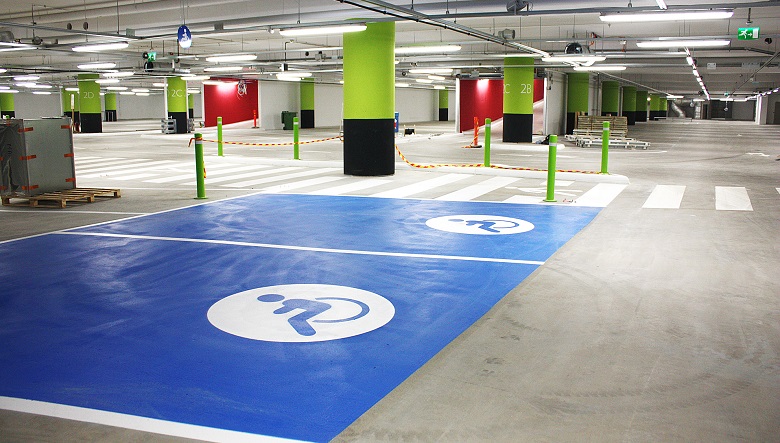 "Very strict limits were set concerning volatile organic compounds. For this reason, we selected the water-based TEKNOPARK paint", saysTapani Ritamäki of Hot Mix Oy.
Third generation of road painters
Teknos began manufacturing paints for road markings at the beginning of the 1960s. Hot Mix Oy, a company that specialises in road-marking services, also has extensive experience and solid expertise in the field, as the company's new owners are third-generation road painters.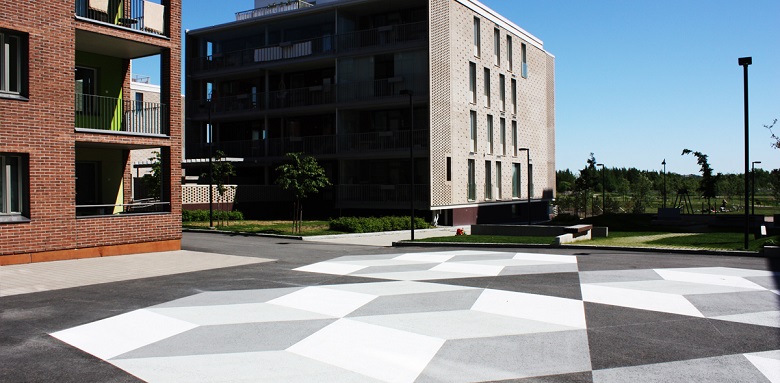 The Nordic conditions give rise to special requirements in terms of road marking materials and the characteristics of such materials. Hot Mix always plans and carries out painting for road markings in accordance with the requirements of the site in question and the customer's wishes. Modern machinery, high-quality road marking products and reliable partners guarantee reliable delivery.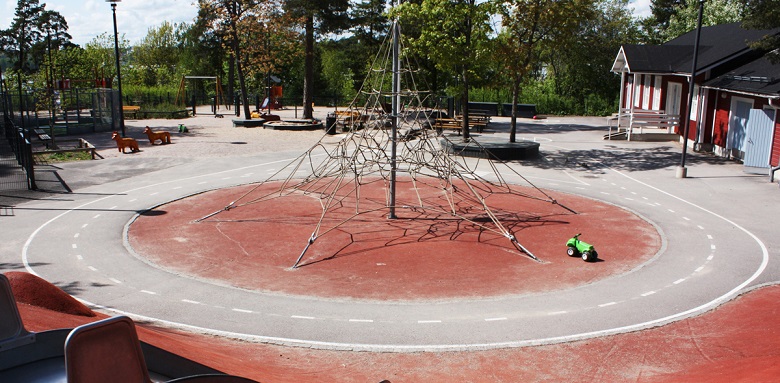 "We have several good partners, one of whom is Teknos. Collaborating with Teknos and also with other road marking contractors guarantees reliable delivery. This enables us to ensure that delivery schedules are realised and the end result meets the customer's quality requirements", says Tapani Ritamäki.
Extensive range of colours
Thanks to new road marking paints that can be tinted, designers of outdoors areas have access to a larger range of colours. Colourful road marking paints have already been used in children's playgrounds, parks, school yards and theme parks. Bolder use of colour is here to stay - also in road markings.
TEKNOPARK 3085 Car park paint
Water-borne EN
Fast drying
Semi-matt
Easy to keep clean
Good resistance to abrasion and to hot tyre markings
Resistant to weather and light
Concrete and asphalt surfaces
Can also be used for larger surfaces, e.g. for filling painting of the parking spaces
TEKNOROAD 2200 road marking compound
Two-component
Fast curing
Solvent-free
Very good resistance to traffic abrasion, weather and moisture.
Adheres very well to asphalt and old road markings.
Reflective glass beads can be strewn on the coating, if needed. To increase strain resistance, clean white quartz grains can be strewn on the coating.
Permanent markings, e.g. white lines, borderlines, guiding arrows and crossing markings, on roads, streets, car parks and airport runways.
Matinkylä metro centre in Espoo

Developers: NCC Property Development ja Citycon Finland Oy
Line markings for the park-and-ride facilities: Hot Mix Oy
New metro stations
Helsinki: Koivusaari and Lauttasaari
Espoo: Keilaniemi, Aalto University, Tapiola, Urheilupuisto, Niittykumpu and Matinkylä