Adopting Virtual Reality Technology Enables Location-Independent Coating Support
On-site visits to support customers as well as internal cross-country collaboration are vital activities of Teknos paint experts. The possibility to perform these activities remotely using virtual reality glasses means more agile technical support and speedier help for customers on short notice.
More precise customer support and widespread knowledge-sharing
The virtual reality glasses equipped with a built-in camera let the user share views and events in real-time between locations. This enables Teknos specialists and customers to perform activities like troubleshooting, product and application training, paint line optimization and product trials immediately when needed regardless of the physical distance.
Mirjana Repic, Teknos Business Development Director, describes a common case: "Often in our work, we need a detailed description of a painted surface. Issues can appear here due a problem with the paint or equipment during production at the customer. A written description would vary depending on who writes it, as we all conduct observations in our own personal way. With the help of virtual reality, we have the actual surface right in front of our eyes and are able to use our own perception to be able to better advise on the right surface treatment and to come up with solutions." The VR glasses use the same platform as Microsoft, which makes it easy to integrate with Microsoft Teams. "And the quality is so good that you feel you're there on the spot yourself," Mirjana emphasizes.
Another great example is a flooring manufacturer customer who has factories in Malaysia, the Czech Republic and Austria - while the Director of the company lives in Germany. "Normally, we would all fly around the world to meet the customer with technicians and laboratory people from Teknos Denmark and other Teknos sales teams from the different countries. Thanks to the VR glasses, when something needs to be shown, the customer's sales team and technical teams from different production locations in the world can also participate in the meeting in a live session. This allows a wider audience to ask questions during the meeting. It also provides a wider understanding of what Teknos products can do," Mirjana further explains.
Major benefits in terms of saving resources
The use of virtual reality glasses in coatings technical support got a kick-start as the not-seen-before challenges in the coatings business appeared due to the global pandemic, meaning that physical meetings or travel were no longer an option. A team of Teknos specialists from different functions quickly figured out a new method of working that has proven its worth and has so far gathered positive feedback.
Meetings that would often require extensive travel by plane and a hotel stay and would consume the time of participants - usually 2 to 3 days, can now be taken care of in just a few hours. It goes without saying that utilizing this modern method of conducting meetings brings efficiency and saves costs as well as resources. "When we speak of sustainability, the use of VR glasses is also a step in the right direction. For us, sustainability is a part of our mindset. It is an integral part of our strategy and business model, and that means that we will certainly limit our travel in the future," Mirjana concludes.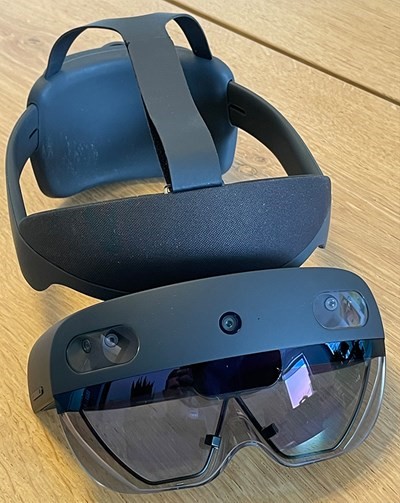 Sharing real-time views and events from one location to another is possible by wearing virtual reality glasses with a built-in camera. With this technology, conducting meetings that would often require long travelling by plane, staying in a hotel and take up 2-3 days' time of the participants, can now be arranged in a meeting over a few hours.