TEKNOSAFE FLAME PROTECT 2468-00
TEKNOSAFE FLAME PROTECT 2468-00
Fire-retardant topcoat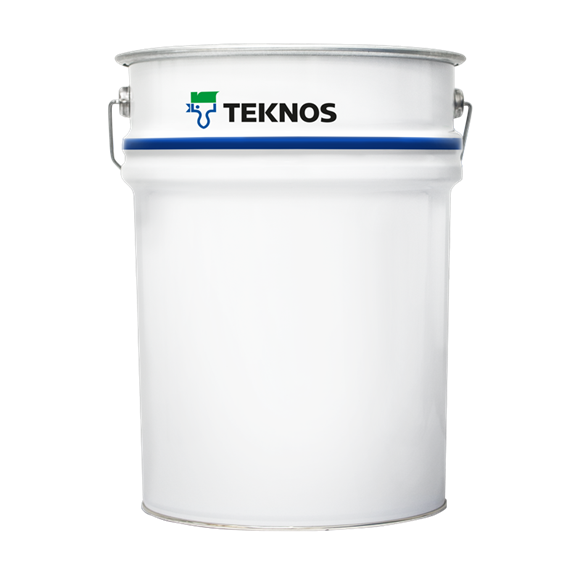 Water-borne
Paint
Topcoat
TEKNOSAFE FLAME PROTECT 2468-00 is a water-borne fire-retardant topcoat for interior solid wood panelling and cladding, and wood-based panels. Substrate: Solid wood or wood-based panels with thickness > 8 mm and density ≥ 338 kg/m³ when taken in conjunction with the relevant fire classification report.
Used as an industrial fire-retardant topcoat as part of a system called Teknos FR Panel with TEKNOSAFE FLAME GUARD 2467-10 to improve "reaction to fire" (EN 13501-1) of interior wooden surfaces - see https://www.teknos.com/products/teknosafe-flame-protect-2468-00/. Before using the product, Teknos should be contacted to check the suitability of the product for the object in question. Fire-retardant performance has been classified according to B-s1, d0 EN 13501-1 (SBI test) as part of the Teknos FR panel system. Durability classes of reaction to fire performance, of fire-retardant wood-based product in end use applications according to EN 16755 - DRF class INT1 and INT2. M1 classification, A+ Émissions l'air intérieur: When used in an industrial setting.
Technical data sheet
Safety data sheet
Other product specific documents
Surface preparation
The wood must be free from wood dust and contamination. The moisture content of the wood should be approx. 10% and should not exceed 12%.
Application conditions
The temperature of the air, the surface and the paint shall be above +10°C and the relative humidity of the air below 80% during the time of application and drying. The best result is achieved when the temperature of the air is between +23°C and +38°C, the relative humidity of the air is 50-70% and the ventilation good. Stir the paint thoroughly before use, preferably using mechanical stirring. For all coated solid wood or wood-based panels, a non-marking protective layer of minimum 1.5 mm thickness (e.g., polyethylene film) is recommended to be used between coated surfaces.
Storage
Must not freeze. The best storage temperature is +10°C - +25°C.
Application methods
Apply industrially.
| | |
| --- | --- |
| Volatile organic compound (VOC) | abt. 12 g/l |
| Gloss | Matt |
| Tinting system | Teknocolor |
| Theoretical spreading rate | The core classification is made with ≥250 g/m² TEKNOSAFE FLAME GUARD 2467-10 with or without ≤100 g/m² TEKNOSAFE FLAME PROTECT 2468-00 or in conjunction with additional relevant fire classification reports. |
| Drying time – through-dry | Min. 4 h |
| Thinner | Water. |
| Clean up | Water. |
| Colours | Clear and Base T (all opaque colours). All tinting recipes are developed by TEKNOS Shade service. Base colour may vary slightly. After tinting, colour control is highly recommended. |
| Packages | Available in a range of standard pack sizes. |
| Safety markings | See safety data sheet. |
| Approvals & certificates | M1 classification,A+ Émissions l'air intérieur |