DRYWOOD OPTI-JOINT XP
DRYWOOD OPTI-JOINT XP
Joint sealer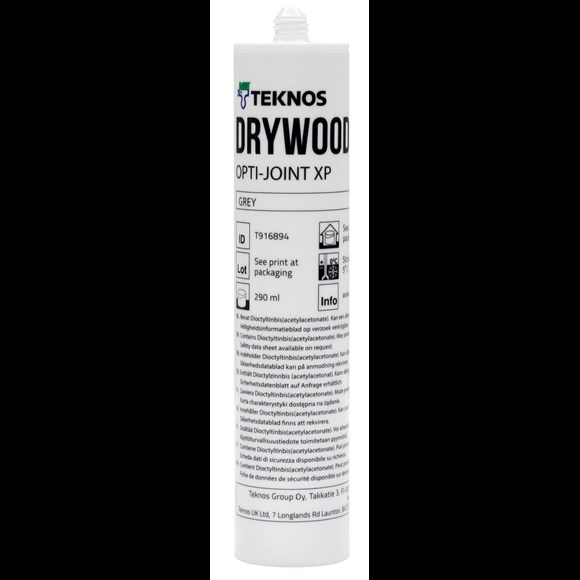 DRYWOOD OPTI-JOINT XP is specifically developed to keep wooden joints in joinery moisture tight and dry. DRYWOOD OPTI-JOINT XP is suited as a glue for wooden window frames and specific parts in windows and doors to keep finished wooden joinery in perfect condition by sealing end grains and prevention of capillaries.
DRYWOOD OPTI-JOINT XP is suitable for common hard- and softwoods and chemically or thermally modified wood. Good adhesion to various other materials that might be primed. The product fills capillaries without foaming. No long pressing times or high pressing pressures required for a good gluing. Overcoatable with common water-borne woodcoatings. Stays flexible to absorb movements in the joint due to swelling and shrinkage of post and sill during service life. DRYWOOD OPTI-JOINT XP hardens due to moisture in the air.
Surface preparation
The surface to be treated must be dry, clean, and free from dust.
Application conditions
Relative air humidity: Max. 75% Temperature: Min. +15°C and max. +35°C Check fitting of parts to be connected. If fitting is below 0.2 mm apply minimum amount of material on one side. With a fitting up to 1 mm apply a large amount of DRYWOOD Opti-Joint XP on one side. With fittings between 1 and 2 mm apply a large amount on both sides to be connected. DRYWOOD Opti-Joint XP should be applied and spread carefully over the entire surface, including the end grains. Apply 400 to 1200 ml/m² of DRYWOOD Opti-Joint XP depending on the surface roughness and width of the fitting. Prevent application of excess amount of material in order to avoid splitting of the wood. This is especially important on areas where it cannot flow out like dowel holes. Recommended to use PVAc glue for dowels. Prevent contact of both glues. Maximum time between application and assembly is 15 min. due to skin formation of DRYWOOD Opti-Joint XP after this time. Parts of window frame should be connected at low pressure preferably around 30 bar, not exceeding 50 bar. Lock corner joint and the like should be secured with a stainless steel nail or screw to prevent movement of the joint before solidification of the DRYWOOD Opti-Joint XP. Dowel based joints in principal do not require this unless the size or weight of the joint is very high or if the fitting is very loose. Ask for detailed work instructions for DRYWOOD Opti-Joint XP.
Storage
Shelf-life is at least 24 months in unopened and closed packaging. Must not freeze. Keep containers tightly closed after use.
| | |
| --- | --- |
| Solids | abt. 95 % by volume |
| Volatile organic compound (VOC) | abt. 23 g/l |
| Drying time – touch dry | Approx. 1 h |
| Clean up | Clean equipment after use with dry cloth or suitable detergent. |
| Colours | Translucent grey. |
| Packages | 290 ml cartrigdes (box with 25 pcs.) and 600 ml sausages (box with 20 pcs.). |
| Safety markings | See safety data sheet. |
| Approvals & certificates | KOMO Certificate BRL 0819 (20935) |