Beautiful, durable and ecological - Wooden bridges from Versowood
Impressive wooden bridges soar to lofty heights in the Finnish landscape and across Finland's highways, yet only small numbers are built each year. Versowood has tackled this challenge and will launch a wooden standard bridge design in the near future. The new concept enables the use of readymade structural solutions and the cost-effective implementation of wooden bridges.
Versowood Group is Finland's largest private wood-processing group. In addition to upgraded wood products, the company manufactures glued laminated timber, wooden packaging, and energy products. The company has around a dozen production facilities in Finland, which process approximately 1.3 million cubic metres of timber annually.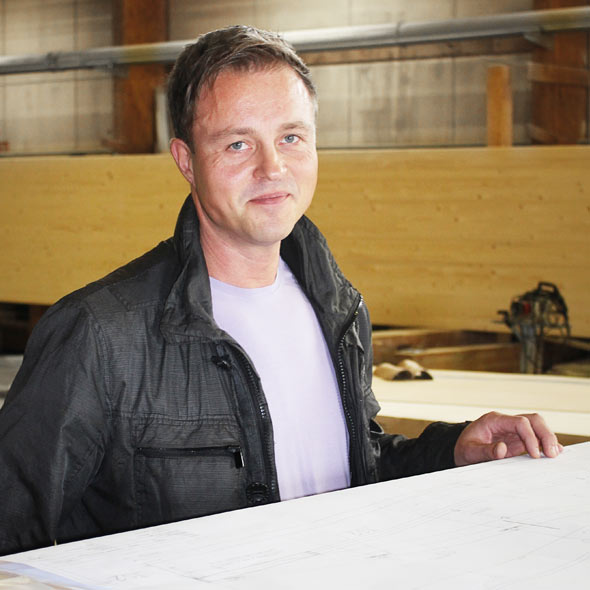 "As a structure, a wooden bridge is a comprehensive concept,"
Harri Mäenpää, Project Sales Manager at Versowood.
Lots of experience with wooden bridges
Wooden bridges are a part of earth and road construction, which also involves structures such as electrical pylons and noise barriers. The company began producing the principal construction material for wooden bridges, glued pine timber, as early as 1972, and roughly 50 wooden bridges for vehicles and pedestrians are built from the material each year. Exports account for approximately one half of the company's production. Versowood markets and sells wooden bridges to clients such as cities, municipalities, private road owners, and traffic agencies.
The company produces several types of wooden bridges, with variations in the supporting structures. The most common type is the girder bridge, which is supported by its own height-to-length ratio. Another common type is the arched bridge, supported by glued laminated timber in the shape of an arch. Such bridges can reach a span of up to 100 metres.
Newer wooden bridge technology is represented by composite wood-concrete bridges and transversely prestressed bridges, in which the bridge's longitudinal glued timber beams have been compressed into a single slab by steel elements drilled transversely through the wood.
Good reasons for wood
"As a structure, a wooden bridge is a comprehensive concept," says Harri Mäenpää, Project Sales Manager at Versowood. "However, the common perception of wooden bridges is something different; they are seen as decorative, unique landmarks, which are expensive to build. In actual fact, even a structure with just a wooden frame is counted as a wooden bridge. This can be hidden under a concrete shell, for example. The most important characteristic of a wooden bridge is not beauty – a wooden bridge has a smaller carbon footprint compared to concrete, and is made of lighter material that is easier to assemble and modify," says Harri Mäenpää.
Even though wooden bridges have been built in Finland for millennia, their industrial manufacture remains a niche industry. Until recently, the situation has been similar in all public wood construction.
"Most of all, the low production volumes have been caused by attitudes towards wood construction," Harri Mäenpää continues. "Design offices frequently consider wood construction to be tricky, since the availability of off-the-shelf solutions has been limited. Wood has also been overshadowed by concrete and steel in the construction-industry training".
Blueprint for engineering offices
But the future appears brighter; Versowood has developed two standard bridge models for vehicles and pedestrians each. A standard bridge model always provides engineering offices with ready models and structural solutions, which facilitate and expedite the design of the wooden bridge. From the contractor's perspective, the benefits of standard bridges include lower manufacturing costs and factory-assembled elements.
The European code that entered into force in 2010 instituted new regulations for the structures of wooden bridges, and the type bridges comply with these. For example, bridges built for heavy vehicles must withstand a load of 76,000 kg. The service life of bridges also varies between countries, due to factors such as the impregnating agents used. In Finland, wood is impregnated with creosote and salt, which provide effective protection.
Treated with Teknos products
In the field of surface treatment, Versowood has long relied on the high-quality products of Teknos, which are perfect for the surface treatment of salt-impregnated wood. NORDICA EKO 3330-03 topcoat combined with AQUATOP 2920 alkydacrylic paint or varnish provides long-lasting protection against the weather for wooden bridges. Opaque paints are currently favoured in surface treatment, since they last longer than transparent coatings.
The next few years will tell whether more durable and beautiful wooden bridges will rise in the parks and cities and along the highways of Finland.