Enhanced fire protection for steel – reach all four fire classes with one product
Teknos introduces a new, "all-in-one" 100% solids 2-component fire protection coating for steel applications in indoor and outdoor spaces.
The new intumescent HENSOTHERM 920 KS reaches all four fire classes R30/60/90/120 with just one coating. The solution supports in reducing Volatile Organic Compounds (VOCs) in construction, as HENSOTHERM 920 KS is a 100% high solids coating that does not emit VOC to the air. The quality of passive fire protection is ensured with ETA accreditation, with further environmental and standardization certificates.
The full coating system includes Teknos primer and topcoat that complements the ultimate corrosion protection, with high-quality finish. With this intumescent system, corrosivity category up to C5 High can be achieved.
The system is perfect for paint shop application, for which it is mainly recommended. There is no limit for experienced painters to also perform on-site application when necessary.
Shorten the lead time with the new quick drying intumescent paint system
The quick drying time of the new paint system enables more economical construction projects, as it contributes to shorter lead times and advances delivery date. The coated steel objects can be transported already the day after the coating takes place, after 24 hours of drying time.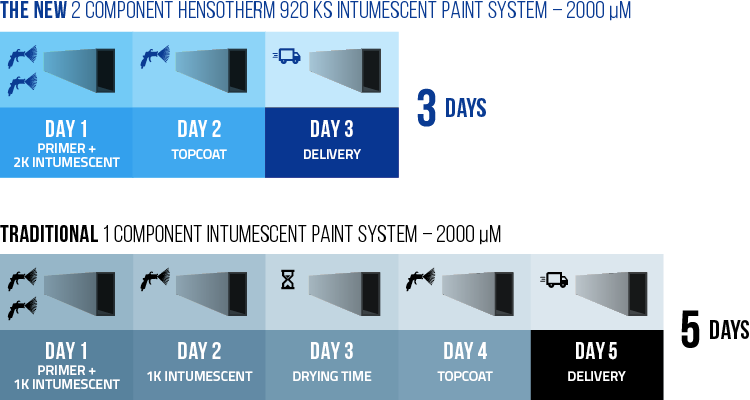 In an example case of a coating system with film thickness of 2000 µm, all spraying is done in just two days.
Worry-free transportation of fire protected steel structures after spraying
The new intumescent paint system has improved impact resistance. HENSOTHERM 920 KS together with selected Teknos' quality top coat allows the steel objects to be transported without damage or bangs, making touch-up painting after the actual spraying no longer necessary.
Teknos provides you with the intumescent coatings and technical support you need
With Teknos as your intumescent coatings supplier, you'll have a complete passive fire protection system from one supplier including everything from primer to topcoat. We are a collaborative partner with comprehensive corrosion protection knowledge gained since 1948. Teknos has a wide global network with local technical service.
We deliver intumescent coatings on-time, and are flexible with deliveries when your project needs it.
We help you in making the necessary calculations to choose the optimal intumescent paint system for your project.
We are ready to provide training and monitor the coating process on-site according to your project needs.
Liên hệ chuyên gia
CONTACT US
Business Development and Sales Representative
marketing.malaysia@teknos.com
Tel: +60 7 251 5115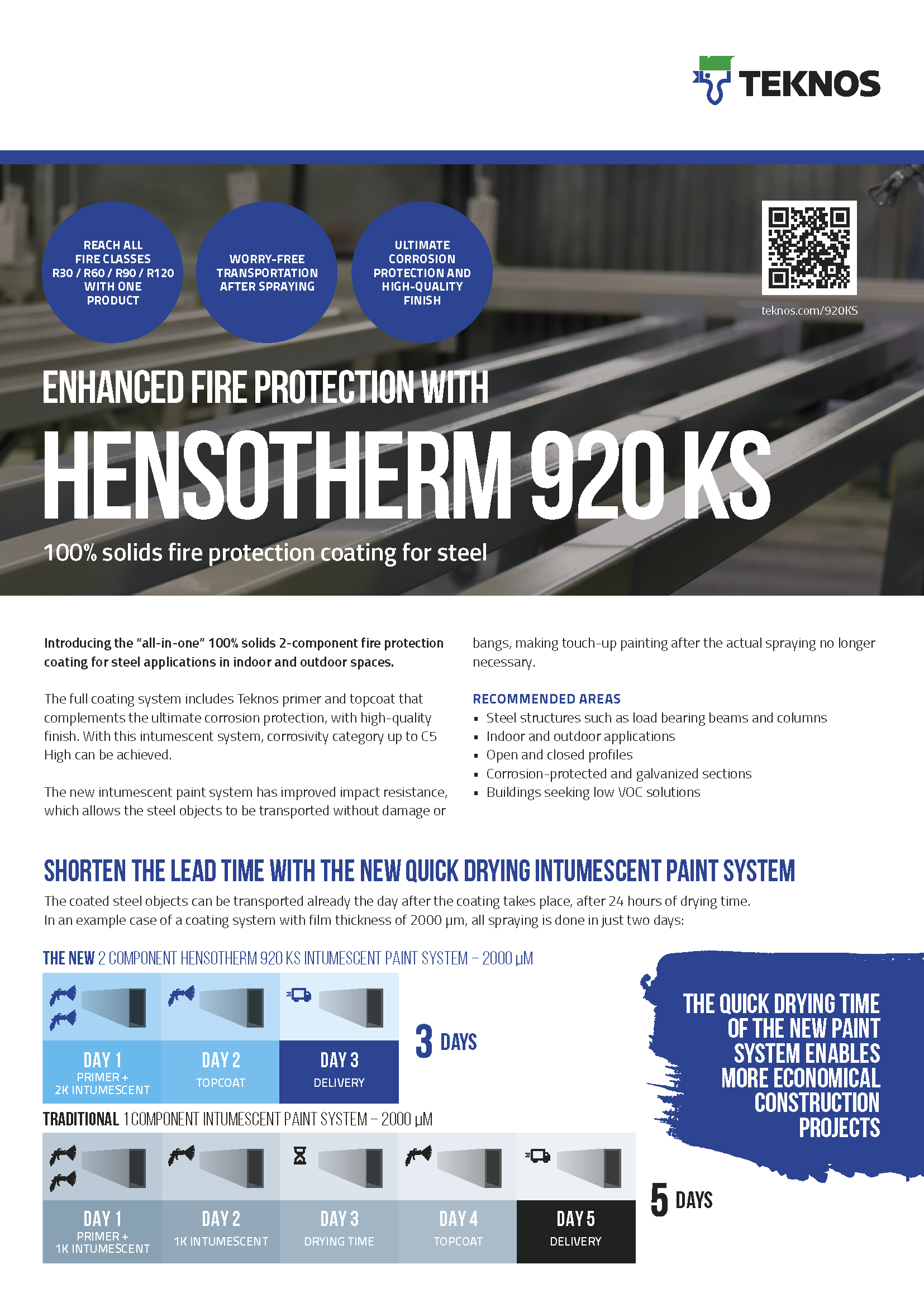 HENSOTHERM 920 KS
Introducing the "all-in-one" 100% solids 2-component fire protection
coating for steel applications in indoor and outdoor spaces.