Teknos LIECHTENSTEIN REDUCED PAINT WASTE BY 40 % IN 2021
Minimizing waste is not a project but needs corrective and conscious decisions to be made every day. Teknos factory in Liechtenstein was able to reduce their paint waste amount by almost 40 % and hazardous waste by 18 % during 2021 compared to the previous year. This was done by digging into the production processes and analysing thoroughly where waste is generated. The factory in Liechtenstein produces products for the flooring, interior, and exterior markets.
The value chain for coatings is rather linear: it starts with R&D and product development, production and delivery and ends with application at the end user. In this process waste can be generated in many places and in many ways: coatings and raw materials can e.g., be unused, expired, over order, overproduced or applied in the wrong way.
Knowing your waste helps to minimize the amount of it and to improve for the future. In Liechtenstein, the Operations team implemented a tool into the existing ERP system to help in this process. The system now reports locked items and identifies things such as slow and no movers, overproduced items, faults in products or tinting, incorrect forecasts, scale ups or expired products. Results have been overwhelming.
"Whilst we previously did not have the full overview, now it is easy for us to scan where waste is generated and what the reason behind it might be. This data is then analysed, after which improvement action are taken up with different departments such as purchasing, planning, production, and R&D", Team Leader Andreas Gugger explains.
The results of these actions have now led to a significantly smaller amount of waste; approximately 40 % less paint waste and 18 % less hazardous waste in relation to production volumes in just one year.
Raising awareness continues
According to Andreas, the corrective actions taken depend on the type of the product. Finished goods are reworked in a similar product, sold off cheaper or put aside for more demand. Half-finished goods are reworked in a similar product, and raw materials reworked into other recipes. Unopened packaging can be returned to supplier if so agreed, used by another entity within the Teknos Group or offered locally to other partners. For trading goods, reselling or selling to discount are options. Careful production planning is also needed, as minimizing waste starts with knowing the demand and not overproducing.
"We are very proud of what we achieved, but our journey continues: next we stabilize the results in relation to the current situation such as availability of raw materials, quick decisions due to availability and built up of stock. We also continue to raise awareness to our employees and help them to integrate the new thinking into their daily work", Andreas tells.
Kaizen enabled the success
A key factor enabling the success was also Kaizen, which has been integrated in the DNA of Andreas' work and the factory in Liechtenstein for several years. In Kaizen, the aim is to build a culture where all employees are encouraged to suggest and implement improvements. Andreas is one of the Kaizen trainers at the factory, and his experience with Kaizen was a great help in the process.
"I was inspired by the Teknos vision "We make the world last longer" and wanted to improve my area within this thought. My Kaizen work gave me the tools I needed, and I was able to bring them to the project", Andreas smiles.
"I am happy for the results our team has achieved in Liechtenstein", Nora Muurikainen, HSEQ Manager at Teknos Group says.
"It shows that great improvements can be made if we just put our focus on the topic and start working systematically. As part of our environmental improvement program, we are encouraging all our sites to perform waste assessment to map and understand their waste streams and use the learnings to identify improvement opportunities. Practical tools, such as ERP reporting systems can also be a big help in getting to know your waste better and to be able to focus on correct actions to reduce it".
Minimizing waste is one of the Teknos sustainability targets and included in the company's sustainability program. This target is tied to a bigger goal; doing our best to protect the scarcity of raw materials and our contribution to responsible consumption and production.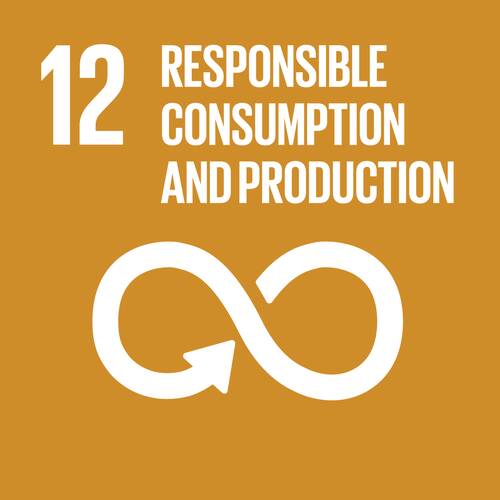 One of the targets of the Global Sustainable Development Goal 12 is to minimize waste. Teknos has set a goal to minimize waste 5% on a group level, contributing to the UN's goals of Sustainable Development.