TIMANTTI CLEAN
TIMANTTI CLEAN
Special acrylate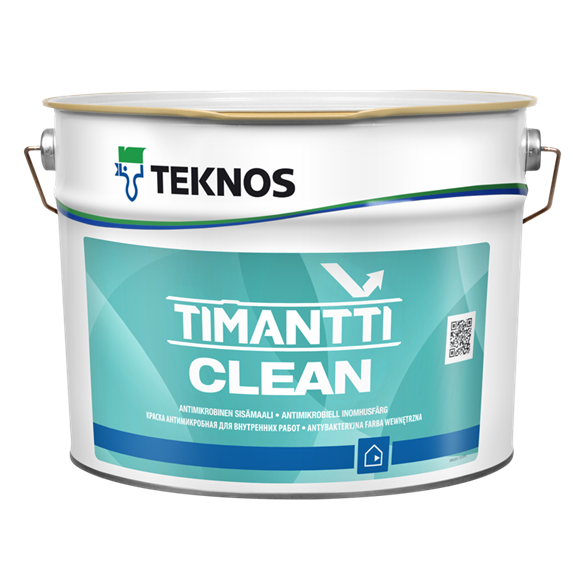 A semi-matt water-borne acrylate dispersion paint which contains BioCote® silver phosphate glass antimicrobial technology to preserve the coating surface and prevent colonisation and degradation caused by microbial growth once applied to the intended substrate.
For indoor use in spaces where wall and ceiling surfaces must be easy to clean and resistant to abrasion. Recommended objects, where special acrylate improves the functionality of the spaces, are hospitals, health centres and other public health premises, nursing homes, kindergartens, schools and other public spaces, as well as e.g. food industry spaces. TIMANTTI CLEAN can be applied to primed concrete, plaster, stopper, brick and building board surfaces according to the instructions. TIMANTTI CLEAN is also suitable for repainting old alkyd and dispersion paint coats.
Technical data sheet
Safety data sheet
Product colour chart
Surface preparation
Clean new surfaces from dust and dirt. Wash previously painted surfaces with RENSA SUPER paint cleaner. Matt down hard or gloss surfaces by sanding and thereafter remove the dust. For smoothing of irregularities in the surface choose a suitable stopper from the TEKNOSPRO series. The dried stopper is sanded down and the dust removed.
Application
HUMID AREAS AND WET ROOMS: Prime concrete, plaster, stopper, brick, and building board surfaces with TIMANTTI W moisture sealer. IN DRY AREAS prime the surfaces previously mentioned with TIMANTTI 3 Primer. Steel surfaces are primed with FERREX AQUA Anticorrosive paint. Prime galvanized surfaces with TIMANTTI 3 Primer. Before use stir the paint thoroughly. Apply TIMANTTI CLEAN once or twice by roller, spray or brush. Recommended nozzle size for airless spray is 0.017 - 0.021".
Application conditions
The surface to be painted must be dry. During the application and drying period the temperature of the ambient air, the surface and the paint shall be above +10 °C and the relative air humidity below 80 %. Good ventilation during the application and drying period quickens the drying process.
Maintenance
The final forming of the paint film takes abt. 4 weeks under normal circumstances and after that the ultimate durability and hardness is reached. Before this the painted surface must be treated with care. The painted surface can be cleaned by wiping with a neutral (pH 6 - 8) detergent. For very dirty surfaces can also alkalescent (pH 8 - 10) detergents be used. Detergent and dirt are removed by wiping and/or rinsing the surface with clean water. Use a cleaning cloth, soft sponge or similar for cleaning. Avoid coarse brushing or heavy abrasion. Follow the dilution and other instructions of the detergent producer when using detergents.
| | |
| --- | --- |
| Solids | abt. 37 % by volume |
| Volatile organic compound (VOC) | EU VOC limit value (kat A/a): 30 g/l. The product's VOC: max. 30 g/l. |
| Gloss | Semi-matt |
| Tinting system | Teknomix |
| Density | abt. 1.3 g/ml |
| Practical spreading rate | 6 - 8 m²/l |
| Drying time – dust free | 1 h |
| Drying time - overcoatable | 3 h |
| Thinner | Water. |
| Clean up | Wash the equipment immediately after use with detergent and warm water. |
| Washability and wear resistance | Wear resistance of the painted surface is very good. The painted surface can be washed repeatedly. Wet scrub resistance, class 1 according to EN 13300 (ISO 11998). |
| Packages | Base paints 1 and 3: 9 l, 18 l. |
| Safety markings | See Safety Data Sheet. |
| Approvals & certificates | Allergy label (Finland),ISO 22196,M1 classification,Finnish Key Flag |