TEKNOSPRO BREPLASTA J
TEKNOSPRO BREPLASTA J
Filler for joints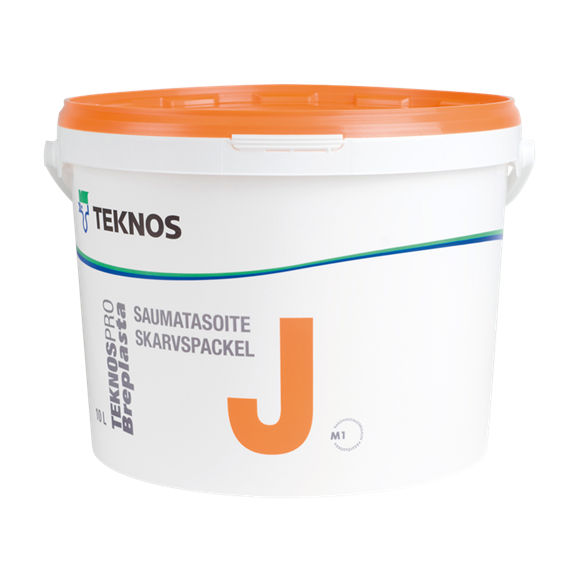 Ready-to-use, water-borne filler for gypsum board joints.
Used for partial filling, filling of joints and overall skimming of walls and ceilings in dry interior areas. The substrate can also be fibre board, concrete, lightweight concrete, plaster etc. Can also be used for overall skimming of the surfaces.
TEKNOSPRO BREPLASTA J is flexible and also the moisture resistance and the adhesion capability are good. The filler is easy to sand and the shrinkage is small. The colour is (beige) like the gypsum board.
Technical data sheet
Safety data sheet
Other product specific documents
Surface preparation
Clean new surfaces from dust and dirt. Wash previously painted surfaces with RENSA SUPER paint cleaner. Matt down hard or gloss surfaces by sanding and thereafter remove the dust. Brittle surfaces and untreated wooden surfaces must be primed before the filler is applied.
Application
Apply the filler by steel trowel or spray. The number of layers is dependent on the surface roughness. The dried filler can be painted or wall-papered. Before wall-papering the filler surfaces must be primed with adhesive. The use of protective mask for eyes and face is recommended when grinding the filler.
Application conditions
The surface to be treated must be dry. The temperature of the air, the surface and the filler shall be above +5 °C and the relative humidity of the air below 80 % during the time of application and drying.
Storage
To be stored in a cool place. Must not freeze. Storage stability is 1 year in unopened package.
| | |
| --- | --- |
| Solids | abt. 48 % by volume |
| Volatile organic compound (VOC) | The product is not included in the EU VOC directive. |
| Layer thickness | 0 - 2 mm |
| Density | abt. 1.7 g/ml |
| Particle size | 0.1 |
| Clean up | Water |
| Packages | 5 L, 10 L |
| Safety markings | See Safety Data Sheet. |
| Approvals & certificates | CE marking,M1 classification |