RIIHI
RIIHI
Paint for outbuildings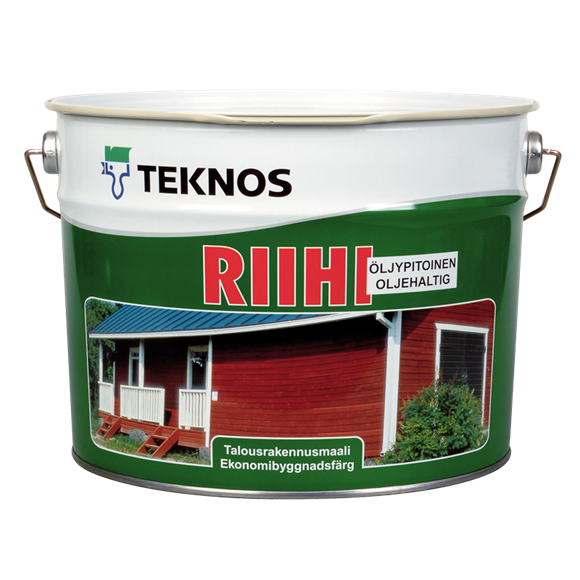 RIIHI is a special paint containing oil for sawed wood and for rough log surfaces. It is water-borne, easy to apply and long-lasting.
RIIHI will resist the effects of weather and it is economical, therefore it is suitable paint for outbuildings like granaries, cow-sheds, sheds and barns. RIIHI can be also applied on buildings that have some historical status if they have been unpainted for a long time or they have been previously treated with red ochre paint, presumed that the red ochre paint has worn off completely.
Usually one application is enough therefore sawed wood surfaces will have a long-lasting protection and finish at minimal cost.
Technical data sheet
Safety data sheet
Other product specific documents
Surface preparation
NEW WOOD SURFACES: New wood surface should be treated as soon as possible. Remove from the surface all loose matter, dirt, dust and mildew. If needed, use RENSA FACADE facade cleaner. PREVIOUSLY PAINTED OR OLD WOODEN SURFACE: Rotted, mouldy and deteriorated wooden parts are to be changed to new ones. Remove loose and poorly adherent paint coats. Remove the fluffy top layer of the wood. Wash mildewed surfaces with RENSA FACADE facade cleaner. Rinse the surfaces thoroughly with water and allow to dry. It is recommended that the bare wood surfaces are treated with colourless wood preservative from the WOODEX-series. Let the treated surface to dry for 24 hours.
Application
Before use stir the paint thoroughly. Reserve a sufficient amount of paint in the same vessel for each uniform surface. Colour differences will thus be avoided. Apply by brush. One application with undiluted paint is usually enough. If the application is interrupted immerse the equipment into water and after the work is done wash them immediately so that the paint has no time to dry.
Application conditions
The surface to be painted must be dry. The moisture of the wood must be below 20 % of the dry weight of the wood. During the application and drying period the temperature of the ambient air, the surface and the paint shall be above +5 °C and the relative air humidity below 80 %.
| | |
| --- | --- |
| Solids | abt. 30 % by volume |
| Volatile organic compound (VOC) | EU VOC limit value (kat A/d): 130 g/l. The product's VOC: max. 130 g/l. |
| Gloss | Full-matt |
| Density | abt. 1.3 g/ml |
| Drying time - overcoatable | after 1 - 2 hours |
| Thinner | Water |
| Clean up | Water and RENSA BRUSH |
| Packages | Red: 10 L, 20 L. Yellow: 10 L |
| Safety markings | See Safety Data Sheet. |
| Approvals & certificates | Finnish Key Flag |