EKORA 3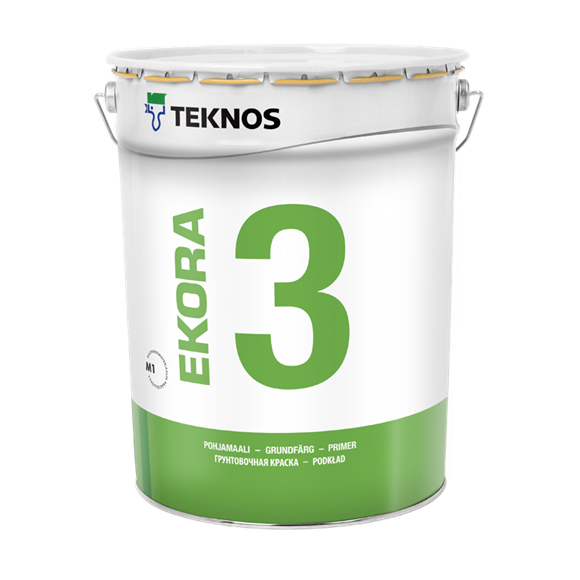 Water-borne, full-matt dispersion paint for interior use.
The paint is used as primer on surfaces in dry interior conditions, e.g. on walls and ceilings in apartments, offices, storerooms and factories. It can also be used as a top coat on ceilings and galvanized air conditioning pipes in dry spaces indoors. EKORA 3 can be applied to concrete, plaster, filler, brick, wood or on to building boards.
Surface preparation
Clean new surfaces from dust and dirt. Wash previously painted surfaces with RENSA SUPER paint cleaner. Matt down hard or gloss surfaces by sanding and thereafter remove the dust. Remove all of the old paint from the surfaces which have been painted with glue paint or lime wash. Spray filler ceilings, which are not waterproof, are recommended to be primed with solvent borne primer e.g. FUTURA 3 Adhesion primer. For smoothing of irregularities in the surface choose a suitable filler from the SILORA series. The dried filler is sanded down and the dust removed.
Application
To prevent the knots bleeding on wood the surfaces are primed with FUTURA 3 Adhesion primer. Steel surfaces are primed with FERREX AQUA Anticorrosive paint. Before use stir the paint thoroughly. The paint is thinned with water when needed. Apply once or twice by brush, roller or spray.
Application conditions
The surface to be painted has to be dry. During the application and drying period the temperature of the ambient air, the surface and the paint shall be above +5 °C and the relative air humidity below 80 %. Good ventilation during the application and drying period quickens the drying process.
| | |
| --- | --- |
| Solids | abt. 34 % by volume |
| Volatile organic compound (VOC) | EU VOC limit value (kat A/g): 30 g/l. The product's VOC: max. 30 g/l. |
| Gloss | Full-matt |
| Tinting system | Teknomix |
| Density | abt. 1.5 g/ml |
| Drying time – dust free | after ½ hour |
| Drying time - overcoatable | after 1 hour |
| Thinner | Water. |
| Clean up | Wash the equipment immediately after use with water. |
| Washability and wear resistance | Wet scrub resistance, class 2 according to EN 13300 (ISO 11998). |
| Packages | White: 9 L, 18 L. Off-white T1724 (T1327): 18 L. NCS-0501G78Y: 18 L. |
| Safety markings | See safety data sheet. CHEMICAL PROPERTIES AND SAFETY The product is not classified as hazardous according to Regulation (EC) 1272/2008. Recommended safety precautions when using the product: Avoid unnecessary skin contact. Use work clothes to protect against paint splashes. Use eye protection to protect againts paint splashes. During spray application avoid breathing spray mist. Use respirator, filter type A P. More information and Safety data sheet: Product's product page www.teknos.com |
| Approvals & certificates | M1 classification,Nordic Ecolabel,Finnish Key Flag |