For mural artists, color matters
Helsinki Urban Art is a fresh, active association that aims to bring experiential street art to colorless concrete surfaces in cities in Finland and abroad. The eye-catching murals – wall paintings – are made together with artists at the forefront of Finnish and international street art.
The association came together a couple of years ago during the More Street Art in Helsinki project, which saw the creation of several pieces of street art that rejuvenated the urban environment. Helsinki Urban Art has taken it upon itself to spread the gospel of street art and bring art, culture, and artists to the fore in a wide range of ways.
TURNING SCRIBBLES INTO ART
One of the association's founders, Jaakko Blomberg, is an active player in the area of social urban culture, and he has previously lived in the Helsinki suburb Pasila. "Our association's dream was to put a bit of color, vitality, and accessible art on the gray walls. We also wanted to showcase some of the street art trends in a positive light so we began looking for partners and interested artists. Quite quickly we received help from the City of Helsinki, embassies, and cultural organisations," Blomberg is happy to say.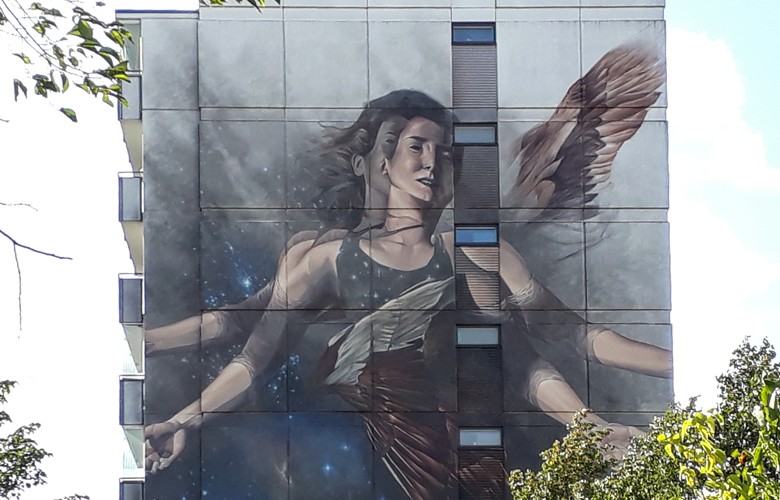 "Ilmatar", a large mural
In foregone decades, street art was thought of as illegal graffiti, and there were effective campaigns against vandalism. In objection to this, a movement began to demand authorized street art areas, and approved pieces of street art began to spring up in underpasses and on the temporary fences surrounding construction sites. Now there is a desire to have murals on display for everyone to see. The best thing is that a painting can be commissioned so that it is compatible with the nature or style of the building.
Although street art has always existed, it has gained wider recognition thanks to increased travel and social media. The topics and messages of paintings may differ depending on the culture or even the city. Many of the artists working in Helsinki are foreign, so the pieces represent a spectrum of different cultures and painting techniques. Helsinki suburb Pasila has work by artists from Italy, Canada, Poland, Argentina, and South Africa. However, the number of Finnish artists is on the increase.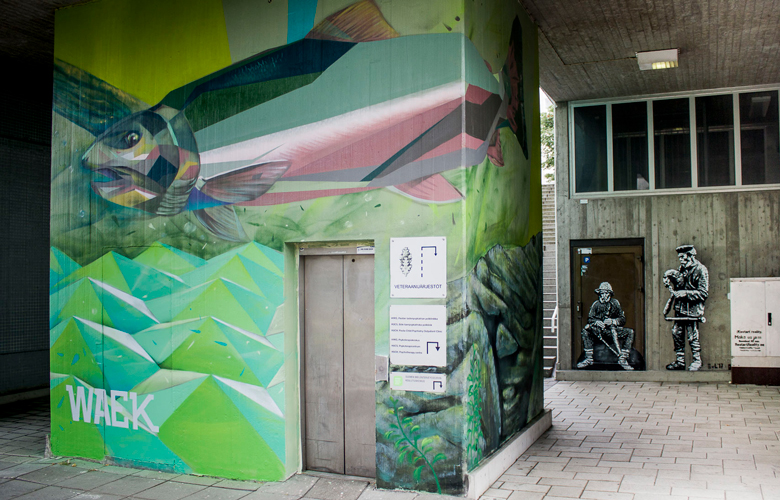 A PROTECTIVE PAINT WITH STREET CRED
Spray paints are used for the outlines, details, and shadows on murals, but for priming and painting large areas, normal building paints are used. SILOKSAN ANTI-CARB, which slows the deterioration of concrete surfaces, is ideally suited for priming and top-coating murals. The paint also has good UV-protection characteristics, so the colors will be preserved unchanged for longer.
Almost 100 liters of SILOKSAN ANTI-CARB protective paint was used in Pasila this summer. The most impressive piece is Ilmatar, a huge mural 34 meters in height on the end wall of an apartment building.
OPEN TO ALL
Helsinki Urban Art has achieved a lot in a short time. The pieces speak for themselves, and the growing appreciation of street art is reflected in the increased number of commissioned works. However, it is important for the association to offer wall space to street artists who are honing their skills as a hobby. For now, there are plenty of these in Pasila, and the art painted under bridges brings a ray of light to the day-to-day lives of every citizen.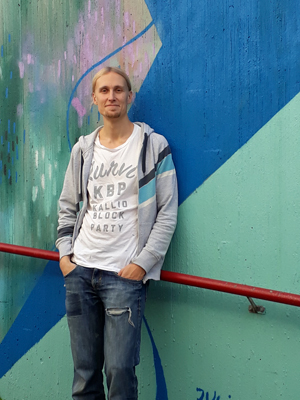 "The dream was to put some experiential art on the gray walls"
Jaakko Blomberg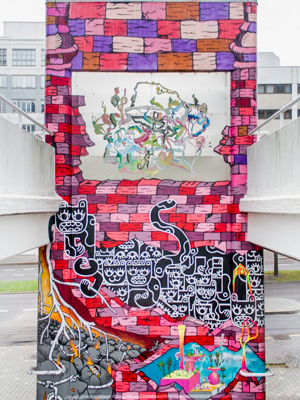 Easily approachable murals are a joy for every passer-by.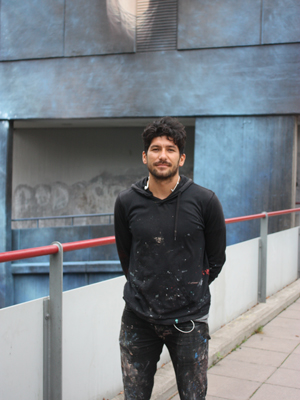 Li-Hill, the Canadian creator of Ilmatar, a huge mural, is grateful to Teknos for the paint it donated.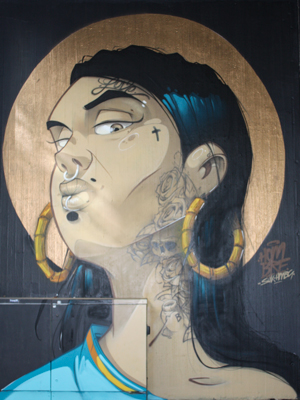 The mural art in Helsinki is international in nature.