A job well done endures year after year
Mihail Kuznetsov and his staff are on duty at the service office in an oil terminal in Riga, Latvia. Huge Neste oil tanks – painted 10 years ago by Latteps SIA with INERTA MASTIC epoxy coating and a TEKNODUR 50 polyurethane top coat – stand imposingly in the background. After washing of the impurities from the oil tank paint surfaces, the inspection has produced a gratifying result: the coating has endured superbly. A job well done has stood the test of time.
Latteps SIA was established in 1991 in Latvia. The company carries out heavy-duty anticorrosive painting for applications such as constructing and repairing oil refineries, oil terminals, bridges, etc. Besides Riga, Latteps has an agency in Moscow, and the list of references around Europe is impressive: NESTE, STATOIL, LATROSTRANS; AGA; LUKOIL; etc.
The co-operation between Teknos and Latteps started years ago, back in 1993. Mihail Kuznetsov thinks back to those early times with great warmth.
"When we started, we had a lot of support from Teknos", Misha recalls. "Teknos counselling us on which way to go and also giving us important technical support was valuable, especially at the beginning ", he adds.
Mihail Kuznetsov and his staff Piotr Karkin and Vladislav Labudz on duty at the service office.
Mikko Nihtilä, the technical manager of Teknos, says that it is easy to recommend such a reliable partner in co-operation to perform even extremely demanding painting jobs: "Misha and his crew have done an excellent job, in combination with Teknos high-quality products ", Mikko confirms.
"INERTA MASTIC has great resistance to chemicals and water and has provided good adhesion for the top coat, TEKNODUR 50 with its great mechanical endurance and weather-resistance ", he explains.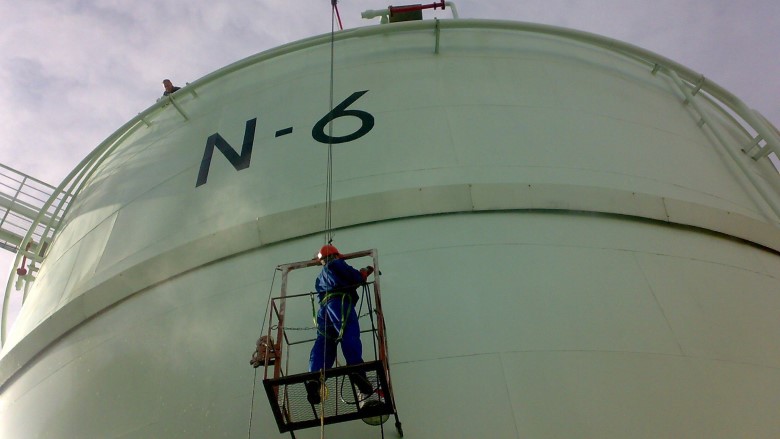 After washing of the impurities, the inspection shows that the coating has endured superbly.