Brevik Bridge in Norway to be surface treated with Teknos paints – "The paints form a strong coating system that provides excellent corrosion and UV resistance"
Brevik Bridge spanning over the Frierfjord, a fjord in South-Eastern Norway, is undergoing an extensive maintenance work ordered by the Public Roads Administration (Statens vegvesen). As part of the maintenance, the bridge will be surface treated to preserve it and ensure its future use. Global coating manufacturer Teknos supplies the paints used in the surface treatment process to the main contractor of the project, Trescon AS. Trescon is a Norwegian company specialized in building, rehabilitation, and maintenance of constructions.
Brevik Bridge is located in the county of Vestfold og Telemark in South-East of Norway. The bridge is 676 meters long and was originally opened in 1962. The constructions and details of the Brevik Bridge are protected by the Norwegian Cultural Heritage Act.
With the maintenance project that begun in April 2021, the pedestrian and bicycle lanes of the bridge will be widened, and the bridge will be strengthened to withstand being a detour for E18 road in Norway. During the project, the metal construction of the bridge will be surface treated. This means surface treatment for an area of 10,000 square meters in total.
Coating system enables high corrosion protection
The coating system used in the surface treatment is a duplex system. Duplex system combines metallization and an additional corrosion protection – in this case reinforced epoxy and polyurethane coating – to provide enhanced corrosion protection. Teknos has supplied all the paints used in the coating system.
"For the Brevik Bridge, Teknos supplied three different products: TEKNOPLAST PRIMER 5, TEKNOMASTIC 80 PRIMER and TEKNODUR 0050. These products together form a strong coating system that provides excellent corrosion and UV resistance. In addition, they also form a paint film that is highly resistant to chemical and mechanical wear. Similar coating systems are usually used on offshore installations," explains Johnny Gustavsen, Area Sales Manager at Teknos Norway.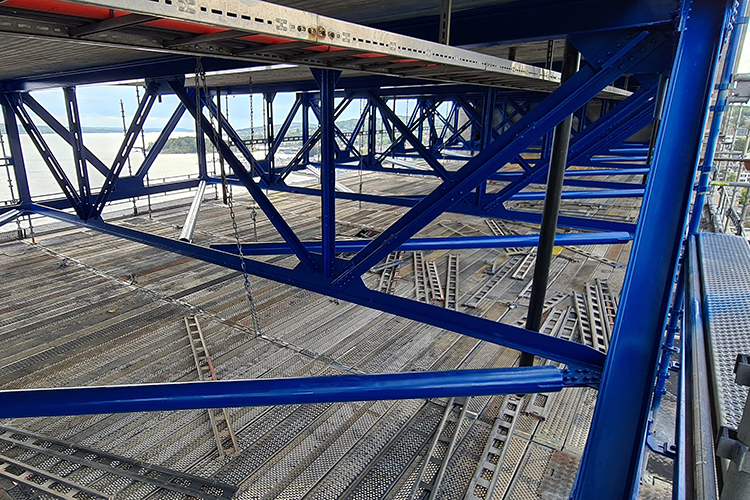 The paints used in the surface treatment must fill the requirements of NORSOK M-501:2012 standard. Globally known NORSOK standards are based on recognized international standards adding the provisions deemed necessary specifically for the Norwegian petroleum industry.
Fast feedback, the right paints, and high service level were crucial criteria
Thanks to fast feedback, high service level and products with the required approvals, Teknos was chosen as Trescon's paint supplier in the Brevik Bridge maintenance project. Cooperation between Trescon and Teknos on several other projects over the years has proven that whenever there is a question regarding coatings, whether it is big or small, Trescon can rely on quick response and support from Teknos.
"We are very happy with our cooperation with Teknos. Teknos experts listen to our needs and deliver the full package when it comes to what we expect in product quality, support and service-level," says Arturas Bytautas, General Manager at Trescon.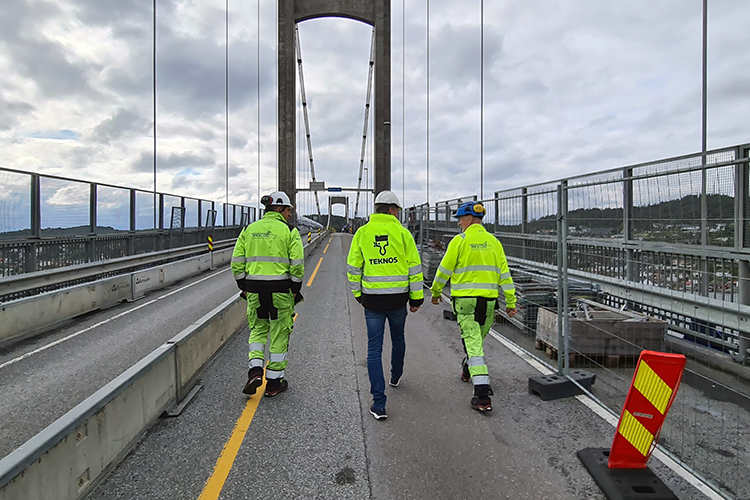 "Teknos products are easy to work with and apply. Also, when needed, Teknos experts support us with technical support and advice, which is very important for us since we work in many different and challenging environments," Donatas Daskevicius, Project Manager at Trescon comments the cooperation with Teknos.
BREVIK BRIDGE PROJECT INFO
Length 676 m
Bridge opened in 1962
Maintenance completed in 2022
LOCATION
Vestfold og Telemark County, Norway
OWNER
Norwegian Public Roads Administration
(Statens vegvesen)
CONTRACTOR
TRESCON
INDUSTRY
Infrastructure construction
PRODUCTS USED
TEKNOPLAST PRIMER 5
TEKNOMASTIC 80 PRIMER
TEKNODUR 0050
Total coated area: ca. 10 000 m²