Polyurea Coatings
Teknos polyurea coatings are extremely resistant, waterproof and instantly cured coatings for several surfaces, such as concrete, steel, bitumen, and wood.
TEKNOPUR 300 elastomeric coating, functional pure polyurea technology
TEKNOPUR 300 polyurea coating withstands high abrasion, impacts and extreme mechanical loads. Polyurea has an excellent adhesion to metal and concrete. The coating is also non-slippery and sound dampening. Polyurea creates a seamless waterproof film that gives matchless protection to the surface beneath the coating. TEKNOPUR 300 is highly resistant to corrosion and chemicals.
Polyurea usage
Polyurea cures extremely fast within seconds. The coating process is fast and efficient and coated surface is walkable within less than a minute. When it comes to operational temperatures, TEKNOPUR 300 offers a wide temperature area. Typical usage temperatures are from 40 degrees below zero up to +150 degrees Celsius. Teknos polyurea coating is not classed as flammable.
Solvent-free TEKNOPUR 300
TEKNOPUR 300 polyurea coating is solvent-free and emits no volatile organic compounds (VOC) and therefore it is an environmentally friendly choice as well.
Polyurea applications
Polyurea coating is suitable to use for various industries and objects. Example applications for polyurea are:
Mining industry
Pipelines
Secondary containment
Machines
Transportation vehicles
Roofs
Steel structures
Concrete structures
Pools
Floors
Polyurea coating is also available as a longer curing time version (gel time 30 sec) TEKNOPUR 360-800 and as a fire resistant version TEKNOPUR 340 FR. Polyurea is available in various colours by agreement. Teknos is a reliable and well-known polyurea manufacturer with global network. You can have all system layers from the same supplier. Teknos wants to support its customers and organises training for polyurea products and how to apply polyurea coating.
Teknos' technical service professionals have vast experience in industrial painting and are happy to help you
Fill in the form via button above and our representative will contact you as soon as possible.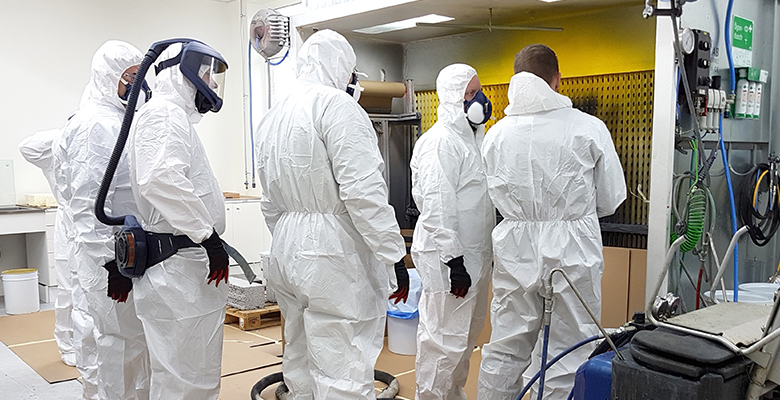 Polyurea application trainings
How to become a certified polyurea applicator? We train all our new polyurea customers to excel in all aspects of polyurea usage, including product chemistry, theory, and practical issues such as equipment, safety, spraying technique, and troubleshooting.
In addition to local polyurea training, we often participate in the first sprayings at the customer site to a successful start and smooth first deployment of polyurea coating.