PAINTING SYSTEM
A40.6 TEKNOSPRO POHJA
Unpainted, plastered surfaces in dry spaces.
Pretreatment
Loose material, dirt and dust are removed from the surface to be treated.
Application
Prime 1 x with TEKNOSPRO POHJA Primer. 1 x partial filling with SILORA LF filler. Spot paint the filled areas 1 x with TEKNOSPRO POHJA Primer. Topcoat 1 x with waterborne TEKNOSPRO POHJA primer.
RELATED PRODUCTS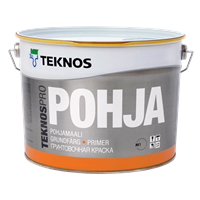 An adhesion primer for wash and wear resistant top coats. Can be used as primer for dry interior spaces and as a top coat on ceilings and air conditioning pipes in dry spaces indoors.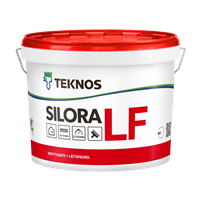 Ready-to-use, water-borne light all-purpose filler. Used for partial filling, filling of joints and overall skimming of walls and ceilings in dry interior areas.
More specific product information in technical data sheet. Painting system search recommends products based on the information you provide and does not take into account any specific needs of the site, e.g. the quality of the material to be painted or the properties of the previous paint. The main responsibility lies with the designer.
In case of doubt, please contact your local Teknos team.