WOODEX AQUA BASE PLUS
WOODEX AQUA BASE PLUS
Wood preservative primer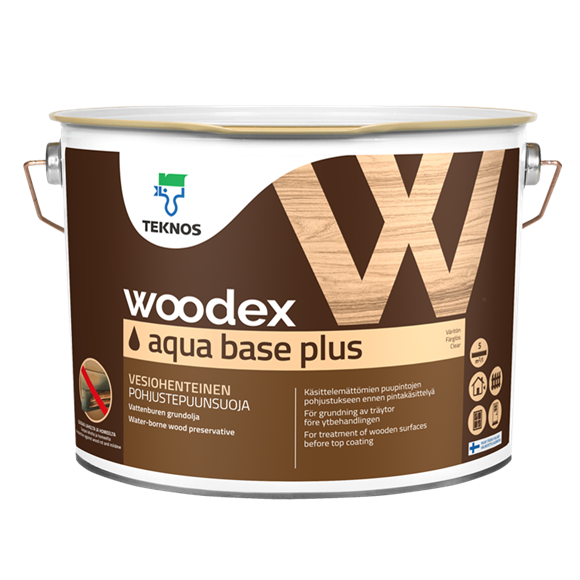 Wood-destroying fungi resistant (Rot)
Wood preservative product approved according to the regulations in the Biocidal Products Regulation 528/2012 (product-type 8). Approval no. UK-2013-0783-1-0001. WOODEX AQUA BASE PLUS is a ready to use, water-borne wood preservative for priming of wood surfaces prior to the surface treatment. WOODEX AQUA BASE PLUS is intended for consumer and professional use against wood discolouring fungi such as blue stains and moulds, and wood rotting fungi, in use classes 2 and 3 (EN 335). Can be used on timbers not in ground contact, either continually exposed to the weather or protected from the weather but subject to wetting. Not suitable for use on wooden constructions that are in direct contact with the ground, or that are in permanent contact with fresh or salt water.
Windows, external doors, facade claddings, board and timber constructions, fences, eaves, car shelters and similar untreated wooden surfaces outdoors. Wooden surfaces primed with WOODEX AQUA BASE PLUS must be top coated as soon as possible, but earliest 24 h after the treatment.
Application
WOODEX AQUA BASE PLUS is used undiluted. Mix well before use. WOODEX AQUA BASE PLUS is applied to a clean and dry surface by brush, roller or spraying. Storage of treated wood must either be undercover with a recovery system in place, or on an impermeable surface. If applied on a building site, protect the ground. Handle product and dry freshly treated wood in areas with good ventilation. Wood that is exposed to weathering must be top coated with a suitable product. The instructions for use given for the product used are to be followed during the top coating. The top coating must be made before the wood is exposed to rainfall. The top coat should not contain a triazole fungicide. Outdoor paints for professional and consumer use manufactured by Teknos Oy do not contain triazole. All outdoor primer paints and top coats manufactured by Teknos may be used for top coating wood preservatives containing triazole.
Application conditions
The surface to be treated must be dry and clean. The moisture of the wood must be below 18% of the dry weight of the wood. During the application and drying period the temperature of the air, the surface and the primer must be above +5 °C and the relative air humidity below 80%. Avoid application in direct sunlight. Please note that the drying is faster than usual when the weather is hot or windy.
Storage
To be stored in tightly closed original container. Must not freeze.
| | |
| --- | --- |
| Weight solids | abt. 14 % by weight |
| Volatile organic compound (VOC) | The product is not included in the EU VOC directive. |
| Density | abt. 1 g/ml |
| Drying time – dust free | 1-2 h |
| Drying time - overcoatable | after about 24 h |
| Clean up | Water and mild soap |
| Packages | 1 l, 3 l, 10 l. |
| Safety markings | See safety data sheet. |