RENSA STEEL
RENSA STEEL
Washing agent for galvanized surfaces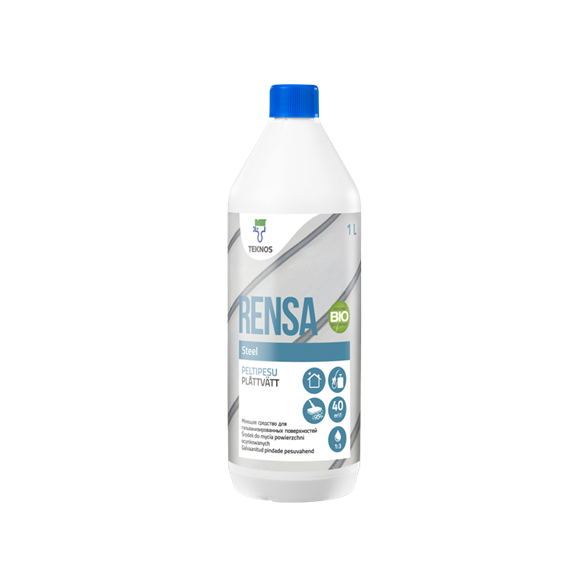 RENSA STEEL is a very efficient citric acid based detergent for pretreatment of galvanized sheet-iron and zinc-coated steel surfaces before painting.
RENSA STEEL is a pretreatment agent for maintenance painting. It is meant for washing new untreated zinc-coated and galvanized steel surfaces before painting with paints for sheet-iron roofs. It removes very efficiently zinc salts, grease, dirt and other impurities. RENSA STEEL is a biodegradable product. It meets the requirements by OECD and by the Detergent regulation of European Parliament and the Council on detergents for biodegradability (OECD 301B, EC 648 / 2004).
Technical data sheet
Safety data sheet
Other product specific documents
Application
Remove loose dirt and dust from the roof by brushing. Apply the detergent to the surface to be cleaned by using e.g. a brush or low-pressure spray (so-called garden spray). Let it act for abt. 10 minutes. Enhance the cleaning effect by brushing strongly. NB! The detergent must not dry on the surface to be cleaned - wet the surface again with the washing fluid, if needed. Rinse the surface thoroughly with a plenty of clean water.
Special precautions
RENSA STEEL is an efficient product. Therefore, using the detergent must be followed with a reasonable caution. Avoid skin contact and breathing the spray mist. Protect eyes from splashes. More information from product's Safety Data Sheet. The detergent may harm garden plants – avoid unnecessary splashing. The most sensitive plants can be covered or wetted with water before the treatment.
| | |
| --- | --- |
| pH | 2 |
| Dilution | For washing of and pre-treating surface to be painted: 1 : 3 (1 litre of detergent to 3 litres of water). For very dirty surfaces: 1 : 1 |
| Thinner | Water. |
| Packages | 1 l, 5 l. |
| Safety markings | See safety data sheet. |
| Approvals & certificates | OECD 301B, EC 648 / 2004 |