RENSA STEEL
RENSA STEEL
Washing agent for galvanized surfaces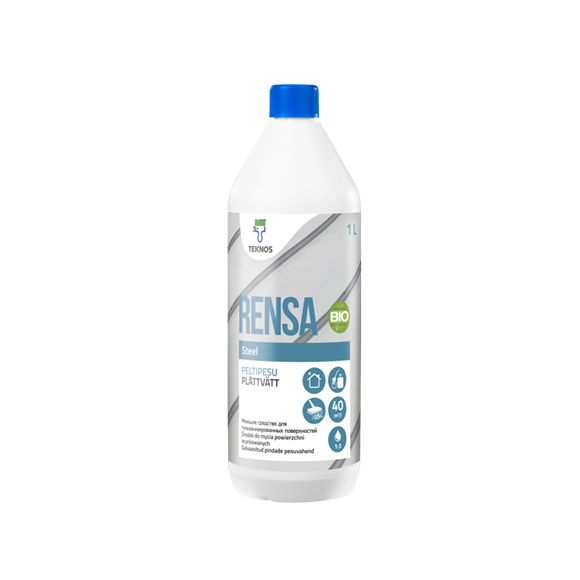 RENSA STEEL is a very efficient citric acid based detergent for pretreatment of galvanized sheet-iron and zinc-coated steel surfaces before painting.
RENSA STEEL is a pretreatment agent for maintenance painting. It is primarily meant for washing new untreated zinc-coated and galvanized steel surfaces before painting with KIRJO or KIRJO AQUA paint for sheet-iron roofs. It removes very efficiently zinc salts, grease, dirt and other impurities. RENSA STEEL is also suitable for washing of previously painted sheet-iron roofs before maintenance painting. RENSA STEEL is a biodegradable product. It meets the requirements by OECD and by the Detergent regulation of European Parliament and the Council on detergents for biodegradability (OECD 301B, EC 648 / 2004).
Technical data sheet
Safety data sheet
Application
Remove loose dirt and dust from the roof by brushing. Apply the detergent to the surface to be cleaned by using e.g. a brush or low-pressure spray (so-called garden spray). Let it act for abt. 10 minutes. Enhance the cleaning effect by brushing strongly. NB! The detergent must not dry on the surface to be cleaned - wet the surface again with the washing fluid, if needed. Rinse the surface thoroughly with a plenty of clean water.
| | |
| --- | --- |
| pH | 2 |
| Dilution | For washing of and pre-treating surface to be painted: 1 : 3 (1 litre of detergent to 3 litres of water). For very dirty surfaces: 1 : 1 |
| Thinner | Water. |
| Packages | 1 L, 5 L |
| Safety markings | See Safety Data Sheet. |
| Approvals & certificates | OECD 301B, EC 648 / 2004 |