The Functional Coatings tour in Sweden
Paints and coatings do not just make painted metal items better looking and protected from corrosion – the functional properties open up entirely new possibilities for users of paints. A tour was held in Sweden with the aim of bringing product information as close as possible to paint users.
The idea for the Functional Coatings tour was born when Teknos and local retailers wanted to provide their customers and other people with an interest in painting in various parts of Sweden with an experience that would be both fun and beneficial. There was also a desire to demonstrate the how functional products work in practice.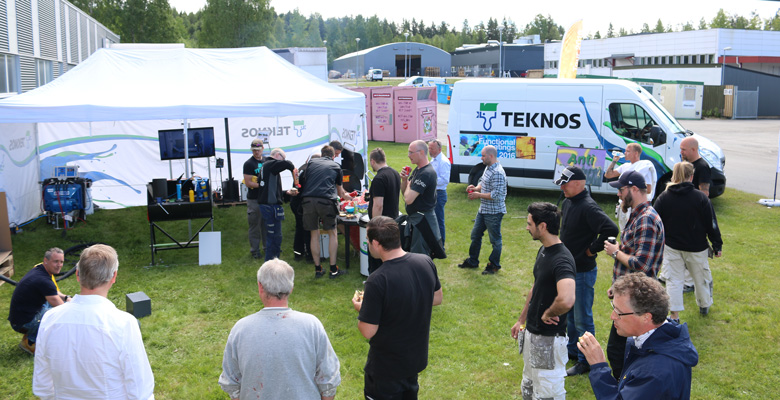 The idea was put into action and the Teknos Functional Coatings Tour 2016 bus was tuned up perfectly for the tour. Teknos' new series of Functional Coatings videos provided a source of inspiration for the tour organizers and the videos played in the background while work demonstrations were taking place.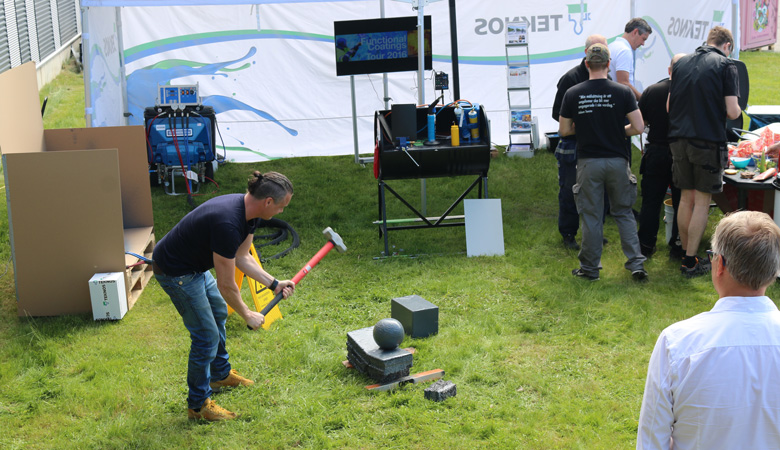 The TEKNOPUR 300 elastomeric coating is one of the most durable coatings in the world and is based on pure polyurea technology. Graco Reactor E-10Hp equipment was purchased to spray this coating. The durability of the coating was demonstrated in a fun way: a melon painted with elastomeric coating was turned into a soccer ball that was able to withstand rough treatment.
Tasty barbecue food, naturally prepared using outdoor barbecues painted with heat-resistant Teknos INFRALIT SI 8009 silicon powder coating, was also served at the events. The retailers and customers all appreciated the valuable product information they received during the tour, as well as the opportunity to network with experts from the sector in their own localities.
The following products were presented during the tour:
TEKNODUR ANTISLIP 9204-01
high solids polyurethane paint, which reduces the slipperiness of painted surfaces
ANTICON 200
a water-borne, entirely solvent-free coating for preventing condensation from forming on surfaces
INERTA 160
an epoxy coating that can withstand severe mechanical loads
INFRALIT EP/PE 8235
a powder coating developed for hygiene management, which effectively prevents microbes from multiplying on the painted surface
INFRALIT PE 8315, PE 8316 and PE 8317
flexible polyester powder coatings designed to enable objects to be altered after painting
Work demonstrations were arranged on the intumescent fire protection paint of metals, the TEKNODUR 0290-19 and INFRALIT PUR anti-graffiti products, and the TEKNOPUR 300 elastomeric coating.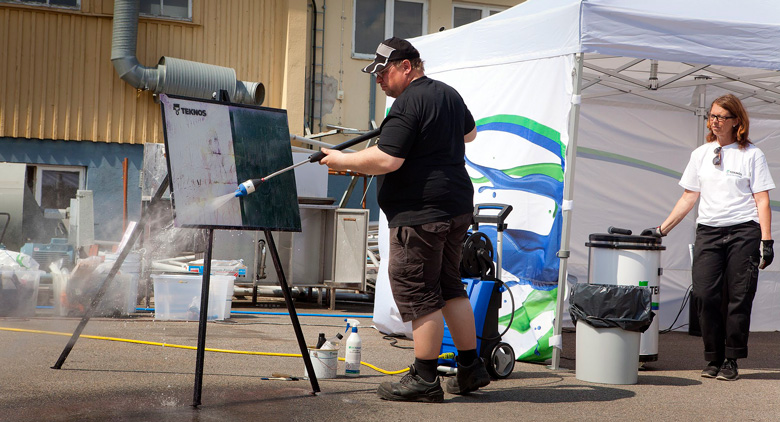 Technical expert Claes Nord demonstrates the functionality of Teknos anti-graffiti products. Marketing assistant Annika Nilsson attentively follows the demonstration.
Visit our Facebook page for more tour pictures and videos:

www.facebook.com/teknosindustri