Painting equipment matters
Stera's factory in Paimio, Finland systematically develops its production with the aim of boosting the efficiency of the powder coating paint shop and improving quality.
Stera Technologies is a global company specializing in contract manufacturing of mechanics and electronics. In addition to its sites in Finland, the company has production plants in Estonia and India. Stera's factory in Paimio specializes in manufacturing electrical enclosures and 19" cabinets, as well as subcontracted ventilation and other customised sheet metal assemblies.

"Our largest customers – ABB, Vaisala, Kone, Ponsse, and Sandvik – are global operators who demand high surface quality for their products," says Jarmo Rantahalvari, Stera's Production Manager.
Teknos is Stera's largest paint supplier, and it has been involved in the company's operations from the very beginning. "Having our own paint shop is a strength – it enables us to serve our customers more quickly and cost-efficiently," says Rantahalvari.
"We have collaborated closely with Teknos and our partnership has worked very well. Teknos' extensive product and color range and rapid deliveries help us to meet our customers' requirements. We also receive advice and technical support whenever we need it. We are very happy to receive service like this," says Kirsi Nurmisto, Stera's Sourcing Manager, who reserves praise for Niko Skytten, Teknos' Sales Engineer.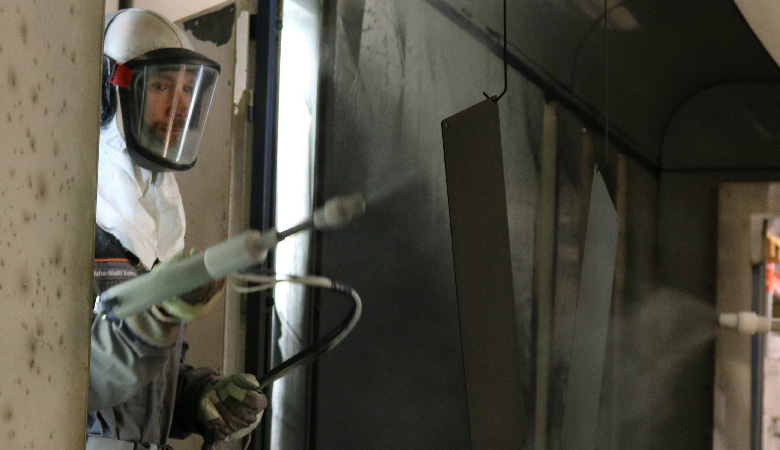 Problem and solution
Cabinet structures are challenging in terms of coatings. "The problem areas are the internal corners and folds of enclosure structures – it is difficult to get paint to accumulate in these areas. Painters have needed to spray a very large amount of paint, and some of the powder that misses the target then builds up in the outer corner and on the edges, leaving a layer of paint that is too thick. This has caused runoff and leveling problems around the edges of items," says Niko Skytten from Teknos.
The equipment supplier was able to solve the problem. "Using a new spray gun model supplied by Spraytec and less air, it is possible to evenly spray powder coating, even in tight structures, and there is no runoff," Rantahalvari says. "The new spray gun is also easier to use and handle, and colors can be changed very quickly," he adds.
The painters are also happy with the new Spraytec spray gun. "It took a while before we got used to using the new spray gun. Now difficult corners are significantly easier to paint," says Stera's Jari Mamia, who is responsible for the process and has more than 16 years' experience in powder painting.
"You might not want to hear this"
Painting equipment is very important, both in terms of the painting process and the outcome of surface treatments. Nordson's high density, low velocity (HDLV) technology supplied by Spraytec has been very helpful for Stera.
"When powder coatings are applied to items using less air, painting becomes more efficient.
In terms of quality, the more standardized parameters, the better. This includes factors such as maintaining the same settings and using the same amount of powder," says Jarno Mäkeläinen, Spraytec's Sales Manager.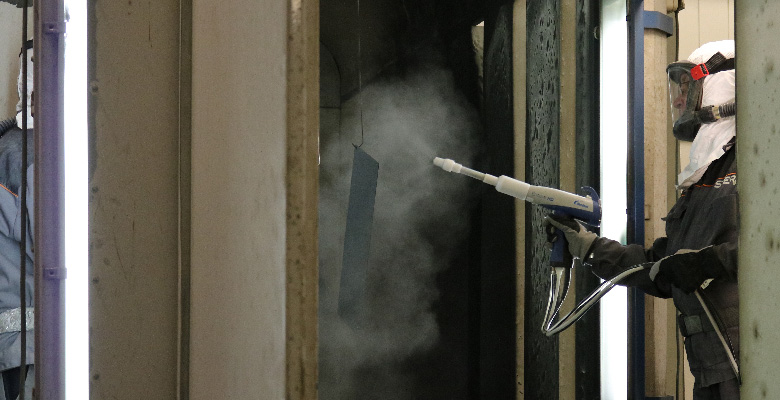 "As paint manufacturers, you might not want to hear this, but our spray system also reduces the consumption of powder coating," Mäkeläinen adds.
Teknos is not at all worried about this – quite the opposite. What is good for customers is always good for paint manufacturers in the long run.
STERA Smart Factory
Stera Smart Factory is a real-time monitoring system that enables processes to be systematically measured and made more efficient. Production development work is often a long process because nobody wants to jump into the unknown without first studying existing practices.
Systematic development work at Stera's own paint shop began in spring 2016 with the aim of boosting the efficiency of the paint shop and improving quality. The project's dynamo was Janne Alatarvas, who was carrying out his thesis project for Stera.
"Stera's wide range of products creates challenges in terms of developing appropriate parameter indicators for the painting process, but it also makes research work interesting," Janne Alatarvas says.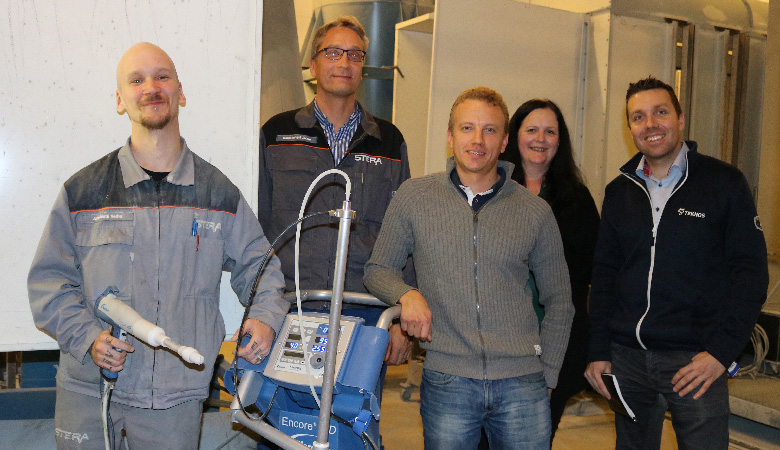 In the picture (left to right): Juha-Matti Verho, Jarmo Rantahalvari, Jarno Mäkeläinen, Kirsi Nurmisto, and Niko Skytten.
"We now have a good opportunity to develop our own operations and apply the Smart Factory concept to the development of our own paint shop. Production has been monitored by means such as deploying sensors and recording production using a camera," Jarmo Rantahalvari says.
"We are first collecting data, examining paint consumption, and visualizing the process parameters in the paint shop. Next spring, we will probably be able to present tangible results," Rantahalvari says.