Särkänniemi Adventure Park gets more colourful with road-marking paints
Founded in 1966 in Tampere, Särkänniemi is one of the oldest and best known amusement parks in Finland. Särkänniemi Adventure Park consists of six attractions: Dolphinarium, Aquarium, Planetarium, Näsinneula observation tower, Doghill, and the rides area. In addition, the Sara Hildén Art Museum is located in the area. The museum is managed by the City of Tampere. In the summer of 2012, the first ever Angry Birds Land in the world was opened in Särkänniemi.
Särkänniemi Adventure Park has become one of the largest and most versatile tourist attractions in Finland. In the summer time, the Adventure Park is visited by more than half a million people, and the total number of visitors each year is approximately 665,000.
The surroundings of a new ride, High Voltage, right by the lake, got more colourful with TEKNOROAD 250 road-marking paints. The design for the painting work was prepared by Arkkitehdit MY Oy, and the head designer for the project was architect Antti Moisala. The painting work was carried out by Juvia Oy.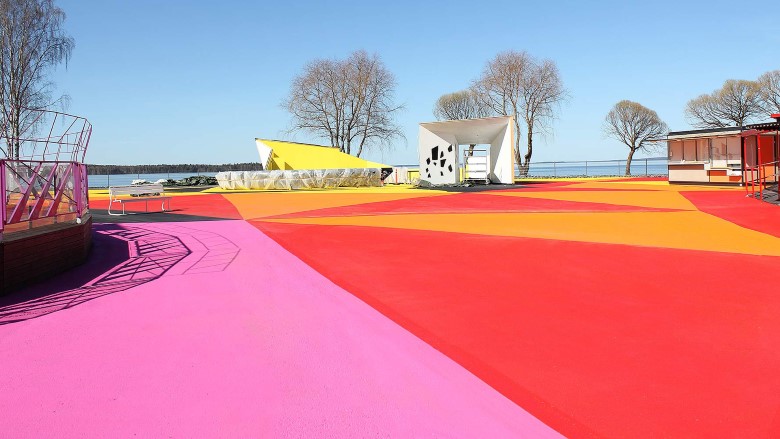 "In autumn 2013, planning commenced for a new ride to replace the JetStar roller coaster at Särkänniemi. In the middle of an empty asphalt field, the idea came about to improve the overall image of the area and emphasise the lake scenery, which had been forgotten behind the exciting rides. The idea of painting the asphalt arose from the objective of combining an eclectic mix of rides and various periods in history into a uniform area", says architect Antti Moisala.
After considering several options, a decision was made to go with a colourful theme using the three basic colours of road-marking paints to support the layout of the rides in the area.
"Only one special new colour was prepared for this project. The painting theme also continues on the constructions and vertical surfaces of solid railings which were put up for the new ride. The black and yellow theme of the ride itself has been emphasised by the contrast of the yellow ground and black railings when viewed from the approach to the ride", Moisala continues.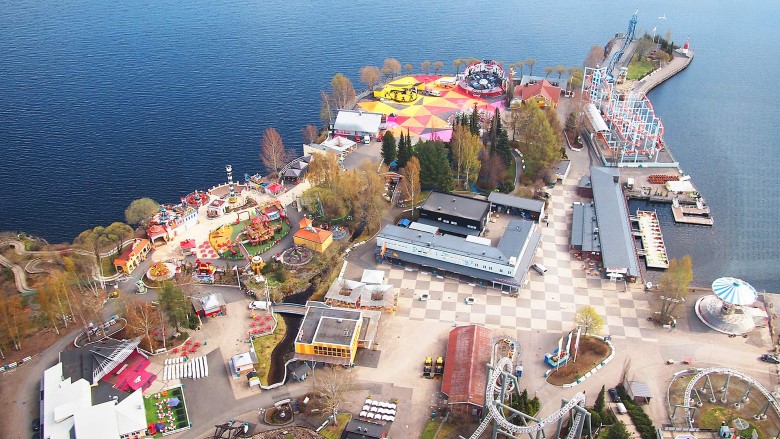 This summer, an area of about 3,000 square metres will have been completed, while the total area to be painted is 4,600 square metres.
"Even though the offset was very colourful and some of the colours used are fairly naive, the area feels clearly more uniform than before. It is also interesting how individual colours are experienced and how they stand out in the area, especially in sunny weather", says Antti Moisala.
TEKNOROAD 250 road-marking paint can be applied by spraying or by using a paint roller or a brush. The paint dries very quickly, so spraying is recommended. TEKNOROAD 250 is excellent for small and specialist projects, such as courtyards, parking areas and pedestrian crossings.