WOODEX AQUA CLASSIC
WOODEX AQUA CLASSIC
Wood stain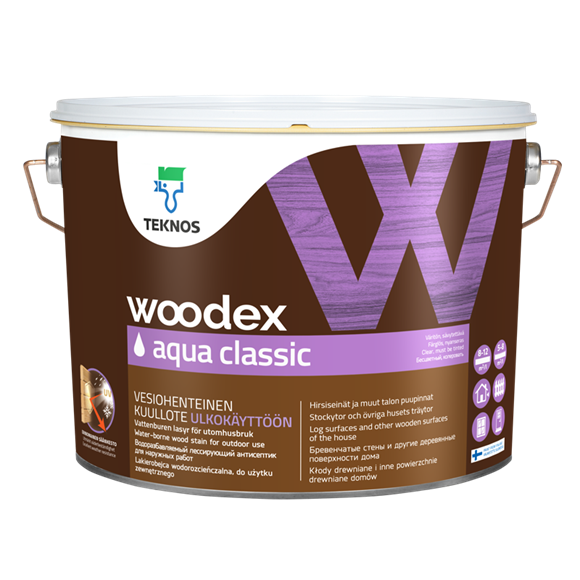 Water-borne, hybrid binder based, non-film-forming transparent wood stain for outdoor use. Protects wooden surfaces from moisture, soiling and when tinted from UV radiation of the sun.
New wood and wood previously treated with non film-forming wood stain, e.g. walls, doors, window frames, fences and poles. Recommended especially for log surfaces. Not suitable for use on film-forming wood stains, nor in greenhouses, hotbeds or shelters for livestock. It is not recommended to use WOODEX AQUA CLASSIC untinted since tinting protects wood from turning grey due to UV radiation of the sun.
Surface preparation
Remove all loose matter, dirt and dust with wire-brush, scrubbing brush or scraper. For untreated wood priming with a wood preservative from the WOODEX series is recommended. Allow to dry for one day. Wash dirty and/or mildewed surfaces with RENSA FACADE facade cleaner. Rinse the surfaces thoroughly with water and allow to dry.
Application
Stir WOODEX AQUA CLASSIC thoroughly before use. Reserve a sufficient amount of wood stain in the same vessel for each uniform surface, to avoid colour differences. The wood stain must also be stirred now and then in the course of work. Apply WOODEX AQUA CLASSIC by brush or spray. Coat untreated wood once or twice with WOODEX AQUA CLASSIC depending on the colour intensity and the required result. The wood stain is applied evenly and continuously on the whole length of the beam or timber to avoid making restart points. Treat end grain with special care. Brush application is recommended for the first coat. When spray is used, the surface is finished by smoothing with a brush. It is not recommended that clear wood stain is used alone. Maintenance painting for wooden surfaces treated with WOODEX AQUA CLASSIC may be made with Teknos´s water and solvent-based wood stains as well as with house paints.
Application conditions
The surface to be treated must be dry. The moisture of the wood must be below 20 % of the dry weight of the wood. During the application and drying period the temperature of the ambient air, the surface and the wood stain shall be above +5 °C and the relative air humidity below 80 %. Avoid application in direct sunlight.
| | |
| --- | --- |
| Solids | abt. 20 % by volume |
| Volatile organic compound (VOC) | EU VOC limit value (kat A/f): 130 g/l. The product's VOC: max. 130 g/l. |
| Tinting system | Teknomix |
| Density | abt. 1 g/ml |
| Thinner | To be used undiluted. |
| Clean up | Wash the equipment immediately after work with warm water and RENSA BRUSH brush cleaner. |
| Colours | Clear and translucent colours. The final colour will be visible only when the surface is dry. |
| Weather resistance | Good |
| Packages | Clear: 0,9 l, 2,7 l, 9 l. |
| Safety markings | See safety data sheet. NOTE! Because of the danger of self-ignition, any waste from the product, spray mist and soiled rags etc. are to be kept in a fire-proof place in air-tight containers. Immersion in water is also recommended. |
| Approvals & certificates | Finnish Key Flag |