TEKNOFLOOR BOJA
TEKNOFLOOR BOJA
Wood stain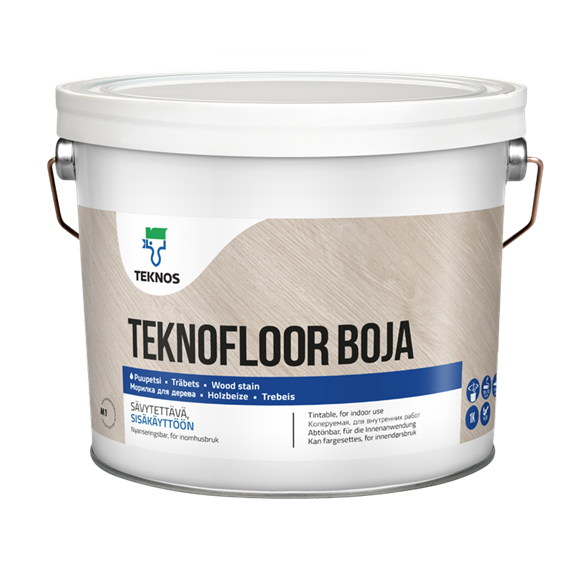 Water-borne wood stain for toning of parquet and wooden floors.
TEKNOFLOOR BOJA is suitable for roller and trowell application on parquet and wooden floors. To be to coated with acrylate based primer lacquer or top coat.
Technical data sheet
Safety data sheet
Product colour chart
Surface preparation
Wooden surface to be treated is cleaned from dirt and dust. Sand the surface properly, last sanding with grit n:o 120. If needed the wooden surface can be wetted before applying the wood stain. Light swelling caused by wetting the surface is sanded before applying the wood stain. Fill the gaps with GAP parquet putty before last sanding. After finishing sanding and vacuum-cleaning apply the wood stain to the surface.
Application
Stir well before use and if needed during the application. Ensure the shade of the product with a test application before the actual application of wood stain. To the shade affects tree species of the surface, absorption properties, amount of the applied wood stain, application method and number of applied coats. The best result is usually achieved with two coats. Remove light swelling of the surface by a light intersanding and vacuum-cleaning between coats. After the wood stain has dried the surface is ready to be top coated with Teknos parquet primers or one-pack parquet lacquers.
Application conditions
The surface to be treated must be dry. The moisture content of the wood should be 7 ±2 % by weight. During the application and drying period the temperature of the ambient air, the surface and the product shall be above +10 °C and the relative air humidity below 80%.
Storage
Storage time: in unopened containers, above +1°C, for 2 years. MUST NOT FREEZE.
| | |
| --- | --- |
| Solids | abt. 8 % by volume |
| Volatile organic compound (VOC) | EU VOC limit value (kat A/f): 130 g/l. The product's VOC: max. 130 g/l. |
| Gloss | Matt |
| Tinting system | Teknomix |
| Density | abt. 1 g/ml |
| Practical spreading rate | One coat with roller: 10 - 12 m²/l. One coat with steel trowel: 13 - 15 m²/l. |
| Drying time – dust free | 2 h |
| Drying time - overcoatable | recoatable with wood stain: 4 h / overvarnishable: 24 h |
| Thinner | Water |
| Clean up | Wash the equipment immediately after use with water and RENSA BRUSH brush cleaner. |
| Colours | Clear. Can be tinted to translucent shades. |
| Packages | Clear: 2,7 l. |
| Safety markings | See Safety Data Sheet. |
| Gloss value | 17-23 |