FÖNSTERFÄRG AQUA
FÖNSTERFÄRG AQUA
Semigloss window paint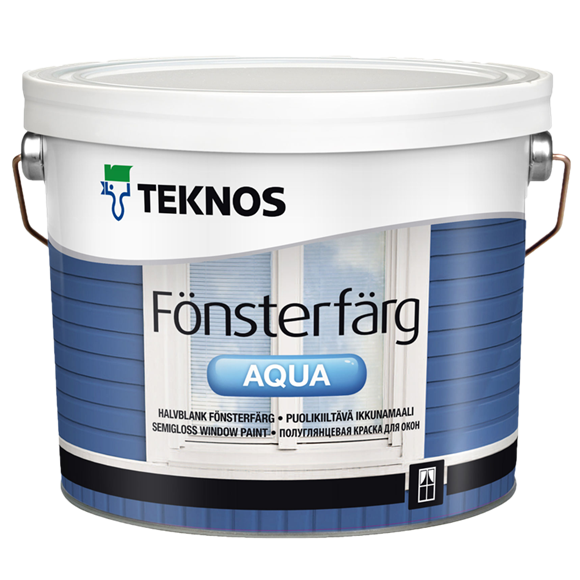 Water-borne, semigloss urethane alkyd paint.
For painting of new, previously with a wood stain or an oil paint treated or press-impregnated wooden surfaces outdoors: e.g. windows, doors, mouldings and garden furniture.
Surface preparation
NEW WOODEN SURFACE: Remove from the surface all loose matter. Remove possible mildew with mildew remover. PREVIOUSLY PAINTED OR OLD WOODEN SURFACE: Change deteriorated wooden parts with new ones. Remove loose matter, dirt and dust. Note, that the adhesion of an old thick paint layer to the substrate may have been weakened, therefore the paint should be removed although the paint film looks intact. The old paint layer is removed primarily by scraping or wire brushing and possibly by heating the surface with infra-red heater designed for that purpose. Secondarily paint remover or blasting can be used. Matt down hard or gloss surfaces by sanding and thereafter remove the dust. Wash surfaces with RENSA FACADE facade cleaner and rinse thoroughly.
Application
Stir thoroughly before use. Apply two coats of FÖNSTERFÄRG AQUA. When painting windows apply an extra coat to the bottom frame. Paint also over putty and a couple of millimeters on glass. Apply the paint with a varnish brush, mohair roller, painting pad or spray. When painting a smooth surface, e.g. flush door, the marks left by a roller may be smoothed down with painting pad or with varnish brush. Suitable airless nozzle size 0.011 - 0.013".
Application conditions
The surface to be treated must be dry. During the application and drying period the temperature of the ambient air, the surface and the product shall be above +10°C and the relative air humidity below 80%. Drying is faster in low air humidity and/or above + 21°C. Application will be easier if air is humidified and/or temperature is lowered in the working space. Ventilation after the painting will quicken the drying.
| | |
| --- | --- |
| Solids | abt. 40 % by volume |
| Volatile organic compound (VOC) | EU VOC limit value (kat A/d): 130 g/l. The product's VOC: max. 130 g/l. |
| Gloss | Semi-gloss |
| Tinting system | Teknomix |
| Density | abt. 1.3 g/ml |
| Practical spreading rate | 7 - 9 m²/l. |
| Drying time – dust free | 1 h |
| Drying time – through-dry | 2 - 3 days |
| Drying time - overcoatable | 14 h |
| Thinner | Water. |
| Clean up | Warm water and RENSA BRUSH brush cleaner. Wash the equipment immediately after use. |
| Colours | Base paints 1 and 3, which can be tinted to obtain the shades in Interior and Exterior Colour Card. |
| Safety markings | See safety data sheet. NOTE! Because of the danger of spontaneous combustion, any waste from the product, spray mist and soiled rags etc. are to be kept in a fire-proof place in air-tight containers. Immersion in water is also recommended. |
| Approvals & certificates | Finnish Key Flag |