Teknos Continues Asia Expansion with Opening of New Commercial and Competence Centre in Vietnam
Today, Teknos Group Oy, a sustainable coating solutions provider for the manufacturing industry, building professionals, and consumers, announces the opening of its new Commercial and Competence Centre with a technical application laboratory, training, and warehouse facilities in Dong Nai Province, Vietnam. Vietnam is an important growth market for Teknos, and in order to be close to our customers, we have invested in and are committed to the region and our existing and future customers. The new office is set to officially open on 13 September 2022.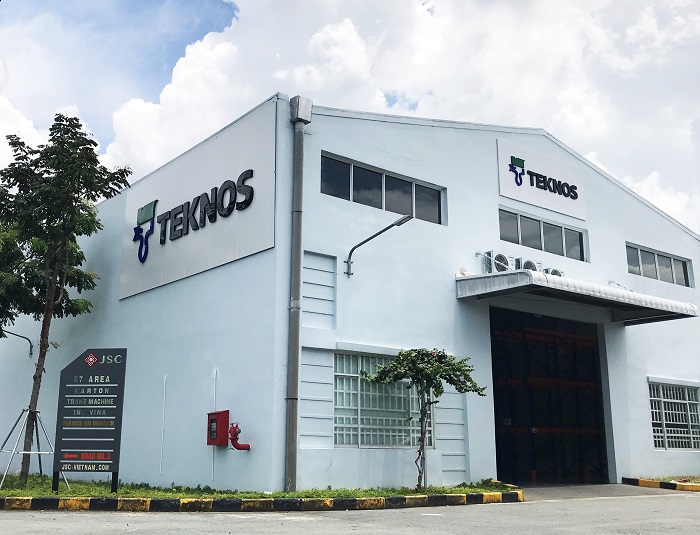 Being one of Finland's largest family-owned businesses that value long-term relationships, the expansion in the Asia-Pacific region enhances our sustainability targets by building long-term collaboration with customers close to them and commitment in this region.

In order to improve the way we serve our local customers in Vietnam with the best commercial and technical service as well as warehousing and logistical support, now we will be able with our local staff to provide local services, from sampling and pre-line trial testing, to training, colour matching and optmised logistical services, significantly reducing lead times and ability to provide fit for purpose logistical support.

This will also mean that our customers in Vietnam will have access to a wide range of products from the Teknos portfolio. The waterborne and UV products will be imported from Malaysia, the nearest Teknos production site in the region. Accessibility to additional products is now guarantueed and can come from our factories in Finland, Germany, Denmark or China.

"The decision to establish the new service center in Asia Pacific supports our growth plans. Vietnam was a logical choice for us as our Vietnamese export business has grown steadily over the past years. We want to meet customers where they are located to be able to enhance our collaboration and support them with faster response time and tailored solutions and services," says Paula Salastie, CEO and owner of Teknos Group.
"This will also enhance our sustainability as it reduces the emissions from logistics. Our team in Vietnam plays a crucial role in broadening our global development and service network. Our model will always be working in close cooperation with our customers, building a stronger relationship, by providing them with sustainable coating solutions," she continues.

Wanda Smith, Managing Director of Teknos (M) Sdn. Bhd., who is also taking care of the Southeast Asia region, leads the new Teknos Vietnam set-up, looking after the Sales, Customer Support, Technical Service, and Warehouse functions. "It is an exciting time to mark this milestone and start a new chapter in this region to be closer to our Vietnamese customers", said Wanda Smith. The new office is located at Nhon Trach Industrial Zone III - Phase 2, Hiep Phuoc Town, Nhon Trach District, Dong Nai Province. The total area of about 650m2, branded with the iconic blue and green Teknos corporate colour scheme consists of office space, meeting room, technical application laboratory, and warehouse.

In line with our sustainability commitments, we aim to be the partner of choice in Vietnam for sustainable coating solutions. Next to our solution offering, this also includes a focus on our Employee health and well-being as well as environmental considerations being guiding principles in choosing and designing the new premise. The Industrial Park is equipped with infrastructure systems including a central wastewater treatment infrastructure, restaurants with various types of cuisines, and convenience stores, as well as a shuttle service from HCM city to the Industrial Park and organizes periodic health check-ups too, thus providing Teknos Vietnamese employees the convenience, better quality, and nice outdoor work environment.

Factors contributing to health, such as indoor air quality and access to daylight were taken into consideration as well, as the building also comes with built-in air ventilation. With more efficient natural ventilation systems, the new office promotes maximum solar gain and reduces the need for artificial lighting; the interior design uses glass materials as glazed partitions, thus allowing natural lighting to disperse throughout the space to achieve privacy while maintaining the overall lightness and airiness of the space. "A sustainable office space should prioritize not only energy production and conservation, but our Teknos employees experience safety and well-being, too. The office furniture, equipment, and other accessories have been carefully selected to meet the ergonomic principles. For us, being sustainable is more than emissions. It is also about creating a great place to work and building long-term relationships with all our stakeholders," Wanda Smith states. In May this year, Teknos received the EcoVadis gold medal for its sustainability performance in 2021. This places Teknos within the top 5% of 90,000 companies that are rated by EcoVadis across the globe.

Teknos will continue to invest and grow in Vietnam, with a mid-term three to five years expansion plan to become a secondary production site and gain better control over lead time and reduce the dependence on imports to meet the growing local demand. As such, the Vietnamese expansion will be able to support the export to other Southeast Asian or Asia Pacific countries complementary to the Teknos Malaysia plant.
Maksymilian Pawlowski
Group Communications Manager
Teknos Group
Tel.: +48 726 355 244 
maksymilian.pawlowski@teknos.com

Yvonne Teh
Regional Marketing & Communications Manager
Teknos (M) Sdn. Bhd.
T: +60 7 251 5115 Ext 112 / M: +60 19 7109400
yvonne.teh@teknos.com