Inkjet texturing for effective surface embossing
Inkjet has reached outstanding printing quality and it is rapidly replacing traditional analog printing in many industries. Especially when reproducing natural material such as wood and stone, a good print is not enough as people need sensing and touching the material.
ZEETREE in cooperation with Teknos is proud to show the latest development which allows to combine exceptional printing with deep 3D texturing, bringing material to life!
Negative embossing

Positive embossing

The properties of analogue fluids remain unchanged in terms of abrasion resistance*, scratch resistance and adhesion.
*The usage of special corundum sealer is possible.
myTexture build-up for furniture
| | | |
| --- | --- | --- |
| No. | Teknos product name | Application weight |
| I. | Substrate | |
| II. | UVILUX PRIMER 199 | 5-10 g/m2 |
| III. | UVILUX SEALER 199 | 10-15 g/m2 |
| IV. | Digital Print | |
| V. | UVILUX 199 | 50-100 g/m2 |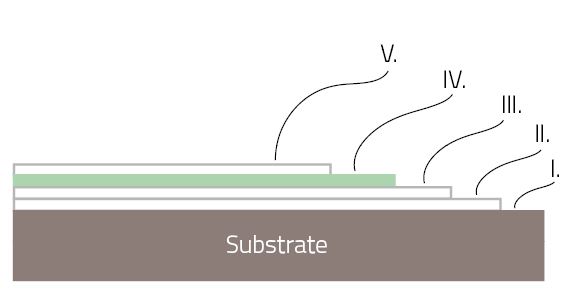 myTexture build-up for HDF Flooring
| | | |
| --- | --- | --- |
| No. | Teknos product name | Application weight |
| I. | Substrate | |
| II. | TEKNOLUX AQUA PRIMER 199 | 5-10 g/m2 |
| III. | UVILUX SEALER 199 | 10-15 g/m2 |
| IV. | Digital print | |
| V. | UVILUX SEALER 199 FS/TT* | 40-50 g/m2 |
| VI. | UVILUX 199 | 50-100 g/m2 |
* FS= Falling Sand / TT= Taber Test