TEKNOS is thinking out of the box - Coating for packaging from a paint manufacturer
Know-how accumulated from one industry can be utilized in solutions for a completely different industry. Teknos, a renowned paint manufacturer, is now developing coatings for use in the packaging industry as well.
Teknos is a paint manufacturer with a long history. The Finnish family-owned business started manufacturing paints as far back as 1948. The company, which started operations in an old henhouse, has taken long leaps of growth over the years. Today, Teknos has operations in over 20 countries and its retail network extends all around the world.
Product development in a big role
Over the years, the company has accumulated a huge amount of know-how regarding paint manufacturing, coating various materials and other related properties such as corrosion protection. Teknos invests heavily in product development. Out of its 1,800 employees, more than ten percent, or some two hundred persons work in product development.
"Coating is applied to protect the product and extend its service life. We have many functional coatings that offer benefits such as thermal resistance, UV protection or corrosion protection," says Tuomas Aspiala, Sales Manager, Novelty coatings.
Now the company plans to start offering products outside of the traditional business.
"It is natural to apply our coating know-how in other applications besides traditional painting. Now we will also start offering our materials expertise to the packaging industry," says chemist Marja Juvonen, who is responsible for the product development of packaging applications.
Marja Juvonen and Tuomas Aspiala from Teknos Novelty coatings innovation group.
"We have decades of experience in coating wood. It is not far fetched to apply this know-how to packaging applications, such as the surface treatment of fiber-based packaging. After all, paint protects the surface it's applied to, functioning just like a moisture barrier in packaging solutions. As for fiber-based products, we have a lot of know-how that traditional packaging industry does not have, such as familiarity with the huge variety of raw materials and formulating functional coatings. Chemistry-wise, wood as such is pretty close to cellulose fibers," Marja Juvonen says.
The product development innovation group has experienced chemists
"Our product development is very agile. It is fascinating that we can produce even small test batches at an industrial scale at the factory."
One of the company's ongoing projects is developing a coating for fiber-based transport packaging that can be used to modify the friction properties of the packaging. Other properties under development include combined barriers for fat and moisture, and fire retardation.
– We believe our products have big potential in the paper and cardboard industry. Our special expertise lies in combining several functional properties in one-layer solutions and modifying their rheological properties to suit different coating methods, including flexography. We develop products in collaboration with our clients. Packaging coating products will not be off-the-shelf products: they will be customized to the needs of each customer," says Marja Juvonen.
So far, products have been developed for the transport and construction industries, but Teknos does not rule out coating solutions for the food packaging industry in the future. However, the company so far has little experience in managing materials suitable for contact with food. "We still have a lot of work to do," says Tuomas Aspiala.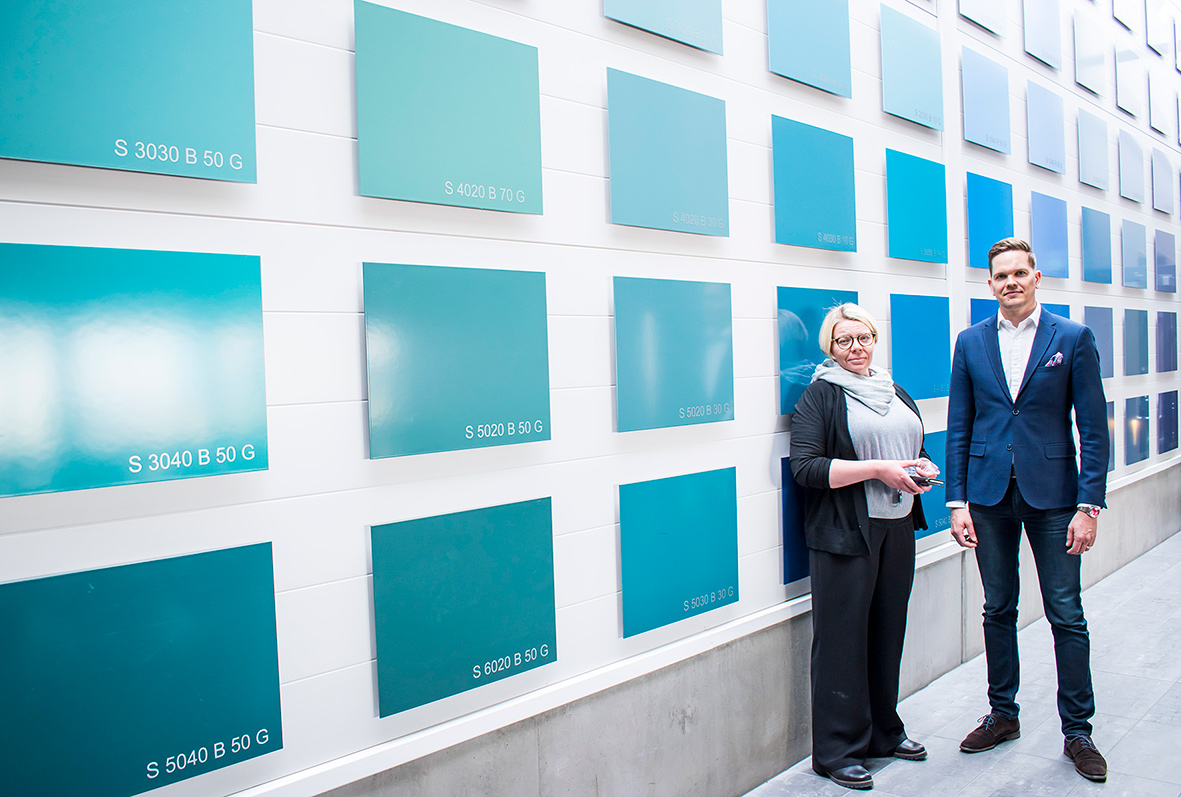 The Rajamäki factory has a new training center where customers can find out more about the company's products.
Text and photos Johanna Nikunen
Published originally in Pakkaus-lehti magazine 3/2018
It is natural to apply our coating know-how in other applications besides traditional painting.