Short project times with no loss of quality
When Plast & Målingteknik's tight-knit works team paints waterways, there are absolutely no grumpy faces. Teknos products are highly effective, and the combination of the right products and a strong work ethic makes them probably one of the fastest players on the market.
Plast & Målningsteknik is an authorised anti-corrosion painting company operating throughout the Nordic region with 50 years of experience in the industry, making it one of Sweden's oldest anti-corrosion companies with an unchanged ownership structure.
The company's main areas of operation are hydropower stations, bridges, the nuclear industry, the paper and pulp industry, manufacturing, defense forces, flooring and composite coatings, and the painting of cars and heavy-duty vehicles. The company performs its work both on a mobile basis in the field and at its dedicated paint shops.
In recent years, Plast & Målningsteknik has emerged as one of the biggest players in Sweden's hydroelectricity industry, and for good reason. A great team spirit, a strong work ethic and short project times, which have delivered key competitive advantages.
Ulf Melin, main contractor (left) Toni Jern, foreman, Outi Eskelinen, SBU Director and Lars Falck, Area Manager.
The firm's collaboration with Teknos really got going in the winter of 2017. Plast & Målningsteknik Project Manager Ulf Melin explains: "Lasse (Lars Falck) and I have been in contact for a number of years. We've discussed products and desirable functions, and I noted, among other things, that Teknos's products were faster than the products we had used previously. The fact that everyone in our team also agrees that the products are highly effective and are easy to work with is clearly also very important."
Here in the Nordic countries, especially in Sweden and Norway, painting is relatively extensive in the hydroelectricity industry. "The projects are often large and complex, which places great demands on both the products and the workers. Being able to shorten project times with no loss of quality usually benefits the companies that own the power stations, and that's where products with the right properties come in", Lasse Falck of Teknos stresses.
"I only use products from Teknos's range, such as TEKNOMASTIC 80 and INERTA 165 TIX. We also tested a number of other interesting products, including an extremely fast, low-temperature curing epoxy primer with a high volume solid," Melin says.
TEKNOMASTIC 80 PRIMER is a two-component epoxy primer with low solvent content. The paint withstands mechanical and chemical stress, is fast overcoatable and therefore suited to a fast painting tempo. INERTA 165 TIX is a two-component, low-solvent epoxy coating that can be applied directly on metal surface with 250 – 600 µm DFT in one layer. It is easy to spray and suitable for use on objects exposed to heavy mechanical stress.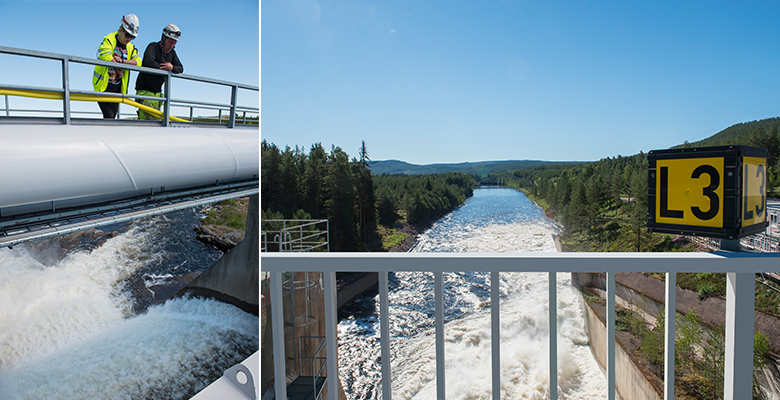 The conditions when painting waterways underground are very demanding, both environmentally and physically. Waterways made of steel must be able to handle enormous pressures. The workers on the team must be fit, because the work is physically demanding. An example of this is where the tube is 90 metres long from the intake to the suction pipe and has an angle of 45 degrees.
"It's impressive to be able to do such a great job in such a short period of time in these conditions," says Falck admiringly. "Despite the fact that it's 5 o'clock on a Friday afternoon and they know that they will have to work Saturday, too, this week, nothing seems to knock the team off their stride. They're all happy and nothing seems impossible," Falck continues.
Ulf Melin agrees. A great team spirit also benefits the client. "We often work shifts and it's also common for us be painting overnight. Our works team is very tight-knit, with extensive experience in surface treatment in the hydro electricity industry and, depending on the timing and the size of the project, we always have the option of using multiple teams to keep lead times short," Melin explains.

Smooth collaboration with other contractors on site is key. "If you can have successful construction meetings, you're half way there, but it's not a given. It takes flexibility," Melin explains.
The same applies to the collaboration with Teknos. "It's a big advantage to be able to get help whatever day of the week it is. It was 9 o'clock one night when we realised we'd run out of hardener. The next morning, there was a new hardener waiting for us on our doorstep, thanks to Johanna Nilsson at Tranemo. To this day I don't know how she managed it, but it was priceless. I also value Janne Nordmark and Lasse Falck for their expertise," Melin says gratefully.
Examples of painting systems for structures immersed in water
NDFT (μm)

Number of layers

Primer

TEKNOMASTIC 80 PRIMER MIOX

80

1

Intermediate

TEKNOMASTIC 80 PRIMER

210

1

Topcoat

TEKNOMASTIC 80 PRIMER

210

1

Total

500

3

Primer

TEKNOMASTIC 80 PRIMER MIOX

80

1

Intermediate

TEKNOMASTIC 80 PRIMER

240

1

Intermediate

TEKNOMASTIC 80 PRIMER

240

1

Topcoat

TEKNOMASTIC 80 PRIMER

240

1

Total

800

4

Primer

INERTA 165

250

1

Topcoat

INERTA 165

250

1

Total

500

2

Primer

INERTA 165

100

1

Intermediate

INERTA 165

350

1

Topcoat

INERTA 165

350

1

Total

800

3